Over time, Parkinson's makes it difficult for a patient to perform self-care tasks. Particularly, dressing becomes an increasingly frustrating and challenging task. It takes more time than normal and often required the assistance of others.
Adaptawear is one of the largest adaptive clothing suppliers that has been known to make dressing easier for people suffering brain conditions including Parkinson's disease. The clothes offered by Silvert's are of high-quality, pleasant to look and provide maximum comfort.
Here is the list of different clothing options from Adaptawear. You can choose the best one for yourself or your loved one suffering from Parkinson's disease.
---
Men's Magnetic Shirt – Light Blue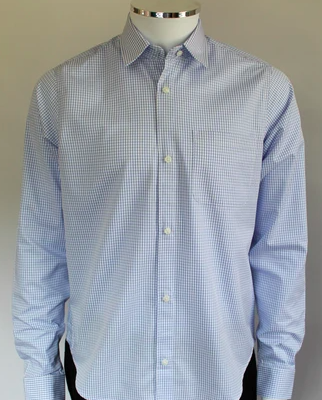 Specifications
Smart, classic-looking Men's Magnetic Shirt.
Features special hidden magnets along front panel.
Fasten effortlessly and removes the need to struggle with buttons. 
Comes in an attractive light blue or black check.
Front left-hand side pocket and long-sleeved with adjustable cuffs.
Made from machine washable polycotton (60% Cotton and 40% Polyester).
Available in multiple sizes.
---
Men's Open Back Shirts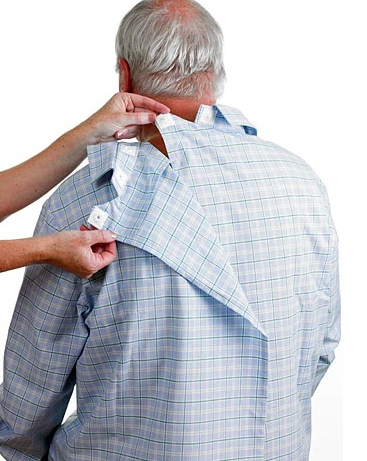 Specifications
Simplifies dressing for both wearers and carers.
Comes with two flaps that overlap at the back and attach discreetly at the shoulders.
Back popper fastenings will help prevent inappropriate undressing.
False buttons along the front making this shirt look like any other.
Made from machine washable polycotton (60% cotton and 40% polyester).
Available in sizes XL and XXL.
---
Petal Back Men's Polo Short Sleeve Shirt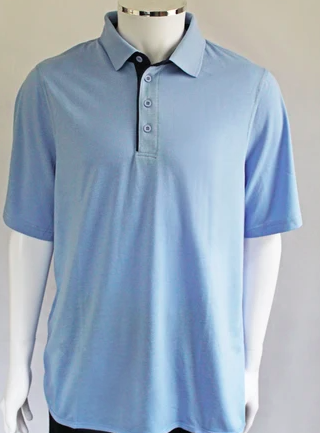 Specifications
Everyday polo shirt style for gentlemen.
Comes with full overlap from shoulder to shoulder.
Features deep armholes provide ease of dressing and comfort for both wearer and carer.
No buttons to scratch the face.
Machine washable at 60 degrees.
Available in multiple sizes.
---
Adaptawear Men's Fleecy Bed Jacket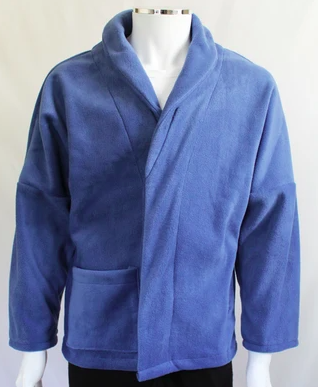 Specifications
Specially adapted bed-jacket for men.
Practical garment to keep them warm at home or in a care home.
Features poppers enabling the sleeves to open wide for easier dressing.
Comes with a pocket and an easy tab Velcro-style fastening.
Shawl collar keeps the chills away. 
Available in multiple sizes.
---
Slenderella Men's Bed Coat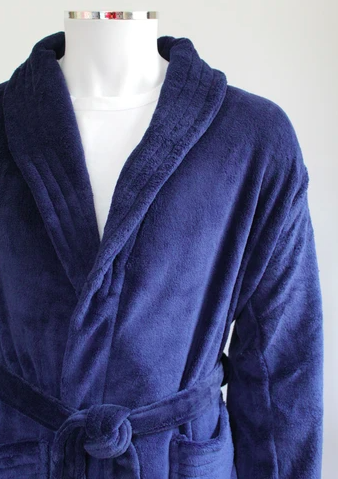 Specifications
Stylish and cozy bed coat that keeps you warm in bed.
Features shawl collar and tip-ups, cuffs, pocket tops.
Made from 100% polyester fleece.
Length is 28 inches.
Machine washable.
Available in sizes Medium – XX-Large.
Comes in navy blue color.
---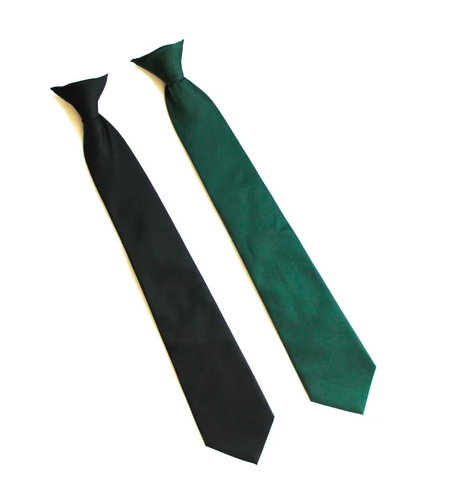 Specifications
Smart classic, discreet and stylish look.
Made from 100% Polyester.
Easy to tie,  save time and energy.
Available in two colors: black and bottle green.
Machine Washable.
---
Walker Reid Men's Cotton Long Sleeve Nightshirt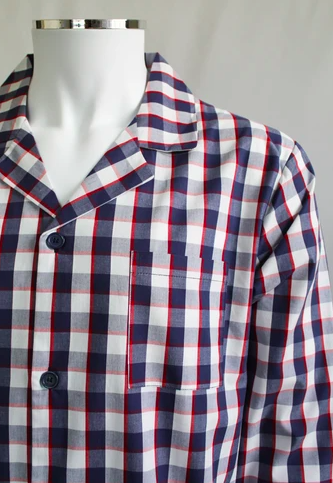 Specifications
Perfect for men who struggle to put clothing over their heads.
Lightweight pure cotton nightshirt with buttons all the way down the front.
Length is about 42 inches.
Comes with a chest pocket and curved hem for a flattering fit.
Made from 100% cotton.
Available in navy/red check.
Comes in different sizes.   
---
Walker Reid Men's Pure Cotton Flannel Pyjamas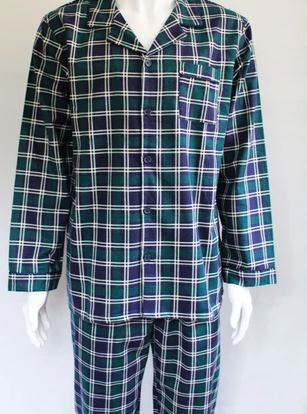 Specifications
Luxury Walker Reid men's long sleeve.
Features 100% pure cotton flannel pyjamas.
Open cuff with single chest pocket and long trouser. 
Machine Washable .
Available color: black and blue check.
Comes in different sizes.
---
Men's Elasticated Waist Cord Pull-On Trousers – Olive
Specifications
Smart but casual men's trousers with an elasticated waist.
Comfortable and great for people who want a trouser with easy to put on option.
Made from 100% cotton.
Available in multiple sizes.
Machine washable at 40 degrees – can iron.
The finished length is 31.5" /80cm
Comes in attractive navy, brown or black colors.  
---
Men's Easy-fit Drop-Front Trousers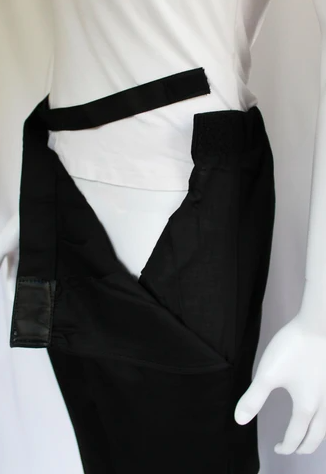 Specifications
Smart, drop-front trousers.
Features hook and loop Velcro easy tabs on waistband, pockets and optional elastic waistband. 
Durable and machine washable.
Made from polyviscose mix fabric (65% polyester and 35% viscose).
Discrete elastic band in the front to support the back of the trousers when toileting.
Comes in Grey, Black,and Navy colors.
Available in different sizes.
''Affiliate Disclosure: This page contains affiliate links, and while it may not cost you anything  extra, if you make a purchase through these links, We'll earn a small commission''.