Updated on: January 1, 2022
---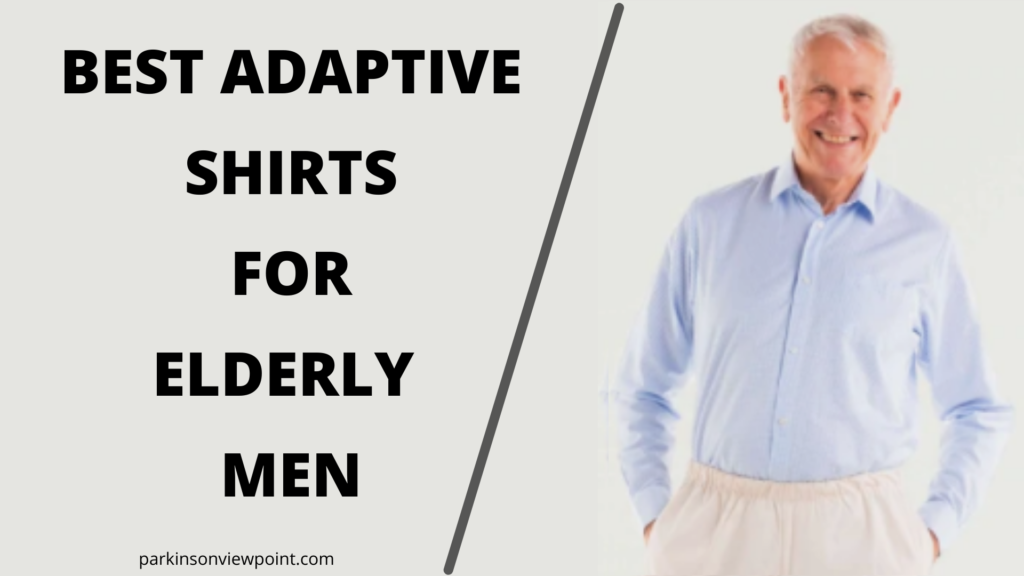 ---
Using regular shirts can be tricky for elderly men, especially for those suffering from mobility problems.  They usually take extra time and effort to put on or take off the shirt.  Sometimes, it can also be uncomfortable for the caregivers. 
While using adaptive shirts will not completely solve the dressing problem, it could still make it a lot easier and less painful for the elderly.  There are many companies out there selling adaptive shirts. But sometimes it can be difficult to find the right one. 
For your convenience, we have contacted some well-reputed clothing brands and come up with a list of the 8 best adaptive shirts for elderly men. These shirts come with some good features that make it easier for your loved one to put on and off effortlessly. 
Let's have a look at the list and choose the shirt that you think could be best for your loved one. 
''Affiliate Disclosure: This page contains affiliate links, and while it may not cost you anything  extra, if you make a purchase through these links, We'll earn a small commission''.  

1. Adaptawear Magnetic Shirt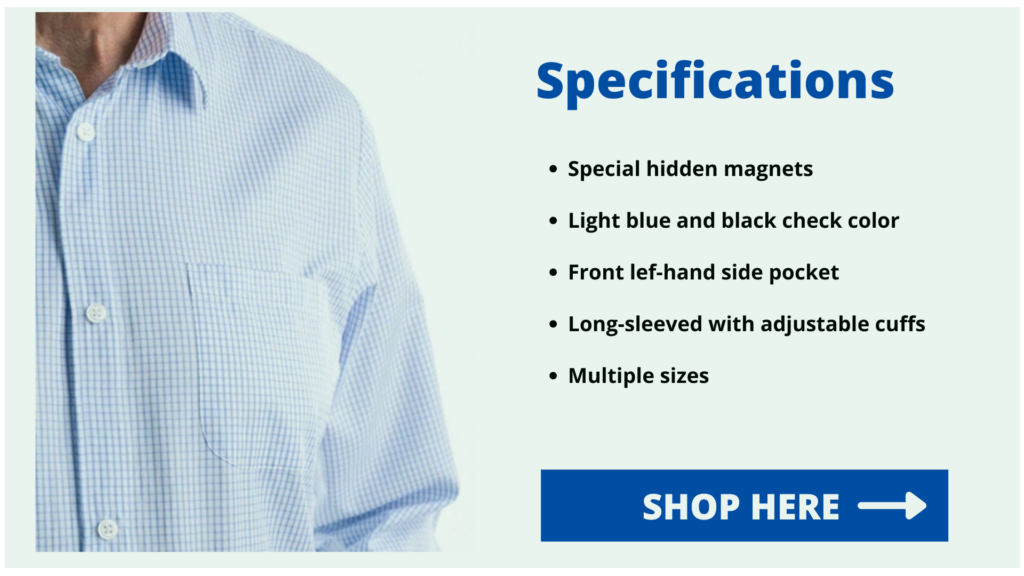 We put this classical shirt on top of our list because of its two main features. First, it has special hidden magnets along with the front panel and arms that allow the shirt to fasten easily and remove it without using any force. Second, ​​the false buttons along the front make this shirt look like any other dress shirt. Other features include its long-sleeved with adjustable cuffs, left-hand side pocket, and matching with any trouser.
Pros
Well reputed brand
Hidden magnetic buttons
Smart and classical look
Machine washable
---
2. Adaptawear Open Back Shirt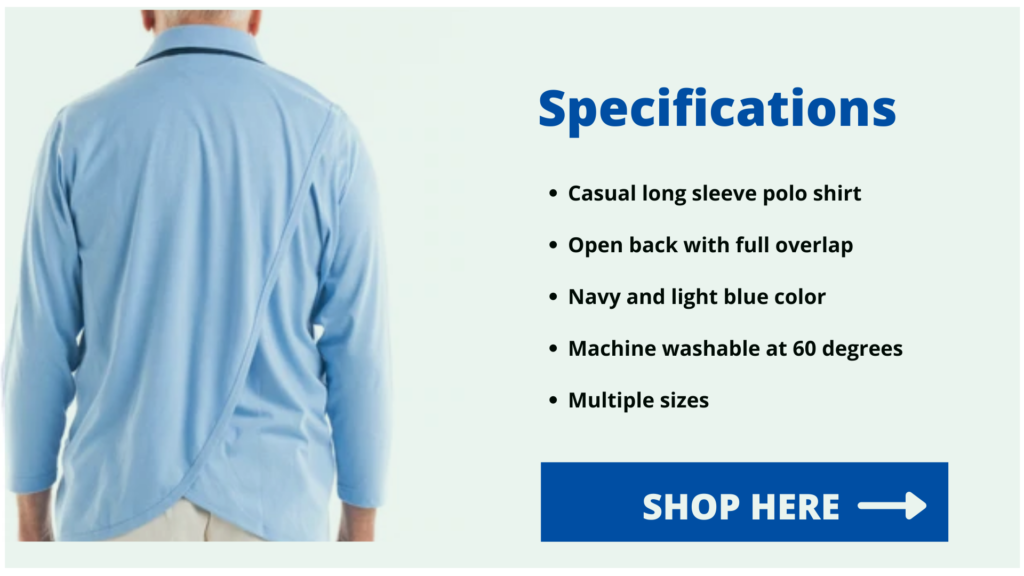 This is one of the most comfortable adaptive shirts offered by Adaptawear, which is a highly reputed brand in adaptive dressing. The great thing about this shirt is that it comes with two flaps that overlap at the back and attach independently to the shoulders. This fasting feature makes it simplify not only for the wearer but also for the carers. Another thing you may like about this shirt is its false buttons along the front making this shirt look like any other shirt. It is made from machine washable polycotton, 60% cotton and 40% polyester.  
Pros
Well reputed brand
Simple fasting feature
Magnetic buttons
High-quality cotton
---
3. Petal Black Long Sleeve Polo Shirt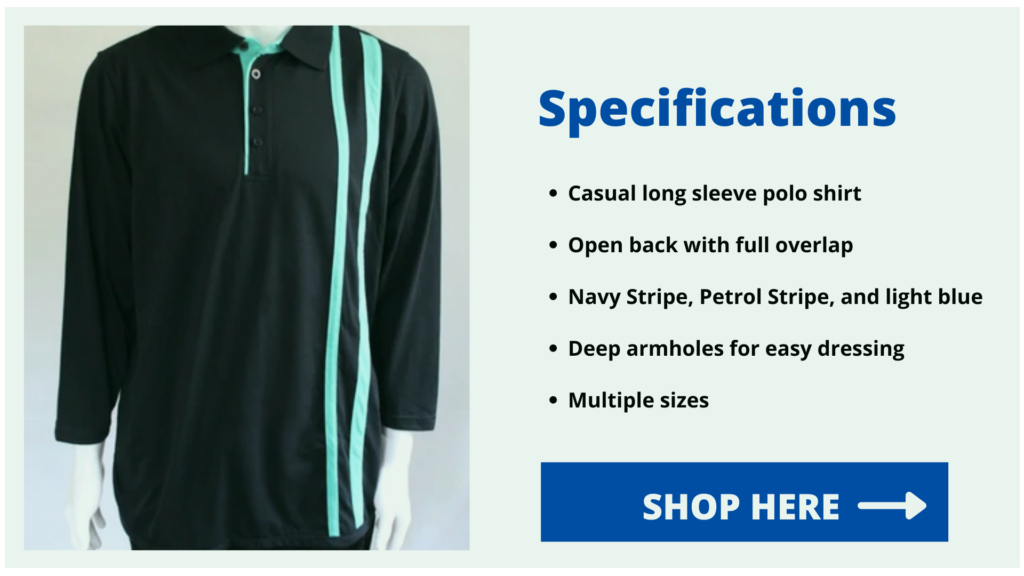 This polo-style shirt is great for everyday use. The feature that makes it stand apart from other t-shirts is that it full overlap from shoulder to shoulder. This allows the shirt to slide easily up the arms and over the head. The shirt also has deep armholes, which makes it easy to wear comfortably. A strip along the front gives it a stylish look. Plus, it's available in both short and long sleeves. 
Pros
Stylish look
Easily overlaps shoulder to shoulder
No button to scratch the shoulder
Machine washable
Multiple choices of color and size
---
4. Ovidis Theo Adaptive Shirt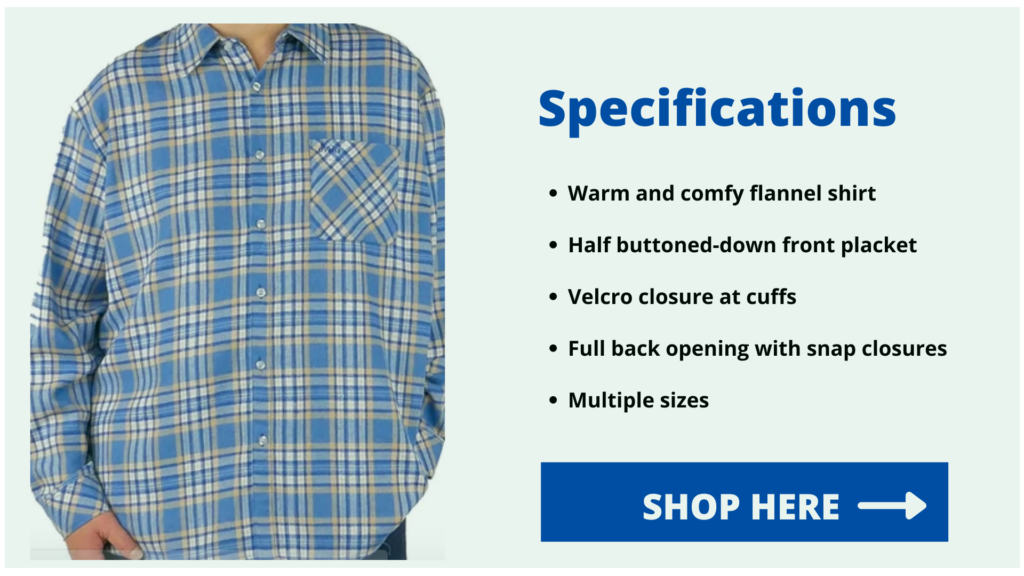 If you are looking for a highly warm adaptive shirt for your elderly loved one, this is the one you should consider. This comfy flannel shirt serves best in winter. It comes with a back opening with a snap closure that makes dressing and undressing simple and pain-free. Because of its full back overlap and discreet details, it makes this adaptive shirt look like a normal shirt. Also, its high-quality fabric provides stretch and comfort, and so you don't have to worry about ironing it or quality losing after repeated wash.  
Pros
Easy access and pain-free dressing
Snap closure feature
Dignified look
Machine washable
---
5. Ovidis Long-Sleeved Polo Shirt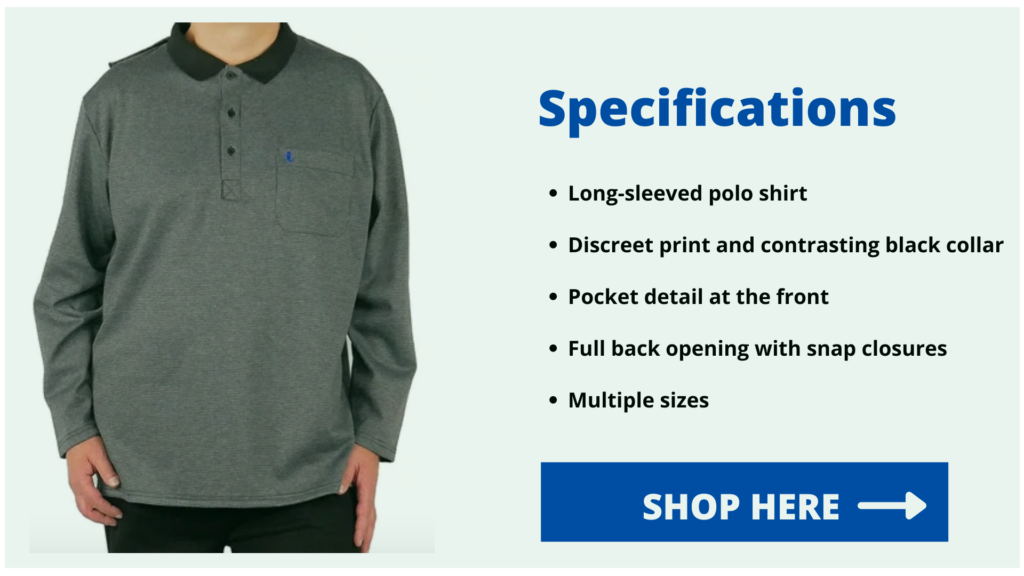 This long-sleeved shirt comes with easy wear and easy care features. It is conveniently secured with snaps, which are located at the shoulder to remove any unwanted pressure points. Like other classical t-shirts, it has a discreet print and a contrasting black collar. Another good thing about this shirt is that it does not require ironing and is machine washable. 
Pros
Classical look
Snap closure feature
Machine washable
High-quality garment
---
6. Ovidis Ralfie Adaptive Polo Shirt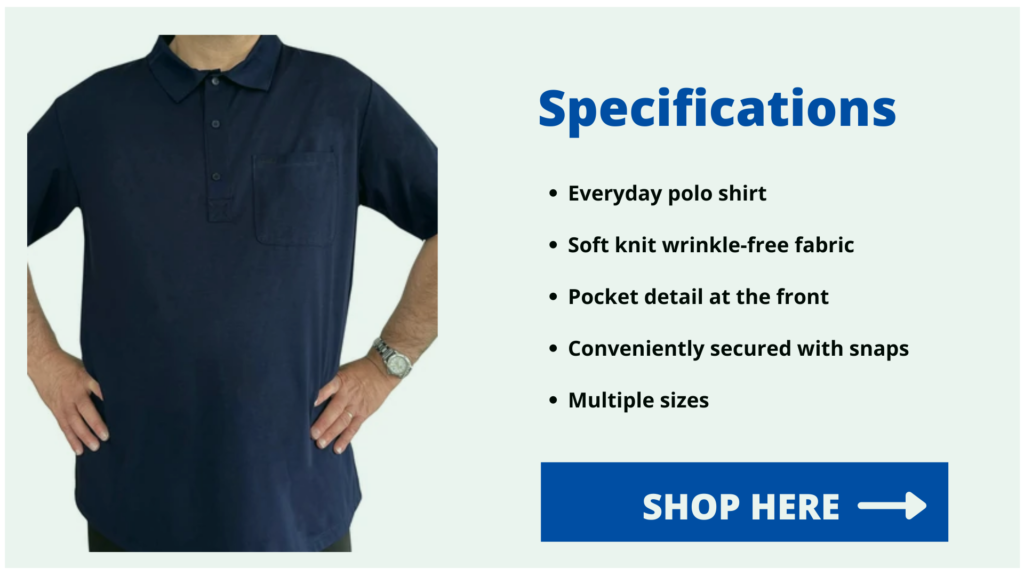 This everyday polo shirt is best for warmer summer days. It can also be layered under your favorite cardigan. It is made from a soft knit wrinkle-free fabric which makes it easy to wear and easy to care. Its full back overlap feature makes the dressing easy and a discreet design gives it a look like other normal t-shirts.
Pros
Serves both outer and inner layered dressing
Snap closure feature
Machine washable
High-quality garment
---
7. Short-Sleeved Diesel Shirt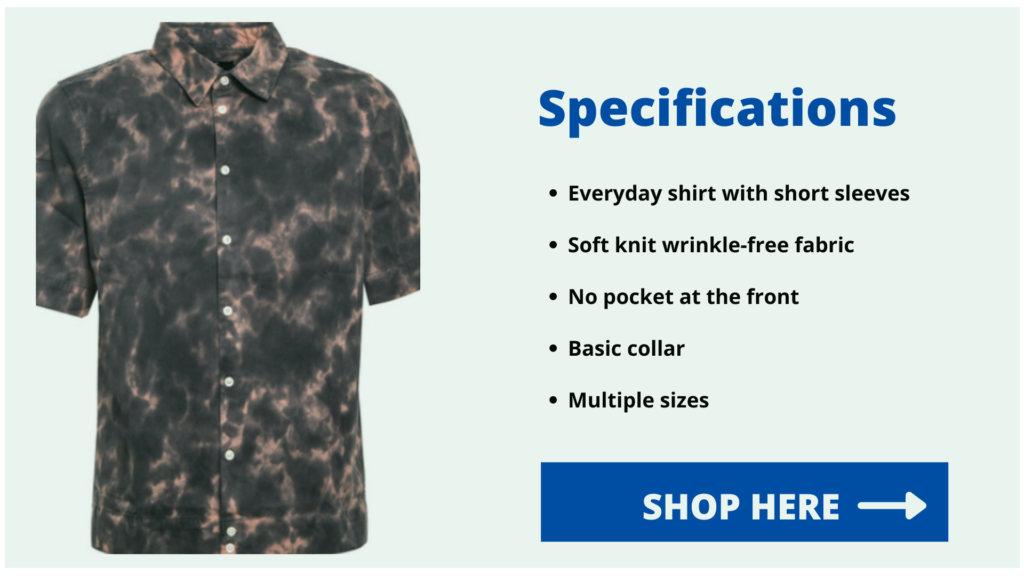 This casual shirt from the Diesel brand is best for summer use. This suits those elderly men who are able to do dressing by themselves. This luxury shirt is made from 100% cotton, which makes it a shirt with a comfortable fit. However,  unlike the above-mentioned shirts, it does not come with a back opening with a snap closure feature nor does it has magnetic buttons. Still, because of its unusual look and high-quality material, it could serve better than other casual shirts.  
Pros
100% cotton
Comfortable fit
Machine washable
Cons
Not best for people with limited arm mobility 
One-color only
---
8. Diesel Long-Sleeved Shirt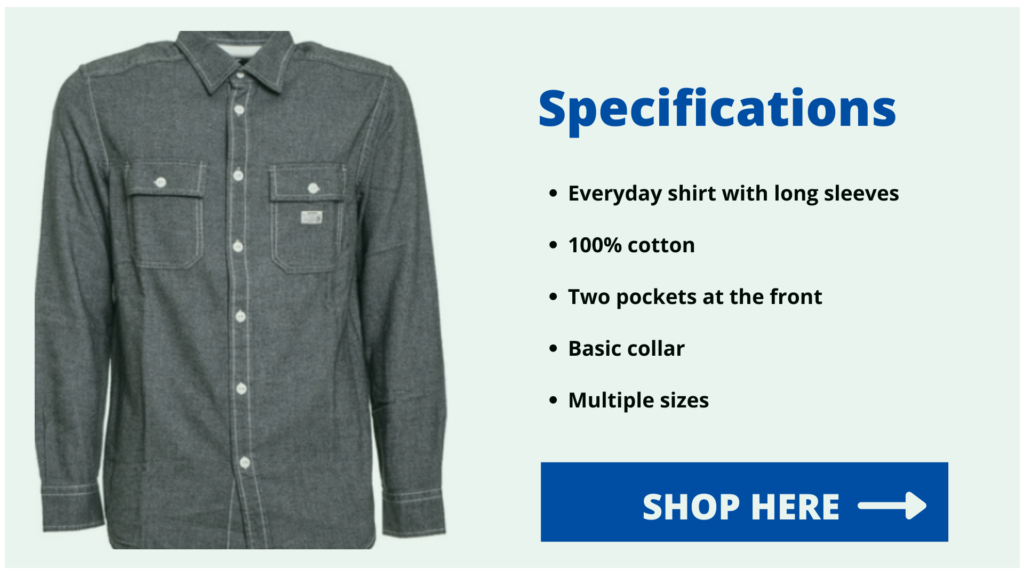 This long sleeves shirt from Diesel is best for those elderly men who don't have arm mobility issues. It is made from 100% cotton and so provides a very comfortable fit for the wearer. The shirt has two pockets at the front and a basic collar. It is available in multiple sizes and is also machine washable.
Pros
100% cotton
Comfortable fit
Machine washable
Cons
Not best for people with limited arm mobility 
One-color only
---