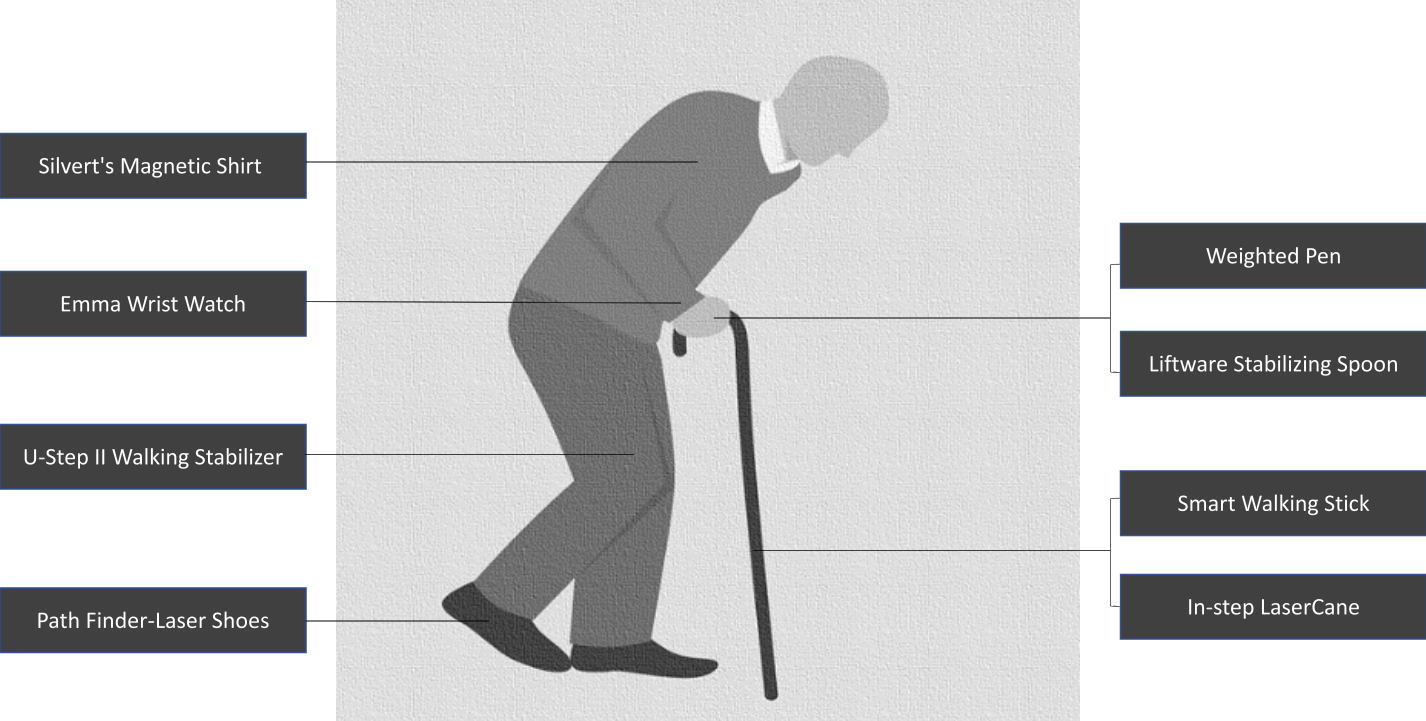 Over time, Parkinson's disease make it difficult for a patient to perform self-care tasks. Performing tasks like taking a shower and getting dressed take more time than usual. Similarly, walking, eating, and writing become an increasingly difficult job.
Using assistive devices can help to perform these self-care tasks easily. There are many products available on the market that are specially designed for Parkinson's patients. Following are some of the most effective products that we recommend for Parkinson's patients.
Liftware Stabilizing Spoon
This is by far the best spoon developed for Parkinson's patients. It reduces the tremor effects up to 70% and enables the patient to eat food without spilling.
Liftware Stabilizing Spoon was originally designed by Anupam Pathak, who was a researcher at the University of Michigan and now the CEO of Lift Labs.
The spoon is carefully designed to counteract the shaking in the hand. The inside of the spoon is made up of a built-in sensor, a computer, and motors. All these components work collectively by first sensing the hand tremor and then intelligently stabilize the device to make the food stay in the spoon's bowl during lifting. As a result, you can lift the food from the plate into your mouth without spilling.
Overall, the Liftware Stabilizing Spoon has innovative features, stunning design, and great functionality. It is a perfect choice for you or your loved one suffering from hand tremors due to Parkinson's disease or essential tremor. Now you don't have to worry about eating in a company. Take your spoon with you and enjoy your meal with your friends and family.
Click here to buy!

Smart Walking Stick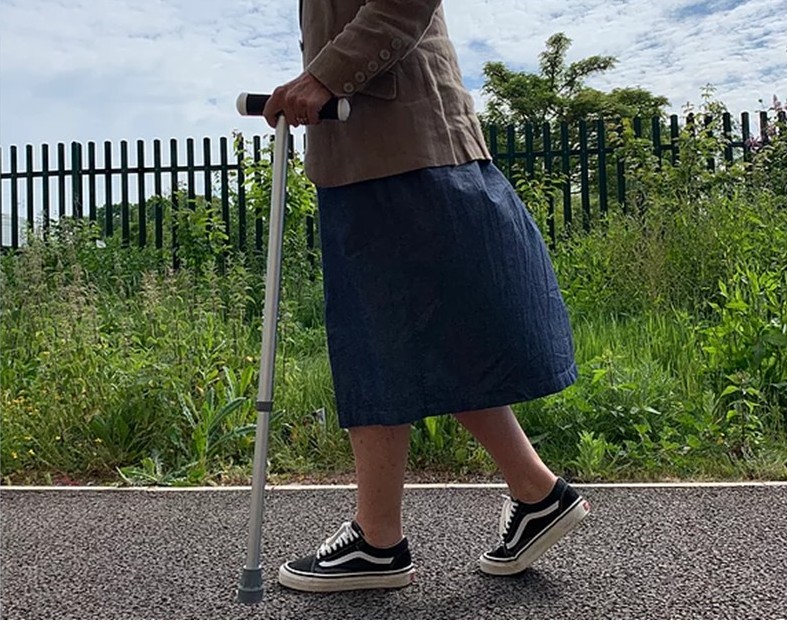 Smart walking stick is an innovative device that help the patient to avoid freezing while walking, Smart walking stick was developed by Neha Chaudhry, a Pakistani born graduate student from the University of the West of England and the founder of a start-up company Walk to Beat. Her idea was inspired after witnessing her late grandfather who used to freeze frequently while walking due to Parkinson's disease.
It looks like a conventional walking stick that works by producing a vibration when the patient freezes. The vibration cues the patient to take a step forward and resume walking. Once the patient has resumed walking, the vibration stops.
The stick has already been successfully tested on several Parkinson's patients. According to Walk to Beat, the smart walking stick will be soon available for purchase on a trial offer of £159, in the UK only.
Walking Cane with Laser
Walking cane is another types of stick that also helps patients to avoid freezing episodes and keep walking without the fear of falling. However, this stick works in a different way than the smart stick.
The secret is in its laser beam, which displays a bright line in front of the walker. As explained above, the laser line serves as a visual cue that allows the patient to walk without suffering from freezing episodes.
The overall frame of the walker is very stable that can support weighting up to 375 pounds. Plus, it is of high quality, so you don't have to worry about any crack or scratch. The cane is powered by two AA batteries, which last for 6 months.
The In-step LaserCane is very easy and safe to use. It's not different in any aspect from other normal cane when it comes to use it for walking. Simply put pressure on the cane, takes a step over the laser beam line, pick the cane up off the ground and moves it forward, and take the next step. It's that simple to use. Click here to buy. 
Path Finder – Laser Shoes
Path Finder is a small and lightweight laser cueing shoe that helps the patient in breaking freezing episodes and improve stride length. It works by displaying a visual cue in the form of a laser line, which sends a message to the brain to allow the leg to move forward.
The laser line automatically projects right in front of the foot as soon as the foot comes in contact with the ground. This bright laser line serves as a safe, obstacle-free visual cue for the corresponding foot to begin the step by stepping over the line, thus allows the patient to step after step and restore the normal walk.
The device is designed by Lise Pape, who was a graduate student at the Royal College of Art and Imperial College of London, and now the CEO and founder of Walk With Path. Her idea of developing Path Finder has originally come from her father illness. Her father was having a gait problem due to Parkinson's disease. She thought of designing a device that could assist and benefit him. This led her to developed a company named Walk With Path in 2014. The company launched its product Path Finder – a laser cueing shoe in 2017.
The device is very easy to use. It is small, handy, and can easily fit a shoe. Walking with it is like walking with normal shoes. 
Emma Wrist Watch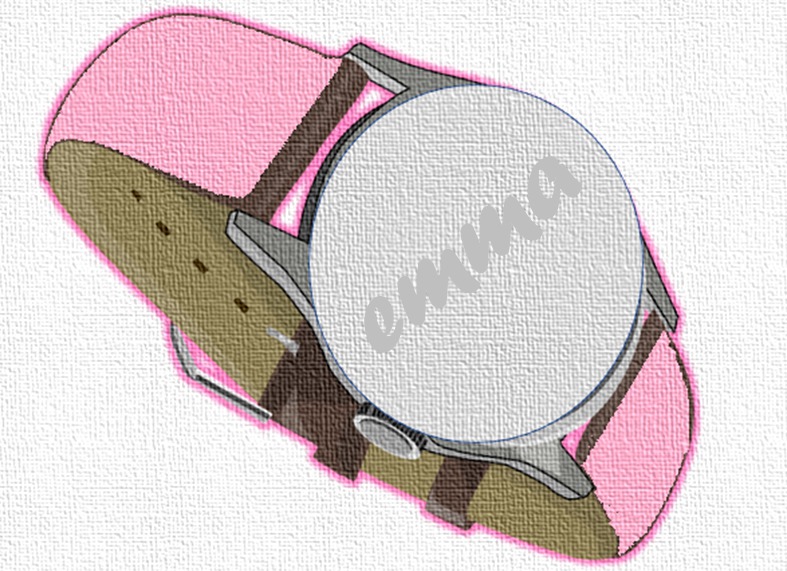 This innovative device has recently been designed to ease tremor in Parkinson's disease. The device looks like a wrist watch that when activated helps the patients to regain the power of writing and drawing.
The device is named after a young graphic designer, who got Parkinson's at a very young age.
It works by producing vibration in a certain pattern which disrupts the pathway between the brain and the hand that triggers the tremor. It makes the patient forget about the tremor, even though the tremor is there but no longer felt by the patient.
The device is in its prototype stage and soon will be available on the market for sale.
U-Step II Walking Stabilizer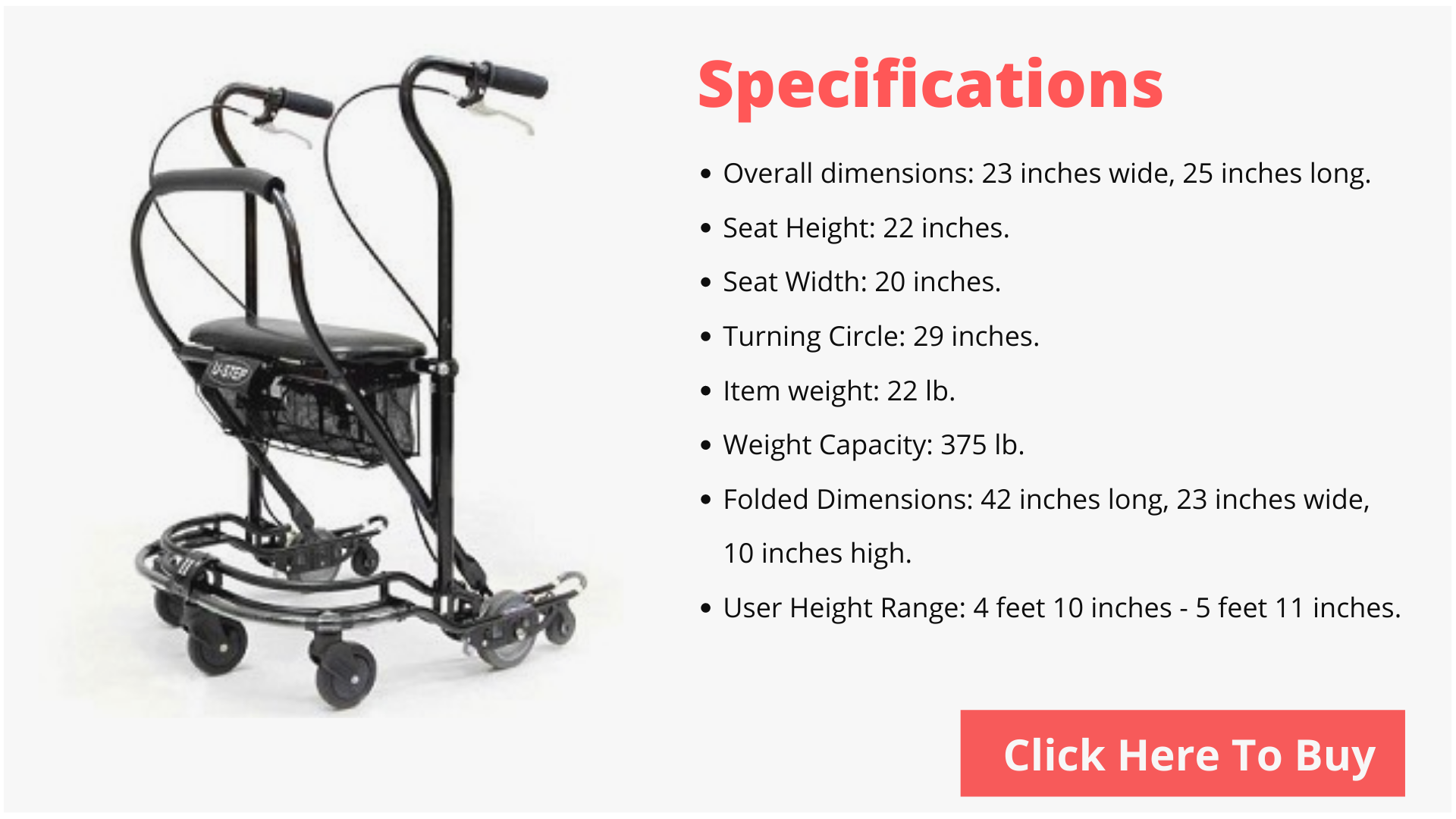 The U-Step II Walking Stabilizer is by far the best walker designed for Parkinson's patients. This high-quality walker is sturdy, yet light-weighted that is best for indoor and outdoor use. It enables the patient to walk independently.
A feature that makes it different from other walkers is that it projects a bright red laser on your path. This feature is especially important for Parkinson's patients as they usually freeze up and can't walk. The laser sends the message from the brain to the legs to move; thus restore their normal walk.
It features a stylish, lightweight frame that is designed in a way to provide maximum stability and support. It surrounds the user and moves with him in any direction. Its wide wheel base designed prevent falls, increase walking independence for users with neurological conditions.
The overall frame is strong enough to support a weight of up to 375 pounds. Plus, it is of high quality, so the user doesn't have to worry about any crack or scratch.
With this innovative device, they can regain their control over on their walking. Click here to buy!
Silvert's Magnetic Shirt
Dressing becomes an increasingly frustrating and challenging task for Parkinson's patients. It takes more time than normal and often required the assistance of others.
Silvert's offers a shirt with magnetic button that makes it easy for patients to put it on and off and so could be a very good gift for them.
This quality magnetic closure shirt offers hidden magnets behind each decorative button to offer the best in convenient easy access dressing ever.
The shirt is of high quality, made up of breathable and wrinkled-resistance cotton. The back has an inverted pleat for seated-comfort and room to move. Shirt tail is long enough to stay tucked in and also looks great worn loose. Plus, magnet buttons are machine washable. Click here to buy.

Adjustable Weight Writing Pen
This oversize weighted pen is designed for people who have a tremor due to Parkinson's disease. Its ergonomic design provides maximum comfort and efficiency, regardless of your writing style. It has a wide and large barrel that provides a good grip. The barrel is made of high-quality material and is very strong.
The great feature about this pen is that it is packed with five 10 grams weights. These weights can easily be added or removed as desired for balance and efficient writing. This feature is particularly helpful for people with Parkinson's disease. Parkinson's patients usually have a tremor that changes over time, it gets sever as the disease progresses. This pen is a great help for them. It allows them to adjust the weight according to their tremor severity.
The pen comes with black ink and uses standard ballpoint pen refills. Click here to buy.