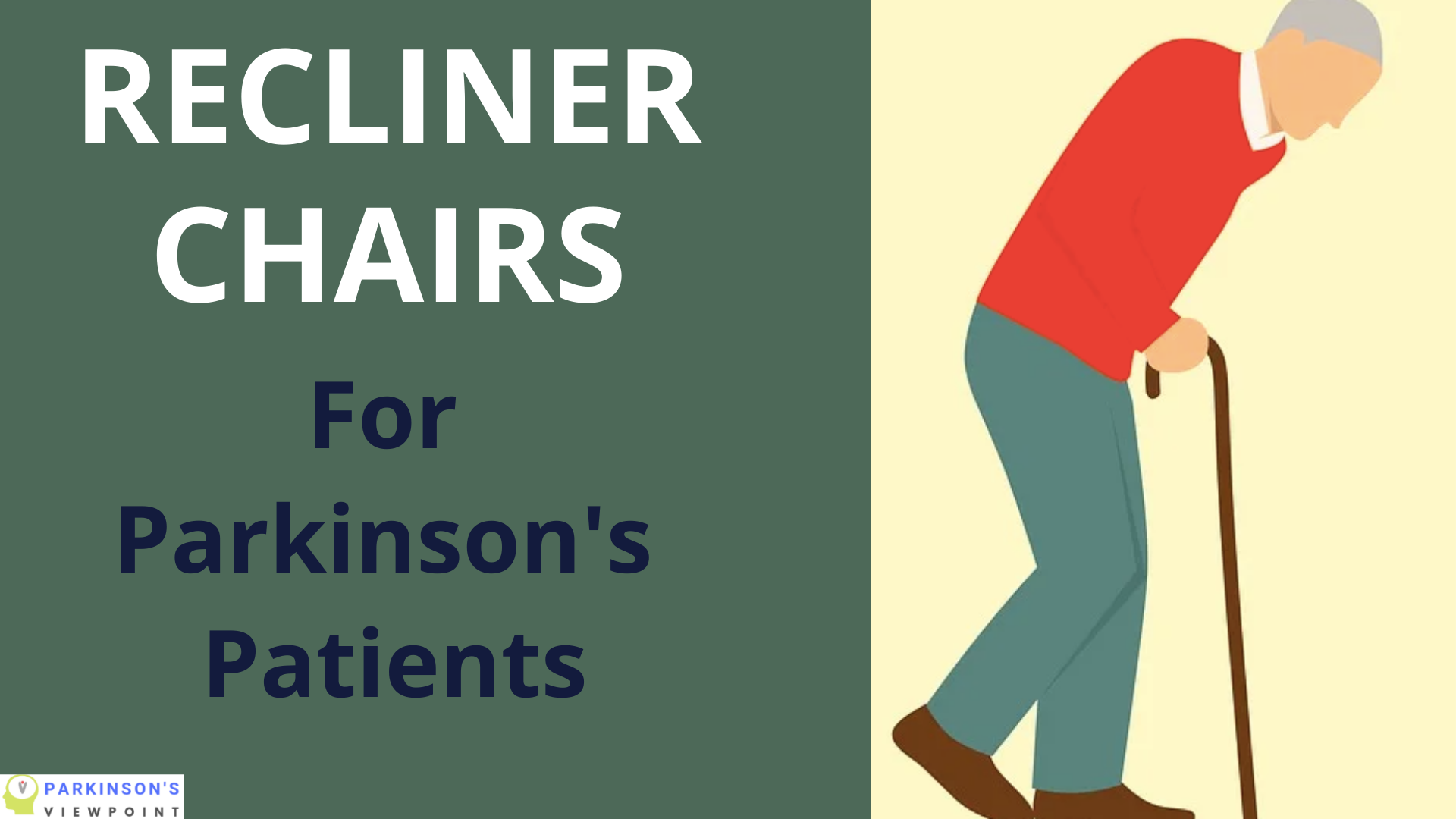 Parkinson's patients often find it uncomfortable when it comes to sitting on standard chairs. For them, struggling to get up from normal chairs can be frustrating, and sometimes it's also not safe. To avoid this, they are recommended to use recliner chairs.
There are plenty of recliners available on the market but most often it becomes tricky to choose the best one.
Here, we have listed 5 recliner chairs for you so that you can choose the one from the list you like the most. All these recliners will provide a comfortable sitting feeling for your loved ones suffering from Parkinson's. They will also find it easy to get up from these recliners.
1. Power Lifting Deck Recliners Chair-Wine-Red

This recliner is a good choice for your loved one who is elderly or suffering from Parkinson's disease. It's also a perfect addition to any room in your house; living room, bedroom, and even theater room. It is crafted with durable woven velvet that provides the ultimate comfort sitting feeling.
With its cushion seat, extra-wide armrest, and overstuffed thick backrest and headrest will give you the most comfortable sitting position and you will feel like your whole body is wrapped up in the chair. With just pressing a button you can have the best cozy position you can think of.
This recline features a silent motor lift that can push the entire chair up to help a patient stand up easily without adding stress to back or knees.
The chair has the ability to recline up to 130 degrees that is a good angle to take rest or watch TV. The pocket on the side offers not only a safe place to tuck the power remote but also serves as a handy spot for devices or reading materials you might want to keep nearby.
The overall frame of the recliner is stable and can support a weight of up to 375 pounds. It suits best for individuals between 5'4″ – 5'10" tall. It comes with assemble & use instructions. It's very easily assembled and usually only needs a maximum of 15mins to finish the installation, no tools required.
---
2. Vintage Upholstered Recliner Lazy Chair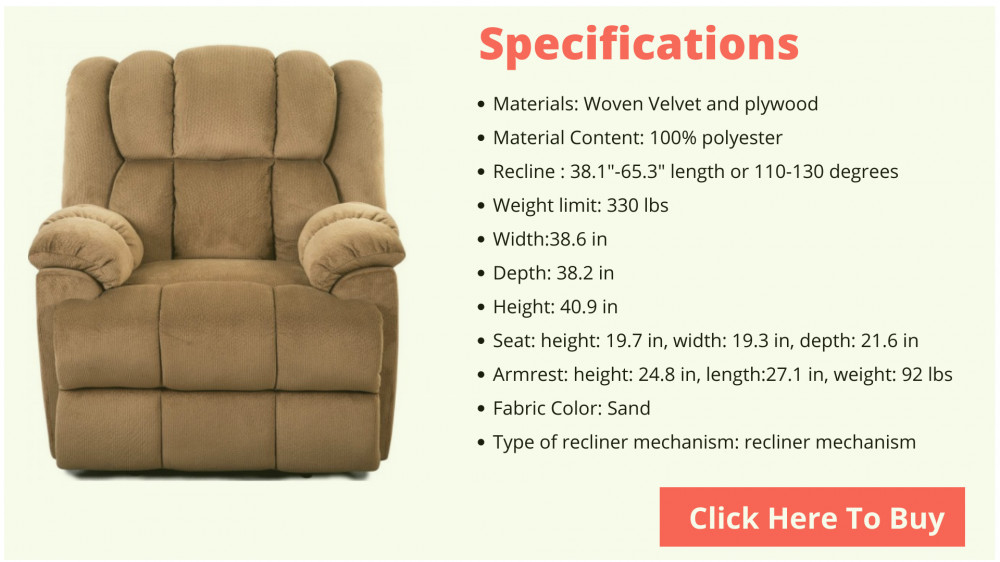 If you want to find comfort, convenience, and accessibility with a recliner chair, think about this one. With its think and high-grade anti-skid luxurious upholstery, you can experience the most relaxing and comfortable sitting feeling.
Overstuffed pillow designed on back, seat and armrest for support and comfort with a high back, thick cushion, and high-grade anti-skid luxurious upholstery, provide a very comfortable sitting feel and enhances safety.
This chair reclines very easily; one lever to pull to extend the footrest and bend your feet to press down the footrest to make the recliner restore to sitting position. It reclines up to 110-130 degrees.
The overall frame is strong enough to support a weight of up to 330 pounds. It is made with a hardwood frame for safety and support; you don't have to worry about any crack or scratch.
Also, you don't need to put extra effort when it comes to assembling it. Simply install easy-off chair back slides and your recliner will be ready to enjoy. For any inconvenience, read the included easy-to-follow instructions. It comes with a lifetime warranty.
---
3. Electric Chair With Thick Suede And Recliner

If you are looking for a simple, compact, and high-quality electric recliner chair, this could be the one you can think of. It serves the best in your dining room or living room.
This recliner comes with an extra-wide armrest that provides the ultimate comfort. Its thick padded headrest helps you alleviate pain and its seat cushion foam gives you ample support and a comfortable seat to relax; while its extended leg rests feature provides a great sleeping position.
The side pockets on the right side of the chair allow you to keep remote control and other small things within your reach. With its remote control, you can easily recline and lift the chair.
When it comes to the overall framing, the chair looks very stable, secure, comfortable, and easily cleanable. It's crafted in a way that supports a weight of up to 330lb.
The chair is handy and you can change its position and place it at any corner in your living room. Its assembling is also easy; it shouldn't take more than 10 min.
---
4. Power Lift Recliner Chair Upholstered Leather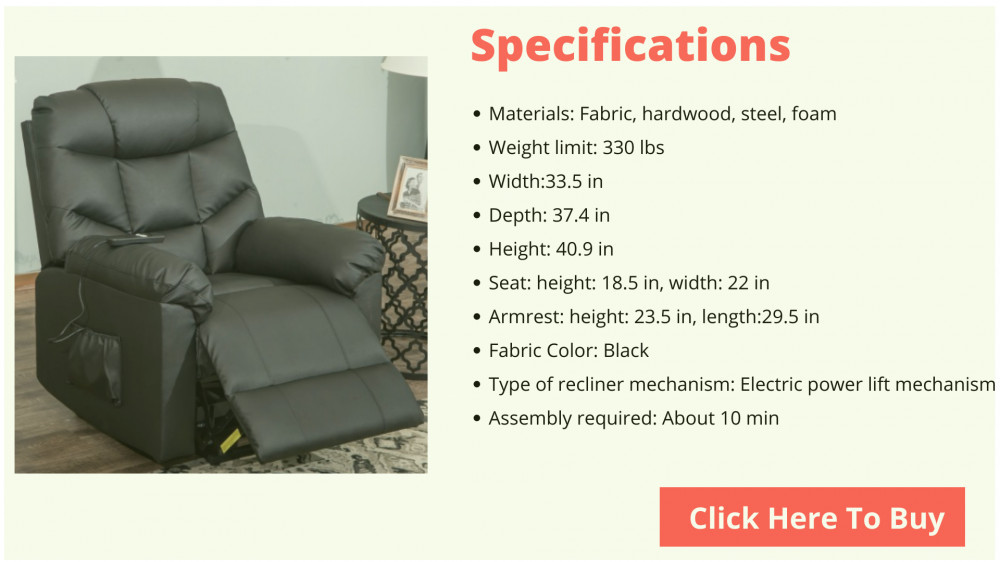 This electric recliner has got all the great features that you would want in a high-quality recliner at a reasonable price. Ergonomically designed, great look, and compact; this recliner offers an excellent sitting experience for your loved one who is suffering from Parkinson's disease or any other motor disability.
The chair features super soft leather upholstery with thickly padded headrest, extra-wide armrest, and extended leg rest. Plus, it has a side pocket on the right side for storing remote control or other small things. The seat and backrest are very soft and comfortable; give you the ultimate relaxing feeling.
The chair comes with an easy-to-use remote that allows the chair to lifts or bring it back to its standard sitting position before reclining it. It can easily recline up to 168 degrees so you can sit upright to read a book or watch TV. With its remote, you can adjust the backrest to a reclined position for a quick nap.
The overall frame is strong enough to support a weight of up to 375 pounds. The chair is convenient and handy for moving. It suits any room in your house.
---
5. JUMMICO Fabric Recliner Chair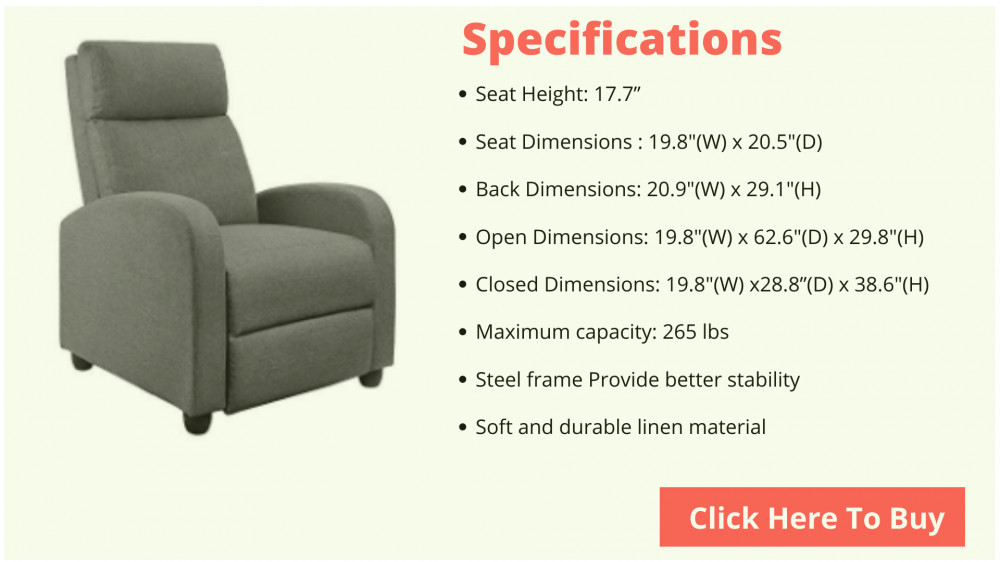 Here is Amazon's no. 1 best seller in the recliner chairs category and is also the preferable lightweight transport recliner in the list of the best living room chair for people with mobility problems.
So what makes this wheelchair so special; it is because of its simple design with a modern look, massage functionality, portability, ease of use, high-quality frame, and price.
This high-quality recliner features breathable fabric with thick padding that provides better comfort. Its steel frame design leads to the more stable, freely adjustable angle of the footrest that is perfect for relaxation during your rest time. The backrest can be adjusted to from 90° – 165°, giving you a perfect position to read books, watch TV, or take a nap.
This recliner chair also features 8 kinds of massage mode section. The massage vibration intensity and the massage timing function can be adjusted with remote control. This is a good choice for you or your loved ones to have the best sitting feeling anywhere in the house; living room, bedroom, or even kitchen.
It is easy to assemble, just slide the backrest to the base connection and screw the 4 legs. It is also easy to clean, durable, and can support a weight of up to 265 Ibs.
For more high-quality comfortable recliner chairs, click here.
---
Affiliate Disclosure: This page contains affiliate links, and while it may not cost you anything extra, if you make a purchase through these links, We'll earn a small commission.  
Please follow and like us: