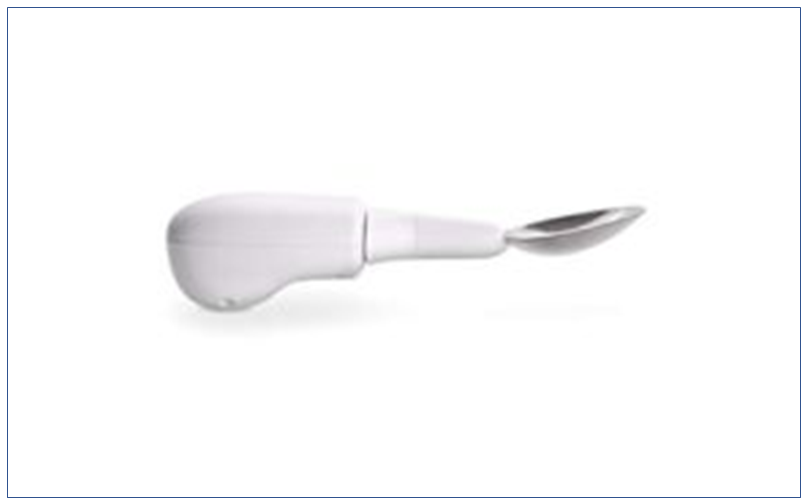 It is often difficult and more frustrating for people with hand tremors to eat the food with a regular spoon. The moment they set and start eating, the food journey from plate to the mouth becomes a nightmare. It is not only irritating and embarrassing but also keeps them isolated from friends and family.


But thanks to the Liftware Steady Spoon that makes it much easier for people with hand tremors to eat – almost any kind of food. The spoon works a lot better than a regular spoon. This is due to its unique designed that detect hand tremor and cancel it – allows them to eat independently and with more confidence.
The idea of making the Liftware Stabilizing Spoon
The Liftware Steady Spoon was originally designed by Anupam Pathak, who was a researcher at the University of Michigan and now the CEO of Lift Labs. His idea of creating the spoon came from the image stabilizer built into digital cameras and smartphones. He realized that the same techniques can also be useful to encounter the effect of shaking hands in people with tremor due to Parkinson's or essential tremor. This idea has led to the foundation of Liftware in 2012. The spoon was first introduced by Liftware in Dec 2013. Later on, Google acquired it and launched its own version in Nov 2014.
What makes the Liftware Steady Spoon different from a regular spoon?
People with hand tremors find it very difficult to eat with a regular spoon and this is because of its following 3 main problems.
1. The spoon is flimsy, not sturdy
2. It is not good enough to hold the food
3. It is uncomfortable
The Liftware Steady Spoon, on the other hand, has none of these problems. Here are some of the unique features that make it a revolutionary spoon for people with hand tremors.
Thoughtfully designed
The spoon is carefully designed to counteract the shaking in the hand. The inside of the spoon is made up of a built-in sensor, a computer, and motors. All these components work collectively by first sensing the hand tremor and then intelligently stabilize the device to make the food stay in the spoon's bowl during lifting. As a result, you can lift the food from the plate into your mouth without spilling.
Small and travel-friendly
The spoon is very easy to use. It is small, handy and can easily be fixed to your hand. It comes with a case that allows you to carry it anywhere you go.
Handle with ideal size and shape
The handle of the device is very nicely crafted. It is heavy, wide, and comes with a perfect length. Plus, it is non-slippery and allows you to hold it more comfortably.
Easily chargeable
The spoon is powered by a battery, which is rechargeable and replaceable. Once recharged, the spoon can be used for several meals. Another good feature is that it goes to sleep mood automatically.
Versatile use with multiple attachments
The handle is designed in a way that supports attachments like soup spoon attachment, everyday spoon attachment, fork attachment, and spork attachment.
Dishwasher safe
The attachments of the spoon can easily be washed in a dishwashing machine or with hand by using soap or other washing detergents found in your kitchen. The handle can be cleaned with a wipe.
Final thoughts
Overall, the Liftware Steady Spoon has innovative features, stunning design, and great functionality. It is able to reduce 70% shaking, making it an ideal spoon for your loved ones suffering from hand tremors due to Parkinson's disease or essential tremor. Now you don't have to worry about eating in a company. Take your spoon with you and enjoy your meal with your friends and family.
Click here to buy!