U-step 2 walking stabilizer has become the most popular walker these days. But what is so special about this walker and does it really suit you? Keep reading this review so that you get to know all the basic features, specifications, and pros and cons of this walker.
---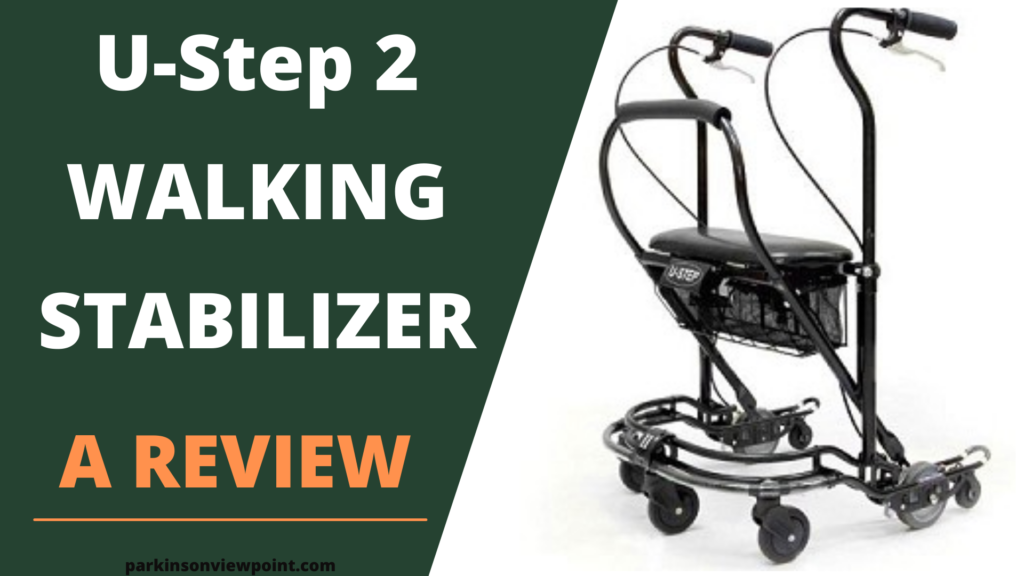 ---
What is U-Step 2 Walking Stabilizer?
U-step 2 Walking Stabilizer is a high-quality walker introduced by the U-Step Neuro, which is a leading global provider of daily aids for the elderly or patients with mobility problems. The walker is designed for those suffering from mobility issues due to neurological conditions like Parkinson's disease, stroke, ataxia, and multiple sclerosis. This Medicare-approved walker comes with some great features built-in for maximum support and smooth walk; making it the most stable walker available today on the market.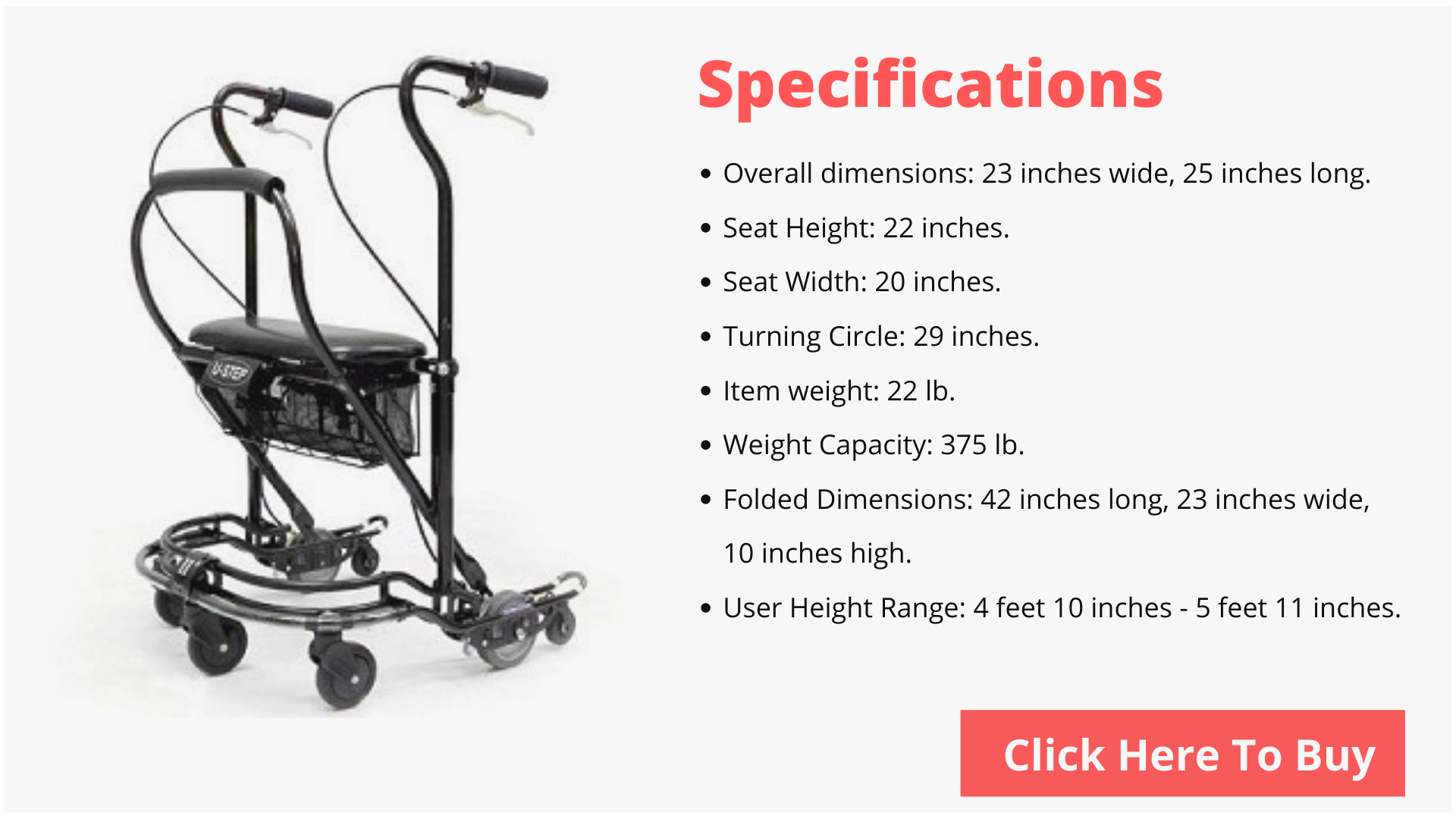 Main Features of U-Step 2 Walking Stabilizer
Stable Frame Design
U-Step 2 walking stabilizer has a sturdy and stable frame that supports a weight of up to 375 pounds. A feature that makes it stand apart from other walkers is its U-shaped base frame design that surrounds you and moves with you in any direction. In other words, it provides protection at every angle.
Innovative Braking System
Unlike typical walkers, which require pushing to move forward, this walker moves forward easily and smoothly without applying extra force. The walker is equipped with an innovative reverse braking system. Simply squeeze the hand brake and you are ready to go.
If for some reason, you are having trouble squeezing the hands, use the backrest as a brake. Gently pressing the backrest will move the walker while releasing it will stop the walker from moving.
Projection of Laser Line
A unique feature that you won't find in other walkers is its bright red laser line projection on your path. This feature is specifically useful for Parkinson's patients as they usually freeze up and can't walk further. The laser line provides a visual cue that attracts the attention of a patient and allows him to focus on moving forward. That way, the patient can walk without encounter freezing episodes.
Smallest Turning Cycle
The other feature that may not available in other walkers is its smallest turning cycle. It has 29 inches turning cycle, which is 40-50% smaller than most walkers. Such a tight turning cycle allows you to walk through narrow areas in your home like the bathroom, kitchen, and living room.
Smooth Drive
U-step walking stabilizer has seven wheels. These high-quality wheels allow the walker to roll on any floor, whether on a wooden or a carpeted floor. Its spring-loaded front wheel enables the walker to glide over on uneven surfaces as well. So, you can walk around comfortably in outdoor public spaces like parks.
Comfortable Padded Seat
The walker comes with a padded seat that allows you to sit when you are tired of walking. Because of its reverse braking feature, you don't have to worry about a sudden movement as you won't try to squeeze the brakes while turning to sit.
 Attachable Accessories Option
The walker also has the option of attaching helpful accessories option. For example, you can easily attach a tray or a basket to it. Thus, it allows the users to carry personal items when using the walker.
---
---
How does the U-Step 2 Walking Stabilizer Work?
U-Step 2 Walking Stabilizer is an easy-to-use rollator walker. It has a reverse braking system (both left and right-hand side). It doe not move until you squeeze the hand brakes. You don't need to use force to push the walker. Instead, gently squeeze the brakes and step forward. Keep yourself closer to the walker while walking. When the brakes are released, the walker stops immediately from moving. Avoid squeezing the brakes while seated.
If you want to project a bright red laser, press the button located near the right-hand brake. When the laser light lane is projected, step towards the light, move the walker and step forward again.
You can adjust the best place for your walk by using the beeping feature, located either near to the right-hand brake or below the padded seat. The walker has 11 settings of beep speed, which can be controlled with the help of two buttons. The upper button is used to increase the speed whereas the lower is used to decrease the walker's speed.
Knobs on both sides of the walker are used to adjust the height. The walker is very light and can be folded into a flat shape, you can take it with you in your car.
Pros
Comes with unique safety features 
Smallest turning cycle
A built-in rest seat and a carry bag
Adjusting the desired speed feature
Innovative reverse braking system
Possibility of laser visual cueing system
Light and portable
Reimbursable by Medicare
Cons
Laser line accessory is sold separately
Expensive than other walkers
Conclusion
No doubt the U-2 Step Walking Stabilizer is the most advanced walker that comes with some unique features that are not available in most walkers. But the key question here is; Is it worth buying? If your loved one is suffering from a serious neurological condition like Parkinson's disease, we would strongly recommend you considering buying this walker. Otherwise, you can also consider other walkers that are available at a considerably low price.   
---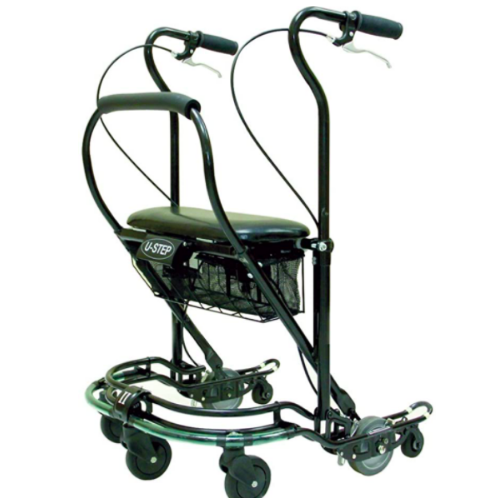 U-Step 2 Walking Stabilizer
Pros
Unique safety features
Laser line projection
Light and portable
Medicare-approved
Cons
Laser line accessory is sold separately
Expensive
---