If you're looking for a walking stick for your loved ones suffering from Parkinson's disease, we recommend using the In-step LaserCane. This innovative stick from U-step Neuro is specifically designed for Parkinson's patients. Here in this review article, we present the key features, specifications, usage, and pros and cons of this stick.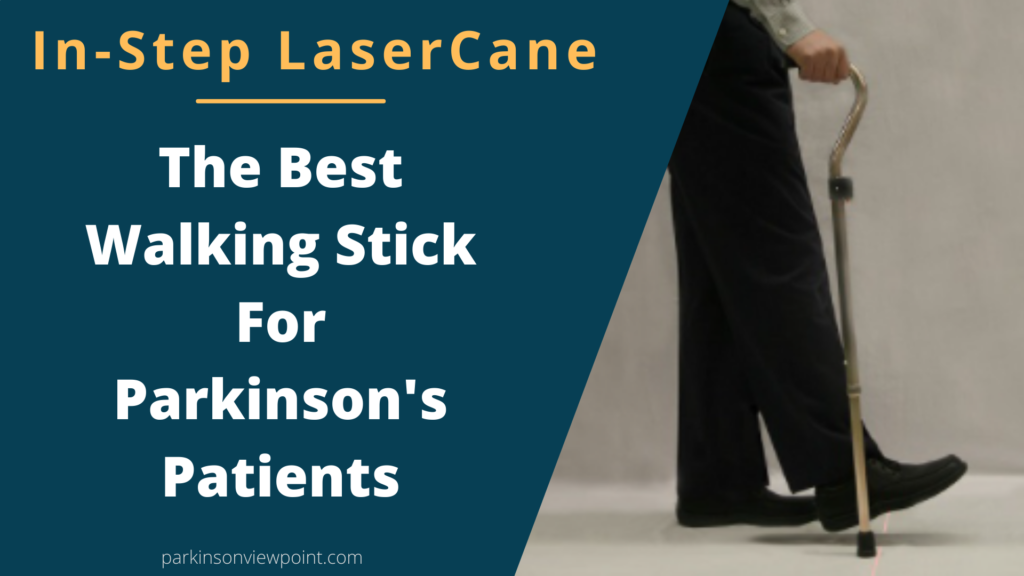 What is In-step LaserCane?
In-step LaserCane is a high-quality cane made in the USA. This is by far the best walking stick designed for those suffering from walking disability due to Parkinson's disease, ataxia, and stroke. It has enabled thousands of patients to walk independently.
It looks like other normal cane in structure and shape. However, unlike other traditional cane, it comes with a laser line cueing feature which helps in breaking the freezing episodes and improve stride length of patients. The inside of the cane is filled with wires and laser components, which are well-protected by high-quality stick material.
Specifications
Weight: 3 Ibs
Dimensions: 36 x 5 x 5 inches
Colors: Red laser, Green laser
Size: Standard, Small
Power: Two AA batteries
Height adjustment: 5 feet 0 inches to 6 feet 1 inch
Who can use it?
This high-quality In-step LserCane is designed for people suffering from gait problem (gait freezing) due to Parkinson's disease. The cane is also useful for those suffering from ALS, stroke or other brain conditions. Even if you don't have any of the above-mentioned illness and simply want to improve your stride length, the In-step lasercane is a good choice for you.
How does it help Parkinson's patients?
Parkinson's disease occurs as a result of the death of certain cells in the brain. These cells produce a chemical called dopamine, which is a neurotransmitter responsible for controlled movement. It is due to the deficiency of dopamine that severely affects the brain's ability to send movement signals to different parts of the body, including the legs. As a result, the patients get tired quickly and experience trouble walking. Most often, they stop suddenly whilst trying to step forward, this is called freezing. This sudden freezing can be hazardous for patients as it can make them fall and cause serious injuries.
The basic science behind the In-step LaserCane is the projection of visual cue in the form of a laser beam light, which sends a message to the brain to allow the leg to move forward. The laser line automatically projects right in front of the leg as soon as the cane comes in contact with the ground. This bright laser line serves as a safe, obstacle-free visual cue, which prevents falling and help Parkinson's patient to begin the step by stepping over the line. The laser line disappears when the cane is lifted and reappears when it touches the ground again for another step; thus allows the patient to step after step and restore the normal walk.
How to use it?
The In-step LaserCane is very easy and safe to use. It's not different in any aspect from other normal cane when it comes to use it for walking. Simply put pressure on the cane, takes a step over the laser beam line, pick the cane up off the ground and moves it forward, and take the next step. It's that simple to use.
It is very light and you will feel like using a normal stick. Plus, you can easily adjust the height according to your comfort. This is just another reason this cane is so convenient and a must have if you have an abnormal gait pattern.
The cane is powered by two AA batteries, which are easily replaceable and last for half a year.
Pros
Easy to use, looks like a normal cane
Projects a laser line cue
Light and portable
Length adjustment option
1-year warranty
Cons
Laser line is hardy visible in bright sunlight
Expensive than traditional canes
Final thoughts
The In-step LaserCane is a unique and an easy to use walking stick. It seems to be a good investment for people suffering from gait problem due to Parkinson's disease or other brain conditions like ataxia or stroke, they will definitely like this product.