Updated on: January 1, 2022
---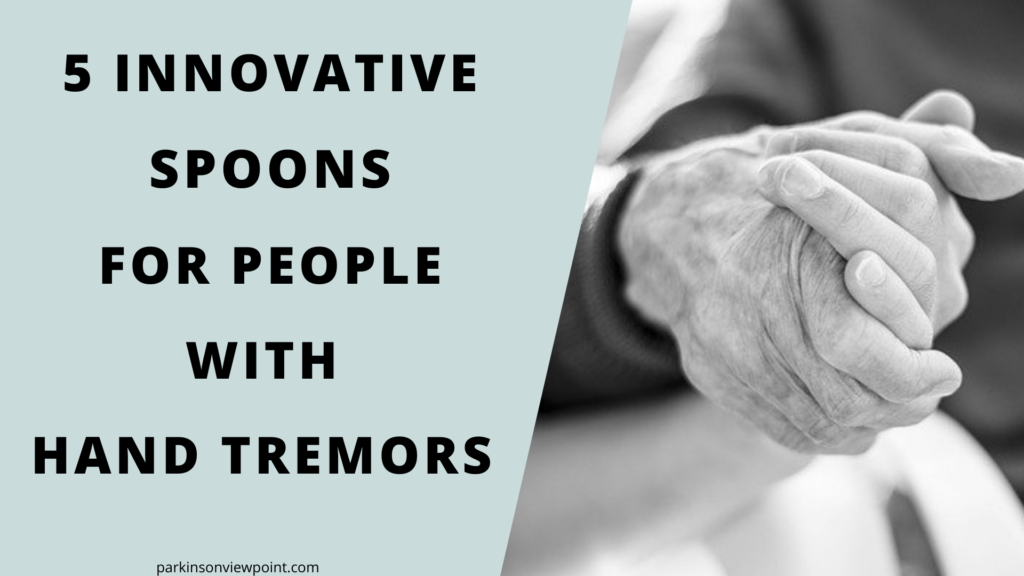 ---
People with hand tremors find it very difficult to eat with a regular spoon. The moment they start eating, the food journey from plate to the mouth becomes a nightmare. It is not only irritating and embarrassing for them but often restricted them from joining family gatherings.
Luckily, there have been developed several innovative spoons for people with tremors in recent years. But most often it's tricky for the family members to choose the best one for their loved one.
For that reason, we did some research and compiled the 5 innovative spoons that we think could work a lot better than most regular spoons. So have a look and choose a spoon from the list that you think could serve best for your loved one with hand tremors.
Affiliate Disclosure: This page contains affiliate links, and while it may not cost you anything  extra, if you make a purchase through these links, We'll earn a small commission''.  
1. Liftware Steady Spoon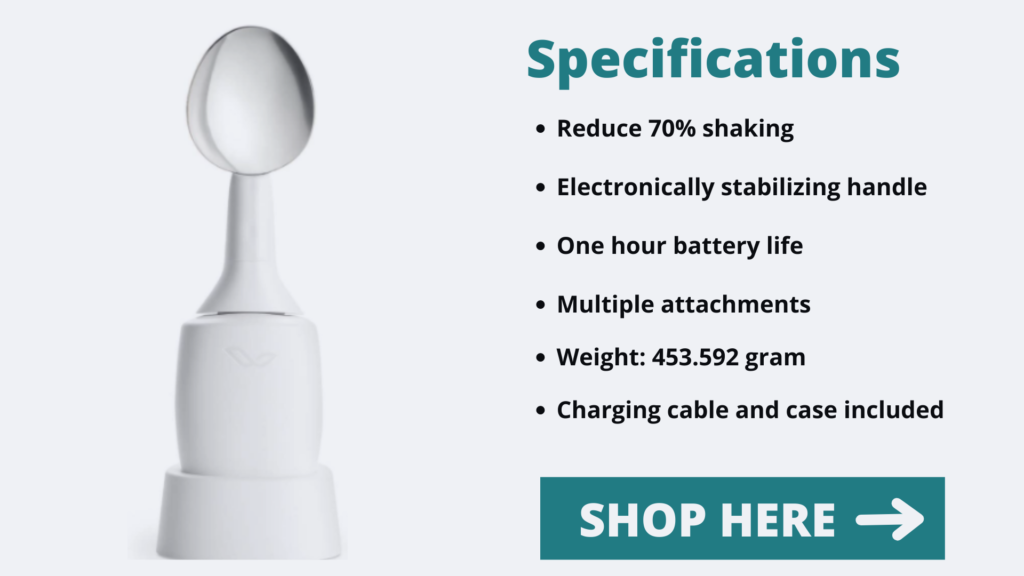 This spoon has innovative features, a stunning design, and great functionality. It is able to reduce 70% shaking, making it an ideal spoon for your loved one's suffering from hand tremors.
The inside of the spoon carries a built-in sensor, a computer, and motors. All these components work collectively by first sensing the hand tremor and then intelligently stabilizing the device to make the food stay in the spoon's bowl during lifting. As a result, you can lift the food from the plate into your mouth without spilling.
The handle of the device is wide, heavy, non-slippery, and has a perfect length. It also supports attachments like soup spoon attachment, everyday spoon attachment, and fork attachment. It comes with a rechargeable and replaceable battery. Once recharged fully, the spoon can be used for several meals.
The spoon is very easy to use. It is small, handy, and can easily be fixed to your hand. It comes with a case that allows you to carry it anywhere you go.
Pros
Thoughtfully designed
Reduce tremor effects up to 70%
Travel-friendly
Easily chargeable
Versatile use with multiple attachments
Dishwasher safe
Cons
Other attachments are sold separately
Expensive
---
2. Gyenno Spoon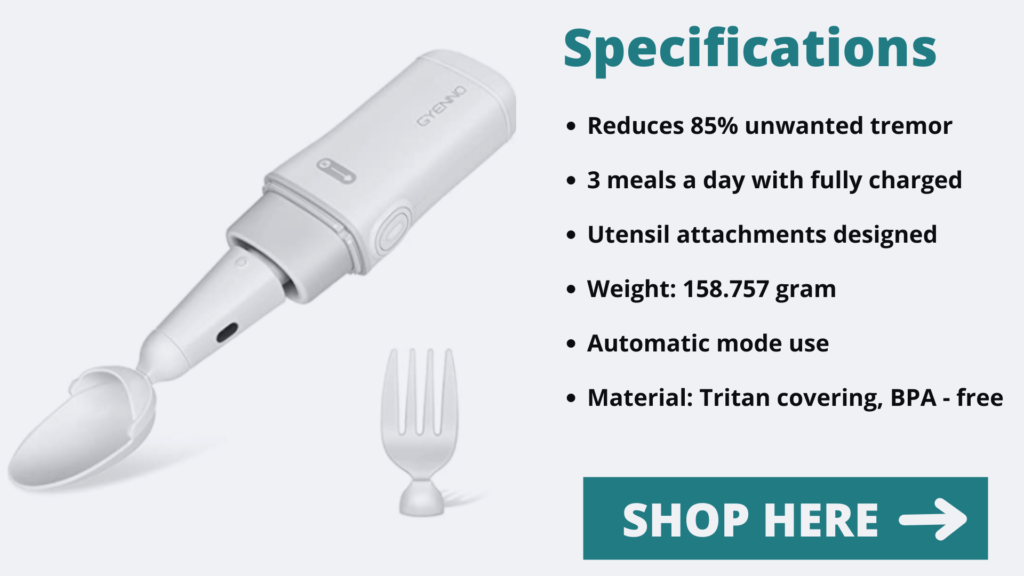 This spoon from Gyenno is the most advanced and ergonomic spoon that serves best for people with tremors. In fact, it's one of the best available tremor spoons on the market today. With this spoon, you can easily lift up the food spoon without worrying about spilling. It features an Intelligent high-speed servo control system that provides fast and accurate stabilization at 360 degrees.
The inside of the spoon is equipped with high-performance motor components, a precision transmission structure, and a high-precision sensor. These advanced technological components work in coordination and allow the spoon to distinguish between intentional hand motion and unconscious tremor, only detect unconscious tremor. As a result, the hand feels 85% less tremor.
The spoon is made of safe and medically grade materials. The handle is crafted with high-quality titan covering with clear, tough, and chemical resistance characteristics. The medical-grade silicons provides a safe eating experience due to its anti-bacterial property.
The spoon is crafted in a way that is adapted to general hand use habits, easy to hold, and to prevent from slippery. It is powered by a battery that can run three meals a day.
Pros
Offset 85% unwanted tremor
Ergonomic design
Switch on and off automatically
Wide handle with non-slippery feature
Lightweight, easy to hold
Dishwasher safe
cons
Fork attachment is sold separately
Expensive
---
3. EliSpoon No Spill Spoon
This lightweight innovative spoon is best for those with limited hand coordination and those with limited hand and arm mobility such as cerebral palsy, spinal cord injury, and post-stroke or mild tremor.
The spoon comes with 2 counterweights that counterbalance the food weight and control the effect of the hand movement. It features a 0.75-inch diameter handle that is comfortable to grip and rotates 360 degrees. It also has a stopper that restrains the angle, allowing the user to easily take food from the bowl.
A great thing about this spoon is that it doesn't carry any electric components or batteries. So you don't need to worry about charging it. It's always ready to use. Plus, it is small, handy, and dishwasher safe.
Pros
Suitable for right and left-handed users
Small and handy
Hypo-allergenic and FDA approved
Free of electrical components
Dishwasher safe, dishwasher safe
Affordable price
Cons
Unable to counterbalance strong tremor
---
4. Easy Grip Steady Spoon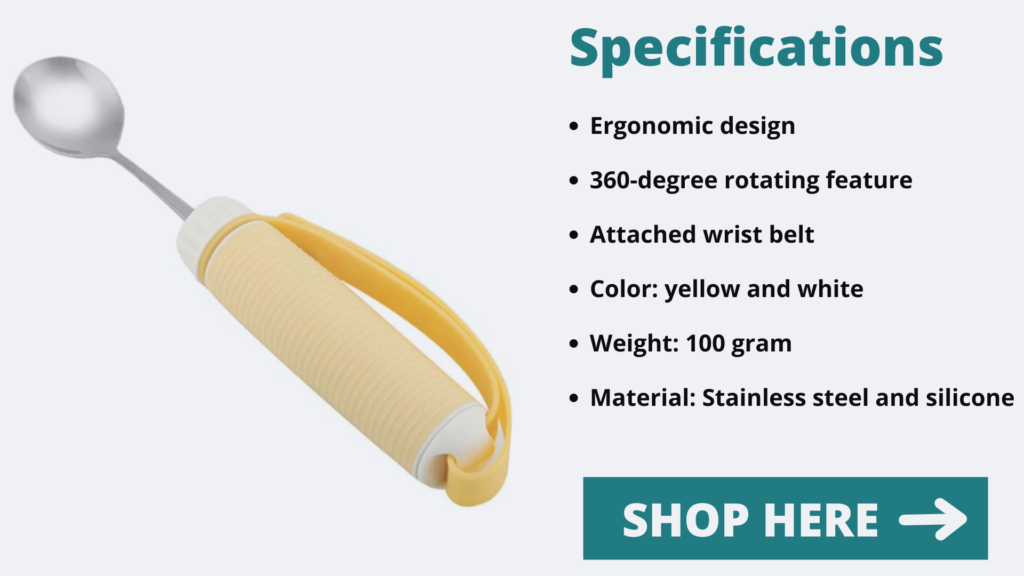 While this spoon might not have the most advanced features like those mentioned above, it certainly works a lot better than a regular spoon. The handle of the spoon is wide, soft, and has a good grip that allows maximum user control with minimum effort. It comes with an angle-adjustable feature. The angle of the head can be adjusted by 360-degree with a rotated bead to meet different needs.
The spoon features a wrist belt attached to the handle. This feature makes this spoon stand apart from other regular spoons for two reasons. First, it helps the patient to hold the spoon firmly. Second, it makes it easy to pick up the food from the plate, it wouldn't make your table dirty like other normal spoons.
The spoon is crafted with high-quality steel that provides greater durability and can be cleaned easily with hands or in a dishwasher.
Pros
High quality durable stainless steel
360-degree angle adjustment feature
Dishwasher safe
Wrist belt attached to the handle
Affordable price
Cons
Not heavy enough
Small bowl size
---
5. Adapted Covered Spoon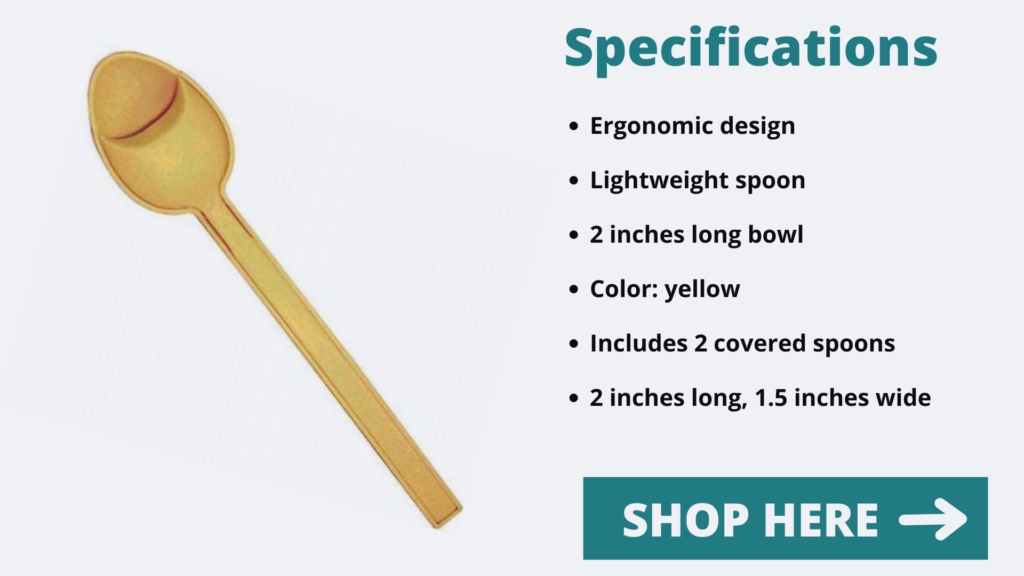 This adapted spoon is designed with a covering over the spoon bowl. This covering feature makes it good for people with tremors, limited coordination or hand weakness. The spoon is designed in a way to limits the amount of spillage.
The spoon is ideal for use with liquids and smaller types of foods such as corn, rice, and peas. It comes with a lid that covers about 2/3 of the spoon bowl. It has two pieces that come apart for easy cleaning.
Each package includes two cover spoons, which are 7 inches long overall, and the bowl measures 2 inches long, 1.5 inches wide. These lightweight spoons are dishwasher safe.
Pros
Ergonimc design
Lightweight
Bowl covering feature
Dishwasher safe
Inexpensive
Cons
Unable to counterbalance strong tremor
Not sturdy and durable
Not best for larger types of food
---
Related post: 5 Best Weighted Utensils Sets for Hand Tremors