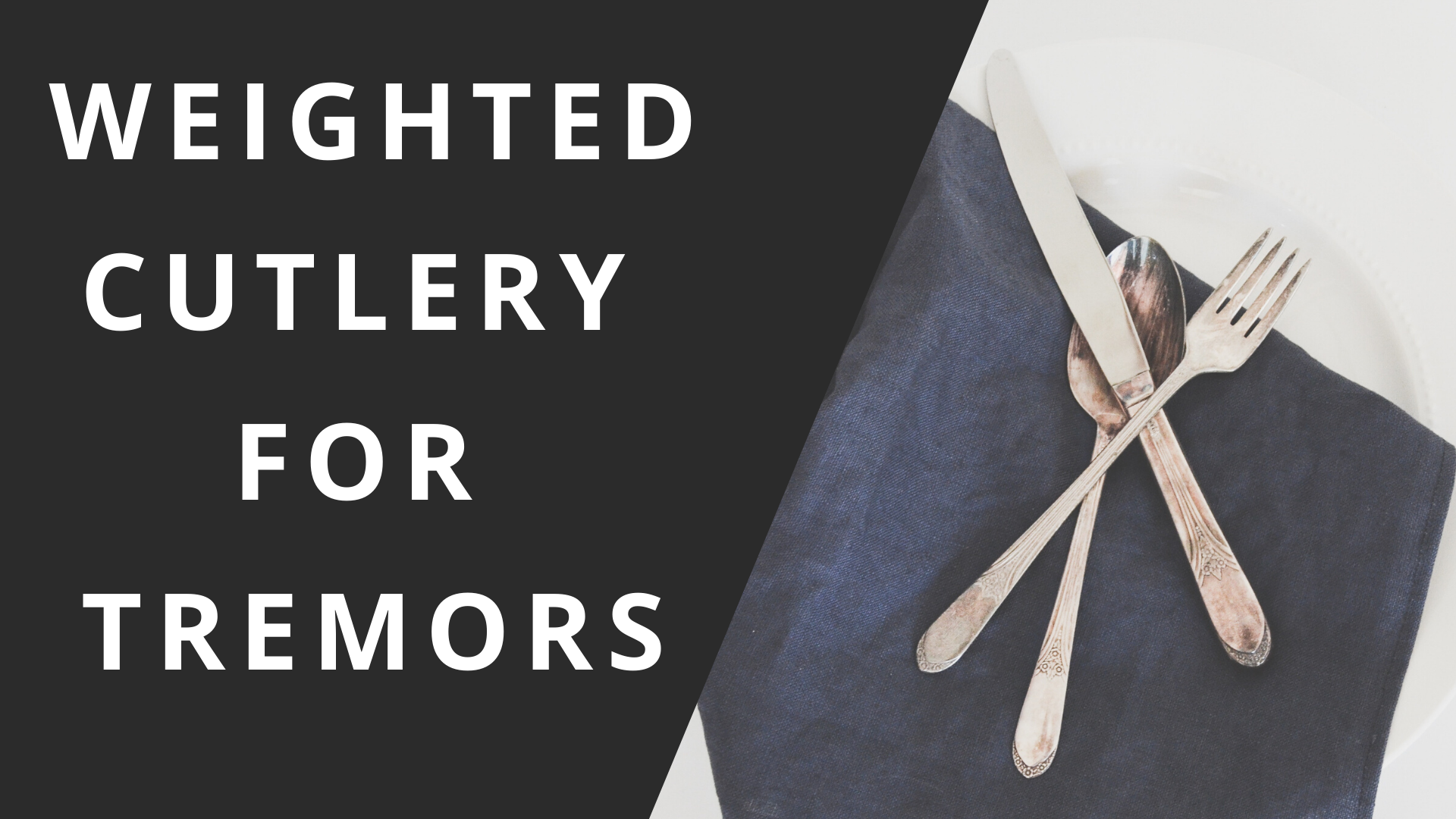 People with tremors find it difficult eating food with regular cutlery. To avoid any discomfort, they are advised to use weighted cutlery.
There are plenty of different cutlery sets available on the market that are designed for people with tremors. But most often it becomes tricky to choose the right one.
Here, we have prepared a list of 5 best weighted cutlery/utensil sets for you so that you can choose the one and give it as a gift to your loved one suffering from tremors.
''Affiliate Disclosure: This page contains affiliate links, and while it may not cost you anything 
extra, if you make a purchase through these links, We'll earn a small commission''.  
1. Kinsman Weighted Utensils with Large Handles

This set of weighted utensils from Kinsman is of high-quality and could be a great gift for your loved one suffering from tremor. The utensils feature additional weight that helps stabilize hand movement and decrease the effects of tremors.
The set includes the knife, fork, teaspoon, and soupspoon. Each of these weighs about ½ pounds. The fork tines, spoon bowls and the knife blade are all made of durable stainless steel.
The utensils come with large handles that are easy to hold and have contours to fit the fingers. The handles are made from high-quality gray plastic vinyl.
All items of the set are dishwasher safe.
---
2. OXO Good Grip Weighted Utensils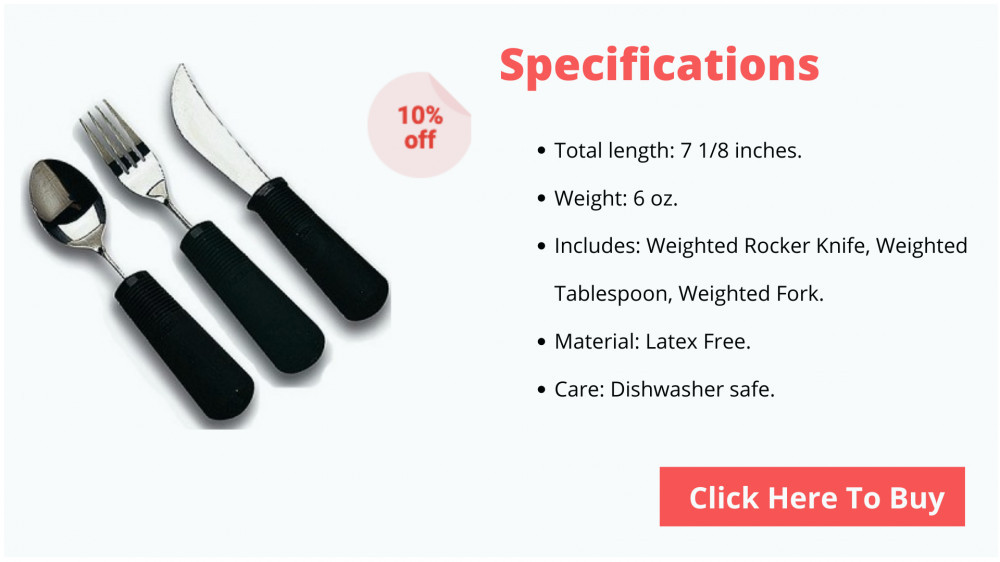 This weighted eating utensils set of 3 from OXO of super high-quality that is exactly what you need for yourself or for your close one suffering from hand tremor.
The set includes the weighted fork, weighted knife, and weighted soup spoon. The fork is very appropriate to use for both dinner and salad and using it with a combination of knife you can enjoy the real taste of meat.
This 3-pieces premium heavy weighted utensils set is made of very high-quality stainless steel that will last for years to come. Plus, it has a dishwasher safe design that's very easy to clean.
The great thing about the forks and spoons is that they can be twisted at any angle; thus easy to bend for use with either right or left hand.
---
3. Kinsman Classical Bendable Weighted Utensils Set

This classic set of heavy utensils from Kinsman includes fork, knife, teaspoon, and soup spoon. Each item of the set is made up of good quality stainless steel that provides greater durability than other normal utensils.
Each of the weighted utensils features a popper gauge thickness and weight to hold comfortably. The large and non-slip handle gives the strength not to fall off; very secure to use, making it ideal for anyone who has a weak wrist or tremor.
Both the fork and spoon are bendable and can be twisted easily to the right or left. The knife has a large rounded blade that helps make cutting foods easier.
All items of the set can easily be cleaned, just throw to the dishwasher and it will come out neat and clean.
---
4.KEatlery Weighted Utensils Set

If you are looking for a weighted cutlery set that looks look like an everyday eating cutlery set but very functional and attractive, think about this weighted utensils set of 4 from Kinsman Enterprises.
This essential 4 pieces kitchen table set (including 1 fork, 1 knife, 1 soup spoon, and 1 tablespoon) is pleasing to look, to hold and easy to use. The knife is sharp enough to cut any solid food like cake or a piece of meat and its stainless fork can be used to eat foods like pasta, rice dishes, meat, or vegetables.
Unlike other light utensil sets that are flimsy and break after few uses, this 4-pieces premium heavy weighted set is crafted with high-quality stainless steel and will last for a long time.
All items of the set can easily be cleaned using any dishwashing liquid. It's also dishwasher safe.
---
5. Person Comfort Grip Weight Utensils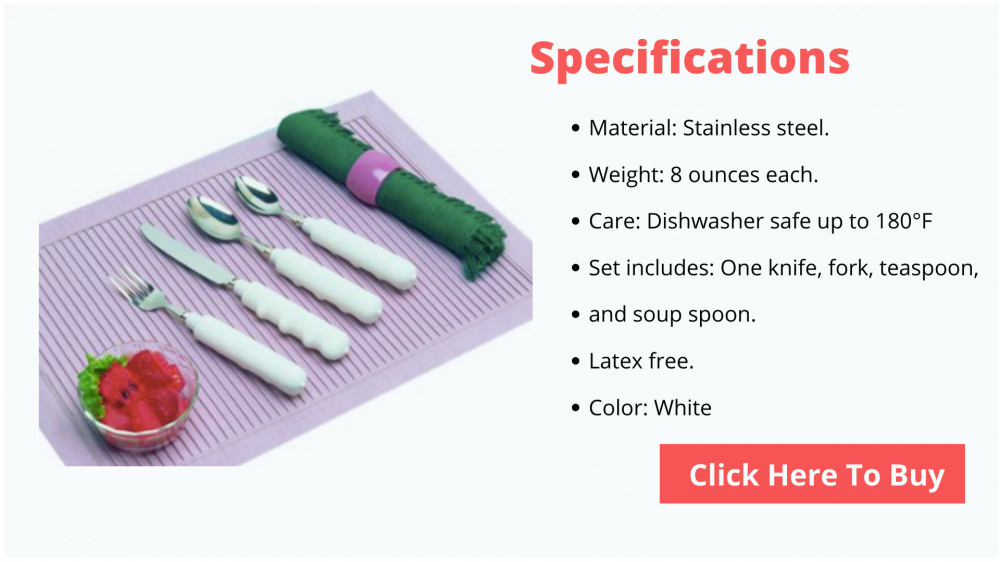 These weighted utensils set is pleasant to look and easy to use and so could be a valuable gift for your loved one suffering from hand tremors. The utensils of the set are designed in a way that allows cutlery to reach the user's mouth easier.
Like other heavy utensils set, this set includes one fork, one knife, one tablespoon, one soup spoon, and one teaspoon. Each item of the set features a comfort grip has a soft vinyl coating with finger indentations for a secure grip.
Also, each of them is equipped with weight support grip handles conducive to easier and more manageable eating for people with tremors.
The construction of the handles is of super high-quality and allows you to eat your meal with more confidence.
The set can easily be cleaned in a dishwasher machine or with hand by using soap or other washing detergents found in your kitchen.
For more high-quality cutlery sets, please visit read our review of best utensil sets by clicking 
here or check yourslef on Amazon. 

---