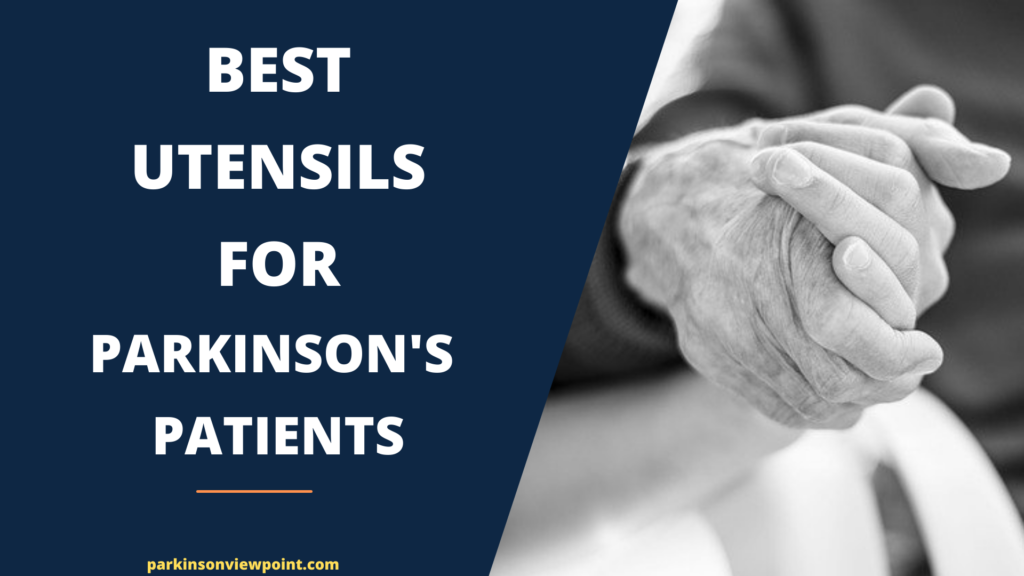 Hand tremor is the most disturbing symptom of Parkinson's disease. This symptom of the disease makes it difficult for patients to eat food with regular utensils. The moment they sit and start eating, the food journey from plate to the mouth becomes a nightmare. It is not only irritating and embarrassing but also keeps them isolated from friends and family.
It is therefore recommended for Parkinson's patients to use adaptive utensils. While there are plenty of different utensil sets available on the market, most often it becomes tricky to choose the best one. For that reason, we have compiled here a list of the 5 best utensil sets so that you can choose the one from the list that you think is perfect for your loved one.
Although these utensils will not teat the tremor, they will support weakened grips and reduce the tremor's effects to some extent. This in turn will prevent spilling and will allow your loved one to eat with confidence.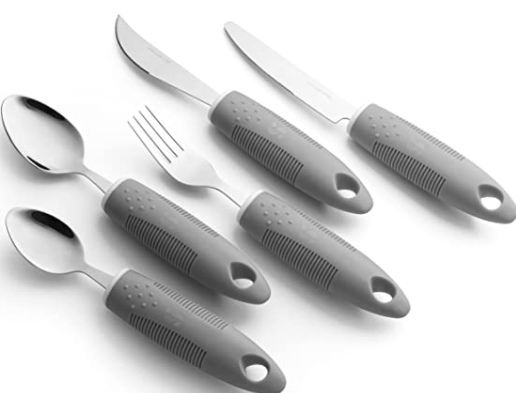 Pros
Wide and non-slip grip
Stainless steel durability
Available in many colors
Not expensive
These high-quality non-weighted utensils could be a good choice for your loved one with Parkinson's. Each item of the set comes with a wide ribbed handle with a raised, textured grip to improve dexterity and control.
The set includes a standard fork, a table knife, and a pair of spoons; which are wider and easier to manage than regular utensils. The knife is sharp and works perfectly for cutting the food; it can cut even a thick slice of meat. The set includes two spoons, one as a tablespoon and the other you can use like a teaspoon for yogurt and ice cream.
The set is durable as it is made up of high-quality stainless steel. Plus, it can easily be cleaned in a dishwasher machine or by hand.
---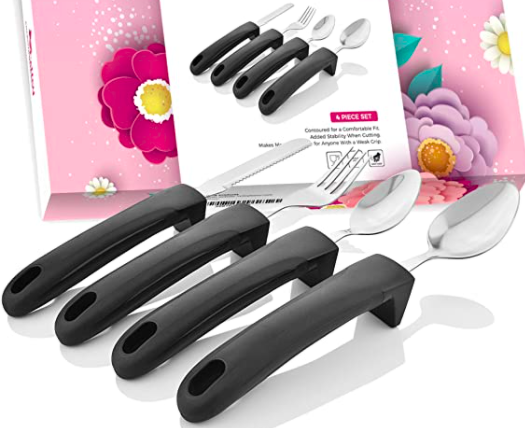 Pros
Weight support grip 
Handles with easy pick-up feature
Easy to clean
High-quality stainless steel 
Cons
Soup spoon is not included
These weighted utensils from Celley are crafted with durable high-quality stainless steel. The set contains an essential 4 piece table set (including 1 Fork, 1 Knife, 1 Teaspoon & 1 Table Spoon), each equipped with weight support grip handles conducive to easier and more manageable eating for people with Parkinson's.
A unique feature about this set is that each item of the set has a lip at the base of the handle. This feature helps in two ways. First, it helps the patient to pick it up easily from the table or any other flat surface. Second, it wouldn't make your table dirty like many other utensils. So you don't have to make an extra effort to clean your table after eating.
The utensils are easily cleanable; wash them in the dishwasher or by hand using soap/washing detergents found in your kitchen.
---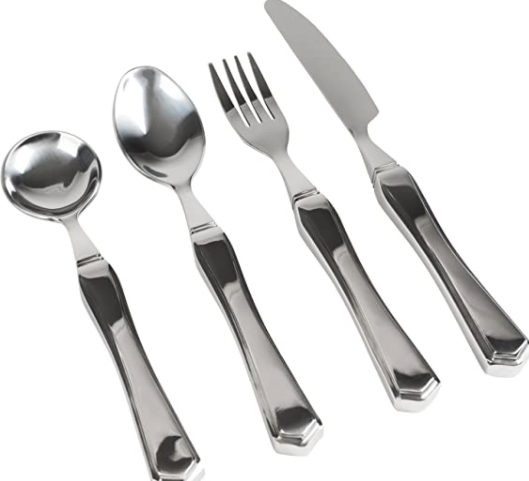 Pros
Ergonomic weighted design 
Features a deep bowl
Dishwasher safe
60-day guarantee
These weighted utensils from Vive are nice-looking, heavier, and sturdy durable. They are designed in a way that helps to reduce spills, splashes, and drops at every meal. The set includes a serrated table knife, a standard fork, a tablespoon, and a soup spoon. Each piece is thick and heavier than normal utensils, making it ideal for people with weak strength or limited dexterity.
The knife is sharp and doesn't require an extra force to cut the food, while the fork has a comfortable grip that allows you to manipulate and eat the meal effortlessly. When it comes to eating soup with a spoon, you don't have to worry about spelling it on your clothes or table as the spoon has a deeper bowl that prevents spilling.
The set is made with durable high-quality stainless steel that is dishwasher safe and is ergonomically designed for quick and easy cleaning.
---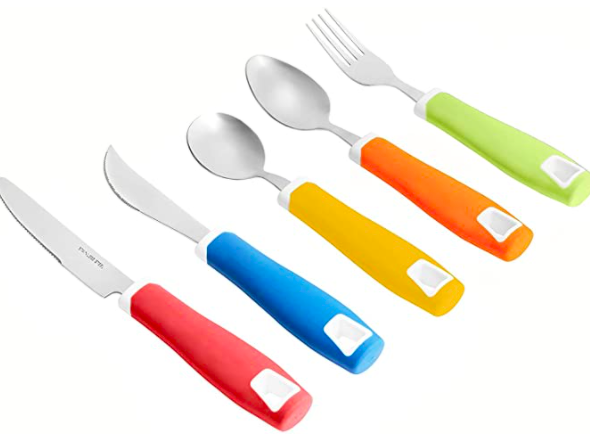 Pros
Handle with wide and non-slip grip
Stainless-steel durability
Available in multiple colors
Easy to clean
This simple yet modern and colorful utensils set is of good quality and you would need to consider it for your loved one with Parkinson's. Each piece of the set is large, soft, and comes with easy to hold handle that provides a secure grip.
The set includes a fork, knife, soupspoon, tablespoon, and teaspoon. Each of the non-weighted utensils features a popper gauge thickness. The large and non-slip handle gives the strength not to fall off; very secure to use, making it ideal for anyone who has a weak wrist.
The set is crafted with high-quality stainless steel that provides greater durability. All items of the set are dishwasher safe.
---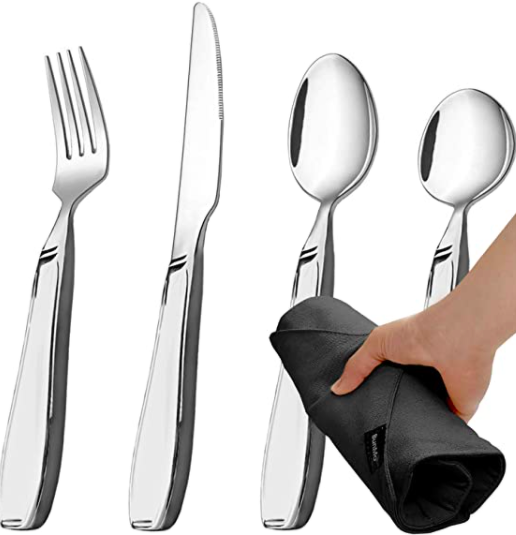 Pros
Discrete weighted design
Crafted with rustproof stainless steel 
Travel bag included
Dishwasher safe
The BUNMO utensils are heavily weighted and look more like normal utensils. This essential 4 pieces kitchen table set (including 1 fork, 1 knife, 1 soup spoon, and 1 tablespoon) has a got a pleasing look and is very easy to use. 
With its sharp knife, you can effortlessly cut any solid food like a piece of cake, cheese, or even a slice of meat. And with its stainless fork, you can eat pasta, rice dishes, meat or vegetables. While a pair of a spoon, one as a tablespoon and the other for soup, are designed to avoid spills and drop at every meal. The construction of the handles is super high-quality and allows you to eat your meal with more confidence.
These utensils are very sturdy and can last for a long time; so you don't need to replace them with new utensils. Plus, they can easily be cleaned; just throw them into the dishwasher and they will come out spotlessly clean and shining.
---
''Affiliate Disclosure: This page contains affiliate links, and while it may not cost you anything  extra, if you make a purchase through these links, We'll earn a small commission''.