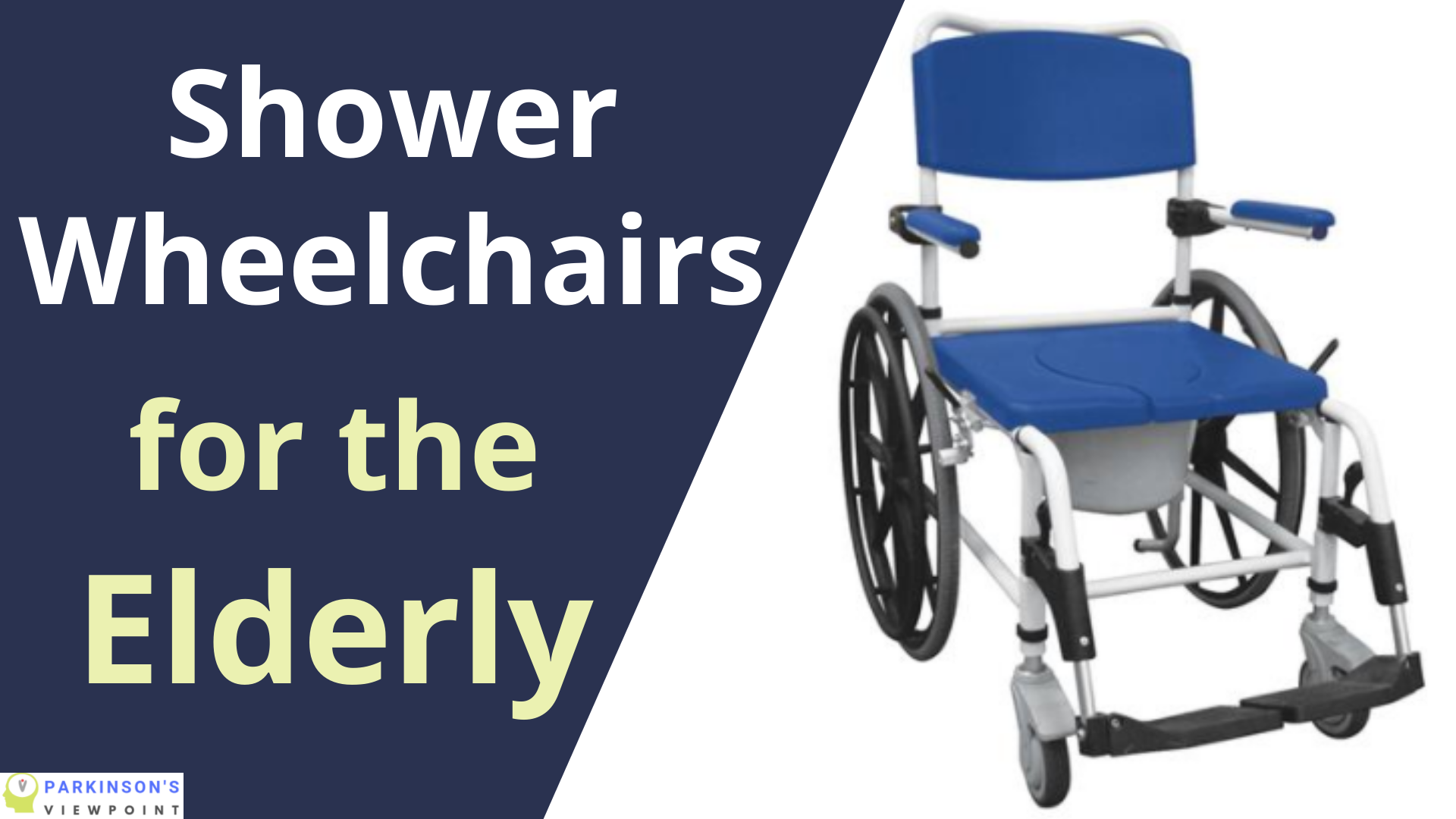 Elderly people and especially those having mobility issues find it very uncomfortable taking shower while sitting on a regular bench or seat in the bathroom. To avoid any discomfort, they are recommended to use specially designed shower wheelchairs. 
Here, we have prepared a list of 7 best shower wheelchairs for your elderly loved one facing difficulty moving onto a regular seat in the shower. Using any of these specially designed high-quality shower wheelchairs will allow them to roll into the bathroom and have an accessible shower.
Affiliate Disclosure: This page contains affiliate links, and while it may not cost you anything 
extra, if you make a purchase through these links, We'll earn a small commission.  
1. MJM International Multi Purpose Chair 
Made from a high-quality rust-free frame, this moving chair is highly comfortable and secure for transportation.
The chair served the best as a shower chair. However, it can also be used as a transport chair at other places inside your house.  It features a strong frame, anti-slip handgrips, dual safety hand brakes, and fast-drying removable back or sling. Its user-friendly self-storing folding footrest prevents foot-dragging and entrapment.
The chair is lightweight, portable, and easily cleanable. It comes with a deluxe full mesh support sling seat to enhance the resident comfort and can support a weight of up to 300 Ibs.
---
2. MJM International Self Propelled Rehab Chair
If you are looking for a high-quality shower wheelchair at reasonable price, think about this chair from MJM International Corp. The chair provides safe transport to and from the shower. The chair can also be used as an aquatic pool chair. 
This transport chair features a comfortable open elongated front soft seat, while its anti-slip handgrips and dual safety hand brakes provide added user safety and control. The chair rolls easily over most toilets and so can also be used as a toilet seat sometimes if needed. 
The backrest sling is removable for easy cleaning. The chair is equipped with two 5-inch lock casters and two 24-inch plastic wheels. Additionally, it comes with user-friendly footrests that prevent foot-dragging and entrapment. 
The frame of the chair is crafted with a healthcare grade PVC pipe and fitting that protects the chair from rust and stain. It carries a weight capacity of 315 pounds and so is best for overweight people.
---
3. Healthline Medical Shower Wheelchair 
This shower wheelchair from Healthline Medical could be a great gift for your elderly loved one. Made from a high-quality PVC frame, the chair can carry a weight of 300 pounds. 
The chair comes with 24-inch rear wheels and stainless steel 3-inch front casters. The wheels are made from plastic with rubber tread equipped with hand rims and brakes. The hand rims provide a comfortable soft surface allowing enough grip for driving using your hand heel. 
The chair features a snug sling-style seat that provides a comfortable siting position. The chair also features footrest. However, it is sold separately. It's totally waterproof, and rust-free, requiring only minimal upkeep. 
---
4. Drive Aluminum Rehab Shower Commode Chair
If you are looking for a shower wheelchair with a builtin commode system, this chair from Drive Medical could be the best option. 
It's designed in a way that not only serves as a shower chair but also for use as a rolling commode or over the toilet chair and so could be a comfortable raised toilet seat for your elderly loved one. This shower commode chair comes with a seat cut out feature to provides comfort and allows the chair to be positioned over a standard toilet or used as a portable self-contained commode.  
Its padded seat and padded, rigid backrest provide a comfortable seating position while showering. The chair has swing-away, removable footrests, which are equipped with height and angle adjustable footplates. Its rear strong wheels can navigate smoothly on any indoor surface. 
Its white aluminum frame is attractive, rust-resistant, sturdy, and strong enough to support a weight of 275 pounds.
---
5. Invacare Mariner Rehab Shower Commode Chair
This lightweight and durable shower wheelchair from Invacare Corporation is one of the most ideal shower chairs for elderly people or those with mobility problems. 
The chair features flip-back padded arms, swing-away from riggings, and four-position padded seat aid in providing user comfort. It comes with a 16 inches comfortable padded seat that allows the chair to fits over the most standard and elongated bowls for over-the-toilet use.
It is constructed from the all-aluminum frame and stainless steel hardware materials which are rust-resistant. The overall frame is very sturdy and strong. It has a weight capacity of 300 pounds. Its 23-inch treaded urethane back tires and 5-inch front casters allow the chair to move smoothly over any indoor surface. 
A great thing about this chair is its portability, which you may not find in other shower wheelchairs. It folds easily for transport and storage. 
---
6. Duralife Deluxe Self Propelled Shower And Commode Chair
This shower wheelchair from Duranlife is one of the most durable and comfortable chairs and could be the most valuable gift for your elderly loved one.  The chair and the seat are very stable for sitting and made with comfort and safety for the occupant. It suits the best for heavy and large patients. 
The chair comes with four interlocking seat supports for strength and a wide wheelbase for stability and like other shower wheelchairs, you can use this chair as self-propelled or with an assistant. The wheels are large, strong, and provide a smooth traveling experience.  
The chair is equipped with a large capacity potty which is easily cleanable and very hygienic. The back is made of a removable and durable, vinyl-coated polyester mesh. The chair has sturdy yet comfortable arms and leg rest that enhance the safety level. 
The overall frame is constructed with Healthcare grade PVC that does not rust, chip, stain or corrode. It has the capacity of carrying a weight of up to 350 pounds.
---
7. Aqua Creek Solid Seat Pool Access Chair
If you are looking for the most comfortable, stable, and durable shower wheelchair that comes with some great features, this shower wheelchair from Aqua Creek Products is the one you should seriously consider. 
The chair securely transports a person into and out of pools, spas, locker room showers, or other areas with wet conditions. It features a reinforced PVC construction and stainless steel hardware. 
With its solid yet comfortable seat makes showering and self-care more accessible.  The armrests swing-out for users to transfer easily in and out of the chair, and the footrest is retractable.
The chair comes with 24-inch plastic rear wheels with rubber tread, and the 3-inch front casters, which are rubber with stainless steel swivel. The chair is equipped with independent action parking brakes, which when activated stop the chair from moving forward or tuning, providing confidence to the person while seated. 
When it comes to the overall framing, the wheelchair looks very stable, secure, comfortable, and easily cleanable. It's crafted in a way that supports a weight of up to 300 pounds, making it also ideal for a large person.
---
For more high-quality shower wheelchairs, please visit our reccommended list by 

clicking here or check it on Amazon here. 
---