Gait difficulty and postural instability during walking are common in elderly people. To avoid falls and potential injuries, they are often advised to use walkers. There are plenty of walkers available on the market. However, not all of them have the arm support system that allows them to walk upright with better posture.
We did some research online and come up with Platform U-step 2 Walking Stabilizer. This walker from U-step Neuro comes with some unique features that make it stand apart from other walkers and make it the best upright walker for seniors.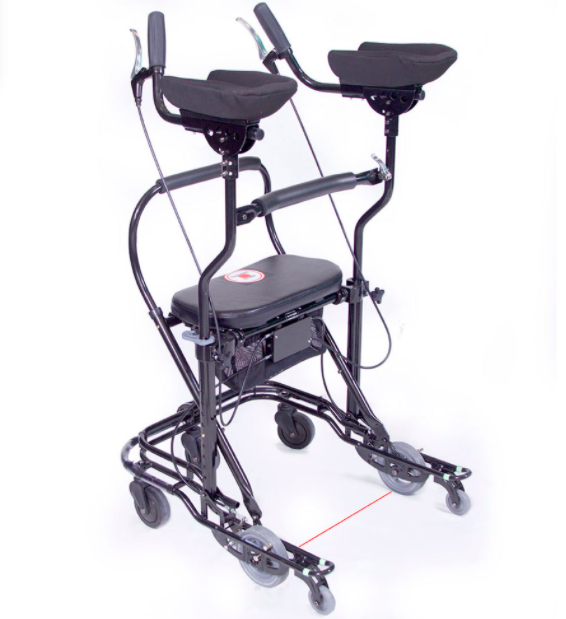 Specifications
Dimensions: 23 inches wide, 25 inches long.
Seat Height: 22 inches.
Seat Width: 20 inches.
Turning Circle: 29 inches.
Item weight with seat: 27 lb.
Weight Capacity: 250 lb.
User Height Range: 5 feet 2 inches – 5 feet 11 inches.
Handgrips: Up to 38.5 inches high.
| | |
| --- | --- |
| Pricing | $774.00 – $1,043.00 |
| Medicare Insurance | Yes |
| Warranty | Yes |
Who can use it?
This upright walker is primarily designed for seniors who have walking difficulty due to medical conditions like ataxia, stroke, cardiovascular, and pulmonology disorders. The walker is particularly helpful for those suffering from Parkinson's disease. It comes with laser cueing feature that helps Parkinson's patients to avoid freezing episodes and continue walking without the fear of falls.  
Key Features of the Platform U-step 2 Walking Stabilizer
Uniques Frame Design

One of the biggest problems with Parkinson's patients is that they freeze while walking. This is a situation when they suddenly become stuck in one position and are unable to step forward. It can happen when a patient starts walking or when he is turning around or passing through confined spaces, such as doorways. It can be dangerous as it may lead to falls resulting in serious injuries.
Innovative Braking System

It has a reverse hand brakes system. Unlike other rolling walkers that required pushing, this walker doesn't require any force to move. Gently squeeze the lever and you are ready to go. The walker will stop immediately once the level is released. The user can easily adjust the rolling speed of the walker.
High-quality Wheels

The high-quality wheels allow the walker to roll easily on any standard floor, even on wooden and carpeted floors without causing any damage to the floor. Its patented spring-loaded front caster system allows the walker to navigate on all surfaces such as grass, gravel, and even snow.
Armrest and Backrest Support

The walker comes with an arm support design. This allows the user to walk upright with better posture. It also has a backrest support that provides comfortable support while sitting on the walker.
Smallest Turning Cycle

The feature that you may not find in other traditional walkers is its smallest turning cycle. It has 29 inches turning cycle, which is 40% smaller than most walkers. This allows the walker to walk through narrow areas in your home like the bathroom, kitchen, and living room.
Laser Cueing Feature

The walker features a safe, obstacle-free visual cue in the form of a bright laser line, which projects across the path. The laser line triggers the leg to begin the step by stepping over the line and keep moving. This feature is particularly helpful for Parkinson's patients. It helps them to avoid freezing and continue walking without falling over.
Lightweight and Portable

The walker is light and handy. Plus, it has a folding option – it folds easily for storage or transport.
Pros
Light weight with high-quality frame
Arm support design, provides greater posture stability
Innovative braking system, speed adjustment option
Height adjustability option
Possibility of laser visual cueing system
Extra-wide wheelbase
Cons
Laser cueing accessory is sold separately
Expensive product
Conclusion
Overall, this lightweight walker is the most advanced and durable walker available today for elderly people, especially for those suffering from neurological conditions like Parkinson's disease or other mobility problems. Considering all the built-in great features, we think that this upright walker could be the best for your elderly loved ones. Check here the latest price of this walker.
Platform U-Step 2 Walking Stabilizer
$774.00 – $1,043.00