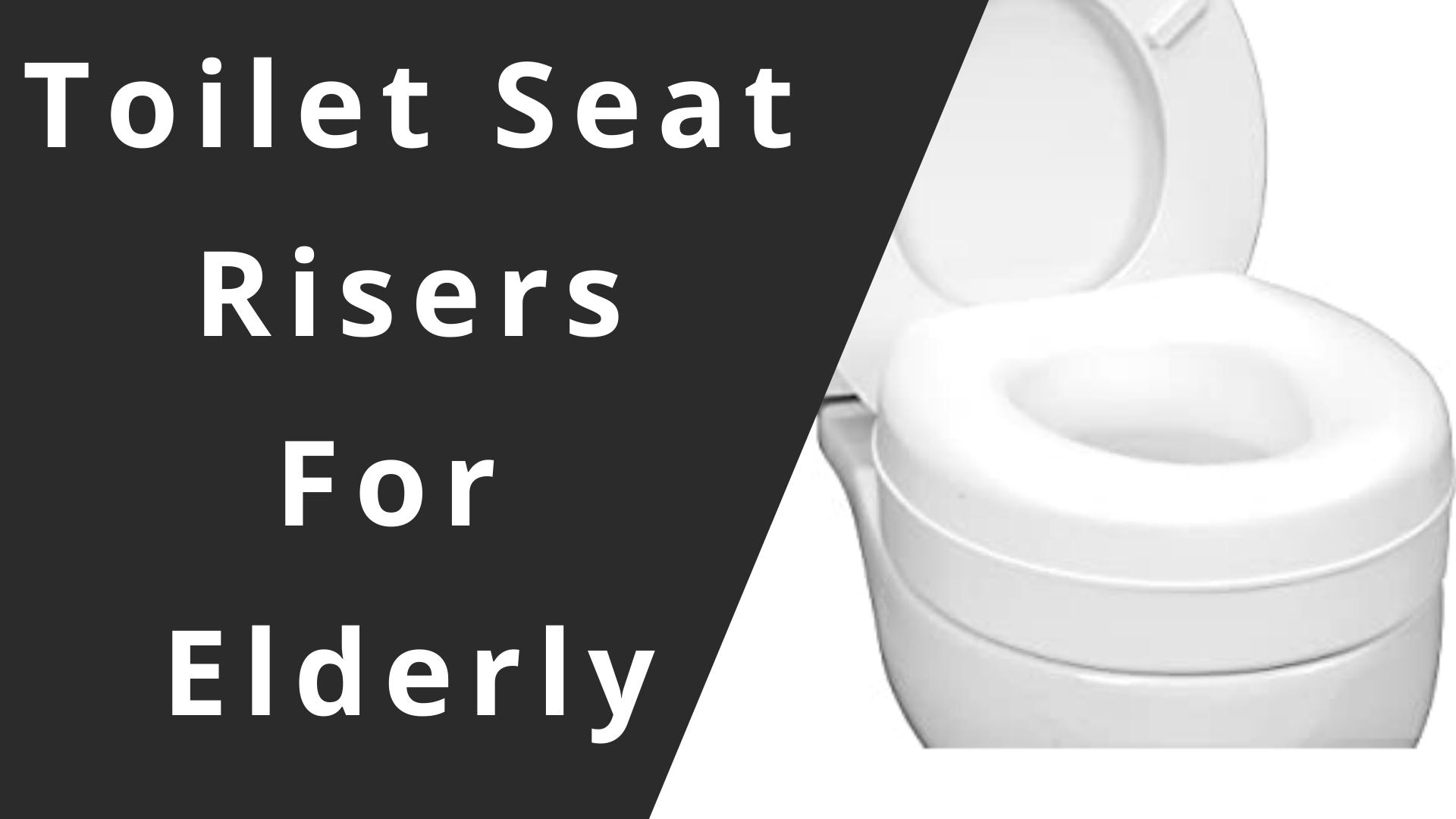 Elderly people and especially those having mobility issues find it very uncomfortable using standard toilet seats. To avoid any discomfort, they are recommended to use specially designed toilet seat risers.
Here, we have prepared a list of the 5 best toilet seat risers for you so that you can pick the one that suits best for your elderly loved one. Using any of these toilet seat risers will make toileting a lot easier for your loved one.
"Affiliate Disclosure: This page contains affiliate links, and while it may not cost you anything extra, if you make a purchase through these links, We'll earn a small commission".
1. HealthSmart Portable Elevated Raised Toilet Seat Riser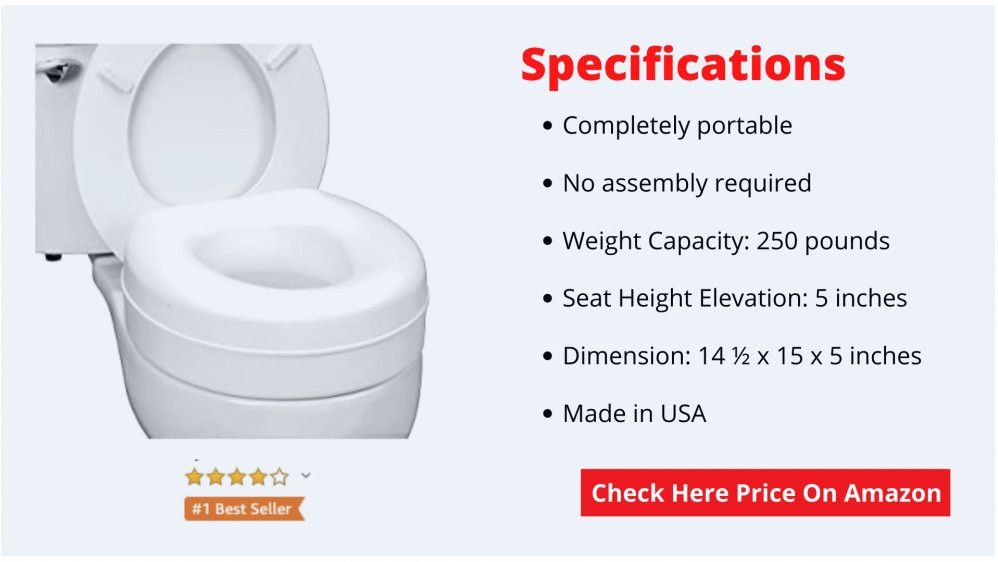 Here is Amazone's no. 1 best seller in the raised toilet seat category and is also the most preferable lightweight toilet seat riser in the list of the best toilet risers for the elderly and disabled people.
So what makes this toilet seat riser so special; It is because of its lightweight, portability, ease of use, unbreakable, and price.
This elevated toilet seat riser will add 5 inches in height to your toilet seat, making it much easier for the user to sit down and get up. The seat features slip-resistant 4 pads that allow it to easily adhere to the toilet bowl.
The seat riser is made from a high-quality unbreakable polyethylene that can support a weight of up to 250 Ibs. It is very portable. It can be folded flat for easy transport, you can take it with you wherever you go. Plus, it is easy to clean.

---
2. Essential Hinged Toilet Seat Riser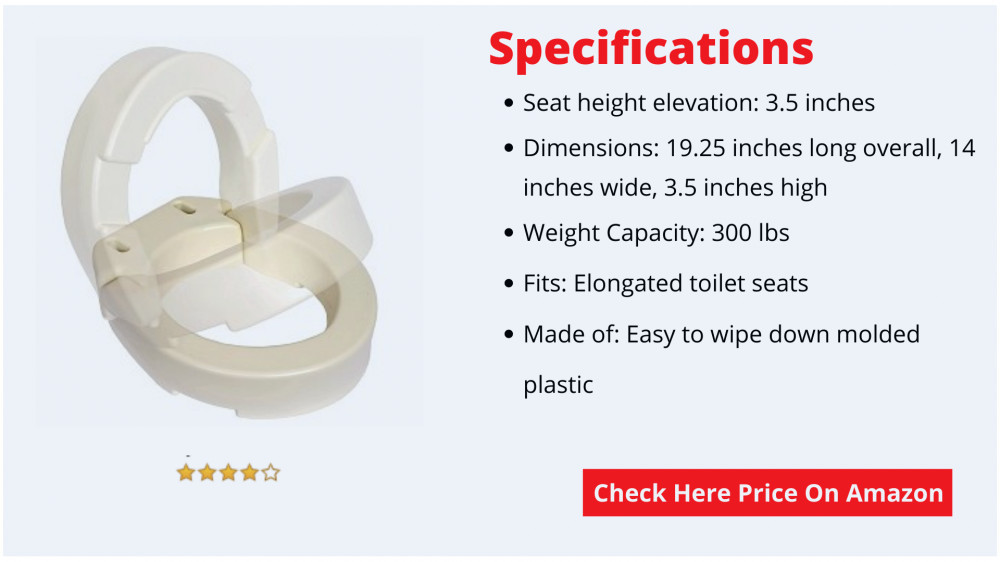 If you are looking for a high-quality toilet seat riser that comes at a reasonable price and helps your loved one to sit and stand safely, consider this essential hinged toilet seat riser.
Using this toilet riser will allow the users to use their current toilet seat by raising it 3.5 inches to make sitting and standing easier.
The seat is designed in a way that can fit any standard-sized toilet bowl. The two-piece design locks together and can easily be lifted with the seat to allow the user to wipe down under the riser.
The riser is made from easy to wipe down molded plastic and allows the seat to easily install with the included long bolts. It takes a few minutes to install it. It is strong enough to support a weight of 300 pounds.
For additional safety, it's recommended to use it with adjustable toilet safety rails LVA1055 or AEM240.

---
3. Medline Locking Elevated Toilet Seat
If you are looking for a plastic made toilet seat riser at a reasonable price, consider this toilet seat riser from Midline. Using it will provide maximum comfort for your elderly loved one in the toilet.
The seat comes with a front clamping locking system that allows to firmly attach the seat onto the toilet so that you don't have to worry about it coming loose or shifting during use or transfer. When attached, it gives an additional height of 5 inches to the existing toilet seat.
The seat provides maximum comfort sitting position and it fits most toilet bowls from 11″-14″ long.
It's designed in a way that required no assembling and is strong enough to support a weight of 350 pounds. Plus, it's very easy to clean.
It comes without arms and therefore we recommend buying it with an arm support system like LVA1055 or AEM240 for maximum safety.

---
4. Vive Raised Toilet Seat

If your elderly loved one is in need of a little extra assistant while using a toilet seat, this raised toilet seat from Vive could be a solution. Adding 5 inches to your existing toilet seat, this toilet seat riser serves as a comfortable toilet seat for your elderly loved one.
It comes with comfortable padded handles, which make it easier and safe for the user to sit or stand without bending.
The seat can easily be installed on any standard or elongated toilet bowl without causing any trouble to the existing seat. It's designed in a way to fit comfortably inside any toilet and its adjustable knobs ensure a tight and safe fit.
The seat features an easy-to-use and stable locking mechanism. In order to lock it on the toilet, simply turn the locking bolt on the front counterclockwise.
It's durable, portable, and lightweight and comes with removable handles. And when it comes to cleaning, you don't need to put an extra effort as it's easily cleanable and can be wiped down with any disinfectant or sanitizing wipes that you normally use to clean your existing toilet bowl.
The toilet riser is crafted with a durable composite material that can hold a weight capacity of up to 250 pounds.

---
5. The Ultimate™ Raised Toilet Seat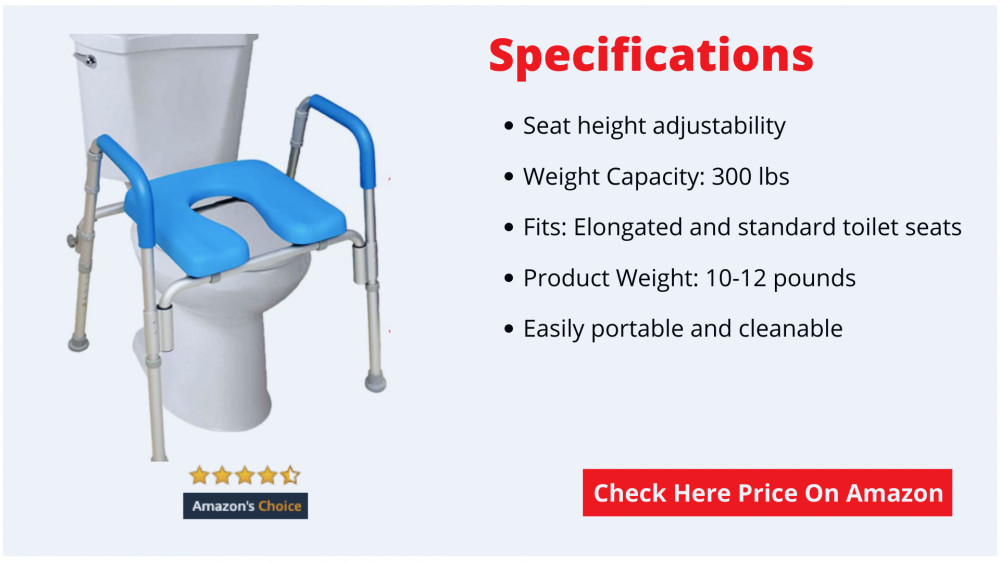 If you want to pay a little extra for a raised toilet seat that comes with some more comfortable features, the ultimate raised toilet seat is the one you should be thinking of.
This toilet seat riser features a warm, soft, padded seat that makes toileting comfortable for your loved one. In fact, this could also suit those with reduced mobility or those who are recovering from knee, hips, or back surgery.
It is because of the multifunction feature that makes it stand apart from other toilet risers. It can be used as a raised toilet seat, a bedside commode, and as a shower chair. Its tool-less easy height adjustable settings allow the user to adjust the height of the seat according to the needs.
The seat comes with sturdy, weight-bearing padded armrests, which provide extra support and allow the user to comfortably and securely sit and stand. This feature of the seat provides an extra safety benefit for the user; not only physically but also psychologically.
This toilet seat riser can fit both standard and elongated toilet seats. It doesn't require any complicated installation. It simply slides right over your toilet and rests firmly and safely on the floor. Easy to remove when not required. The overall frame is strong enough to support a weight of up to 300 pounds.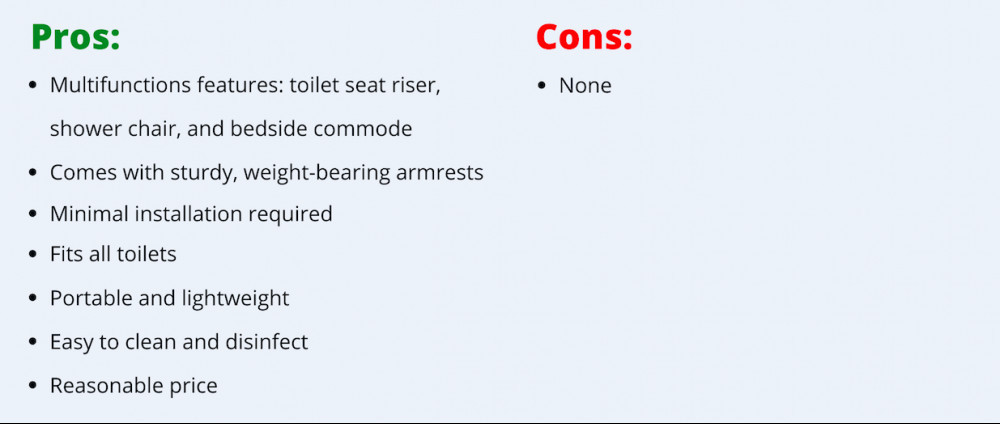 For more high-qualiy toilet seat risers, please visit our reccmmended list on Amazon by clicking here.
---