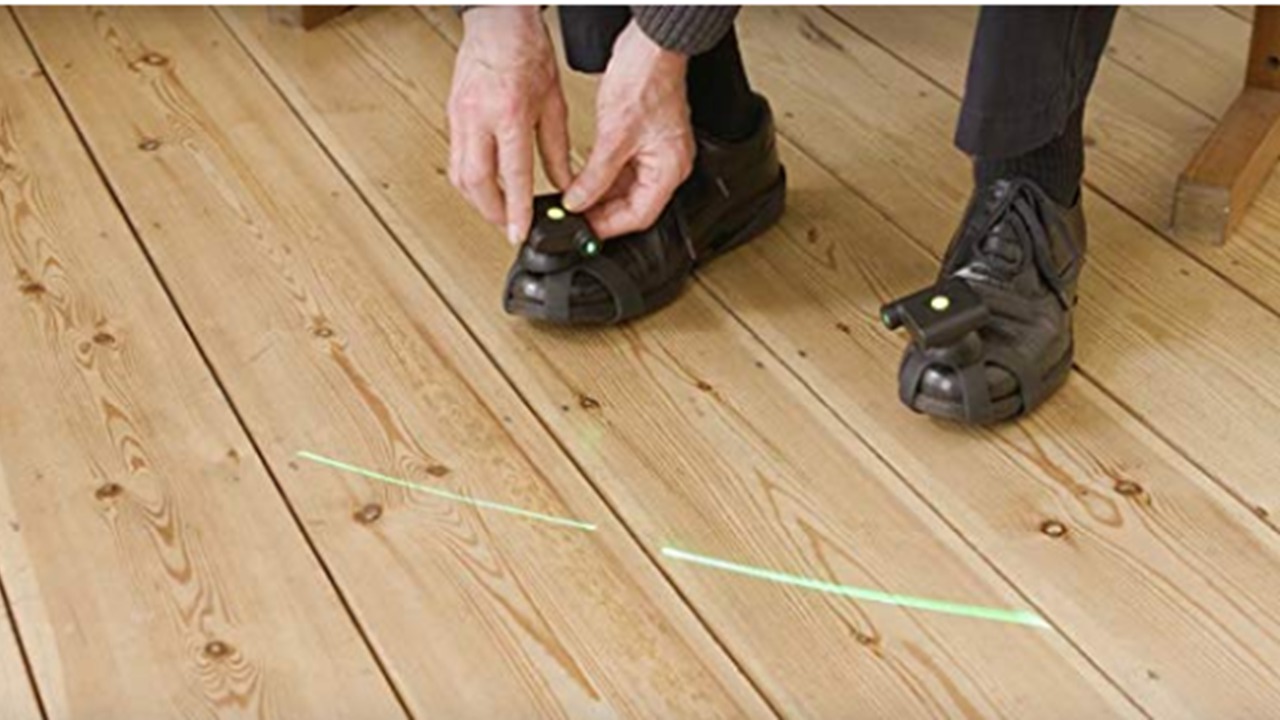 Path Finder is a small and lightweight laser cueing shoe which projects a bright green laser line across the path. It is primarily designed for people suffering from gait freezing due to Parkinson's disease and other Parkinsonian conditions. The Path Finder laser shoe is also useful for those who have an abnormal gait pattern because of ataxia and stroke.
The Idea of Developing the Path Finder
Path Finder is a laser cueing device designed by Lise Pape, who was a graduate student at the Royal College of Art and Imperial College of London, and now the CEO and founder of Walk With Path. Her idea of developing Path Finder has originally come from her father illness. Her father was having a gait problem due to Parkinson's disease. She thought of designing a device that could assist and benefit him. This led her to developed a company named Walk With Path in 2014. The company launched its product Path Finder – a laser cueing shoe in 2017.
Since its launched, the Path Finder has gained popularity among Parkinson's patients. It enables them to walk independently and with more confidence. It allows them to regain control over on their walking.
How does it Help Patients?
One of the biggest problems with Parkinson's patients is that they freeze while walking. This is due to the deficiency of dopamine which is a neurotransmitter responsible for movement. Freezing of gait restrains the patient from moving and can cause to fall.
Researchers believe that visual cues across the path can help the patient to initiate the gait and break the freezing episodes.
Path Finder works on the same concept. It provides a visual cue in the form of a laser line that is projected in front of the wearer. The laser line attracts the attention of the patient and allows the patient's focus on moving forward. That way, the patient can walk without encounter freezing episodes.
How does it Work?
The main unit of Path Finder is the laser device which is attached to the rubber strap that can easily fit a shoe. When switching on, the laser unit initiates a bright green line which can be calibrated by rotating the laser unit.
The laser project a line when the foot touches the ground, that is when static. While it goes off when the foot is in motion. During walking, when one foot comes in contact with the ground, the shoe projects a laser line in front of the wearer. This line serves as a visual cue for the wearer to step over with the other foot and take a step forward. That way the wearer continues to keep walking in a more normal manner.
The laser unit is small and lightweight. You will feel like walking with normal shoes. Plus, it doesn't require any batteries. It can easily be charged with a charging cable and plug provided in the packaging.
What does the Research Say About it?
Walk With Path is working in collaboration with an academic institute in The Netherlands, Radboud University to test the efficacy of Path Finder on patients with abnormal gait due to Parkinson's disease. The results so far show a clear improvement in patients gait.
In an in-house study performed on two patients with severe gait abnormality due to Parkinson's disease concluded that Path Finder is very efficient in decreasing the number of freezing episodes and improving the walking pattern in patients.
Together with its collaborators, the Walk With Path is working on the next model of Path Finder, and are planning to conduct a large clinical trial study on patients with an abnormal gait.
Overall, this visual cueing laser shoe – the Path Finder-  is ideal for people with Parkinson's disease. It breaks their freezing episodes, improves their walking speed and stride length. With this innovative device, they can regain their control over on their walking. Click here to buy!