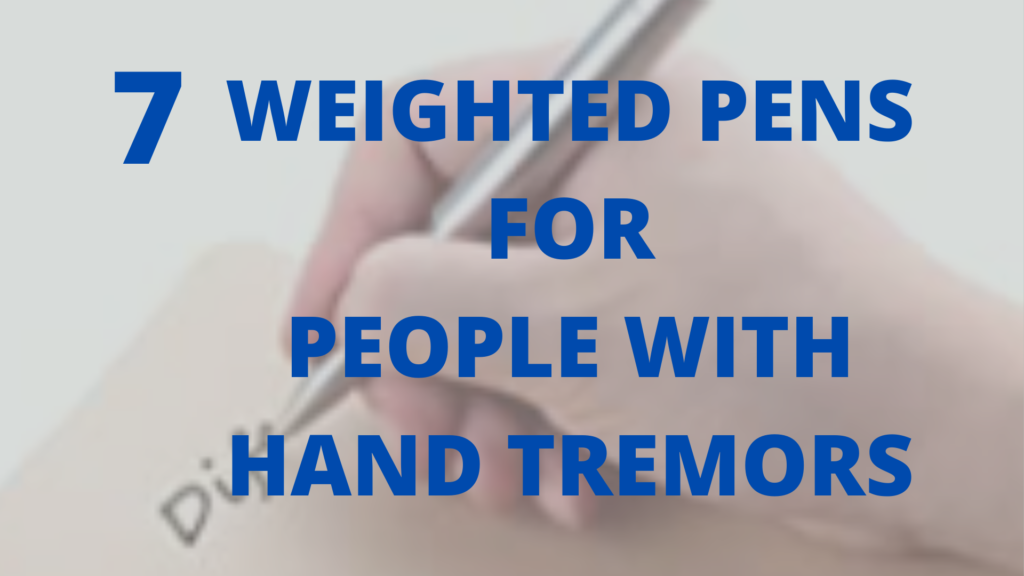 People with hand tremors find it difficult to perform tasks that required writing and drawing. It is tedious, tiresome, and stressful for them to write with a regular pen. Therefore, they are often advised to use heavily weighted pens for writing.
If you are suffering from hand tremor and find it difficult to write with a regular pen, here is the list of 7 best-weighted pens for you. These pens will not treat your tremor, but they come with some good features that will certainly improve your grip and control, and make it easy for you to write on paper.
1. Heavy Super Big Weighted Pen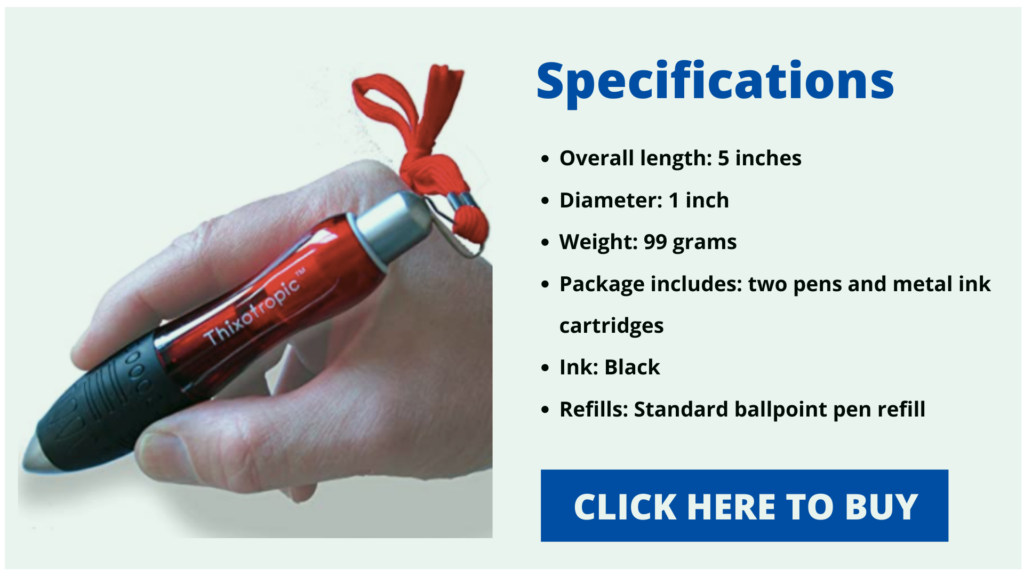 This is one of the heaviest pens available on Amazon. The pen is designed to control the involuntary movement of your hand and allows you to write the way you want. It has a soft black rubber grip which eases the stress on the finger and makes it easy for you to hold and control it.
It comes in pair; in case you lost one you will still have the other one to use. Plus it is equipped with a long-lasting metal ink cartridge.
2. Adjustable Weight Writing Pen
This ergonomically and oversized design pen provides maximum comfort and efficiency, regardless of your writing style. It has a wide and large barrel that provides a good grip. The barrel is made of high-quality material and is very strong.
The great feature about this pen is that it is packed with five 10 grams weights. These weights can easily be added or removed as desired for balance and efficient writing. This feature is particularly helpful for people with Parkinson's disease. Parkinson's patients usually have a tremor that changes over time, it gets severe as the disease progresses. The pen allows them to adjust the weight according to their tremor severity.
The pen comes with black ink and uses standard ballpoint pen refills.
3. The Pencil Grip The Heavyweight Pen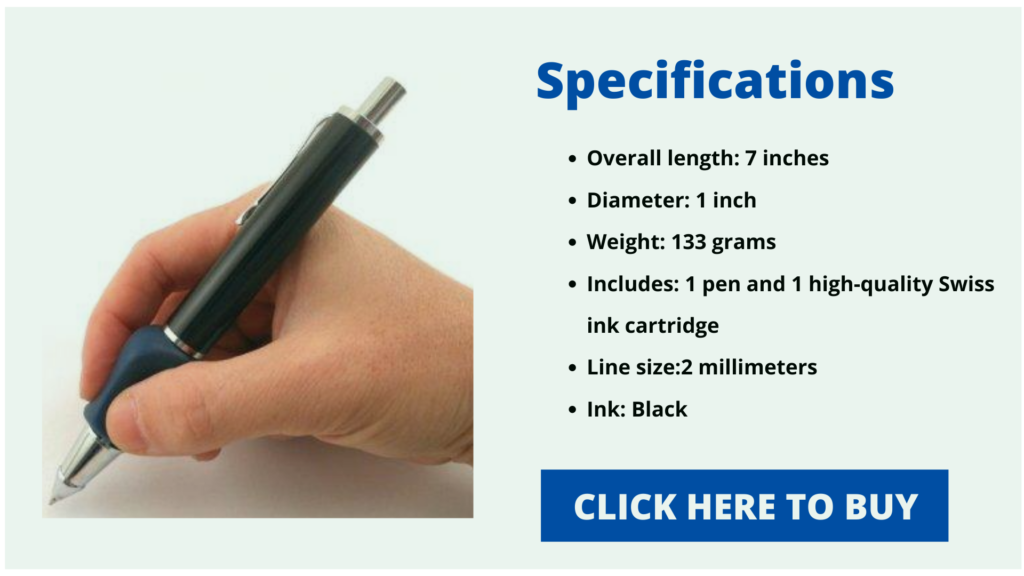 This pen is developed by doctors for those who have weak hand strength. But it could also suit those with tremor.
The pen is designed in a way that supports tension from large muscles in the arm and eases the stress on the fingers and other smaller muscles in the hand, thus it protects your hand from the effects of tremor.
A feature that makes it stand apart from other pens is that it has a unique soft ergonomic grip, which is called the Pencil Grip. The Pencil Grip allows to position fingers in the proper positioning for gripping. This helps the hand to avoid using extra force downward and keep it relaxed as it writes.
4. SenseAid Weighted Writing Pen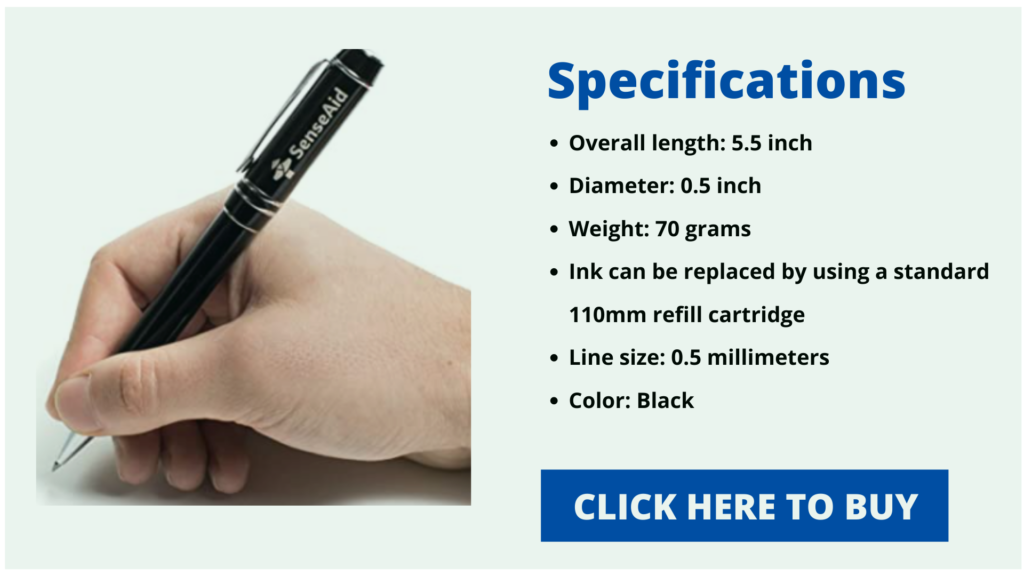 This 70 grams pen is slightly heavier than a normal pen; approximately 11 X heavier than other pens. The extra weight comes from using its quality and heavy metals. Its black & silver design gives it a classical look and also gives the feeling of holding a traditional pen. But unlike the traditional pen, it requires less pressure on fingers during writing.
The pen comes with 1 mm tip that provides a smooth writing experience. Because of such a wider tip, the lines will be as wide as what you are used to, and the ink will flow more smoothly. Also, the ink can easily be replaced with any international standard 110 mm rollerball pen refill. The pen is sturdy and solid and so can last longer.
5. SmoothTherpro Heavy Duty Stainless Steel Pen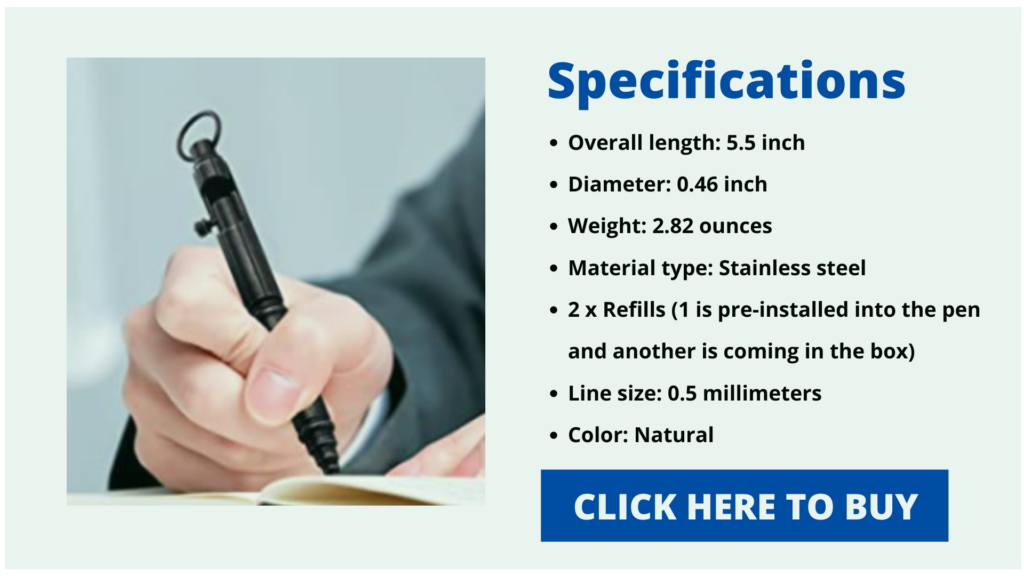 This heavy, sturdy, and string pen is good for those with weak hand grip due to tremor or arthritis. It has a decent look and provides a smooth writing style. The pen is designed with users' comfort and the excellent anti-skid ability for holding. It is a decent inexpensive metal pen that
The pen is constructed with high corrosion resistance stainless steel, making it a lifetime use product. It uses standard refills, which are easy to get anywhere, and never need to worry to replace the refills. This inexpensive pen comes in a gift box so that you can give it as a gift to your loved ones suffering from tremor.
6. SmoothTherpro Stainless Steel Tactical Pen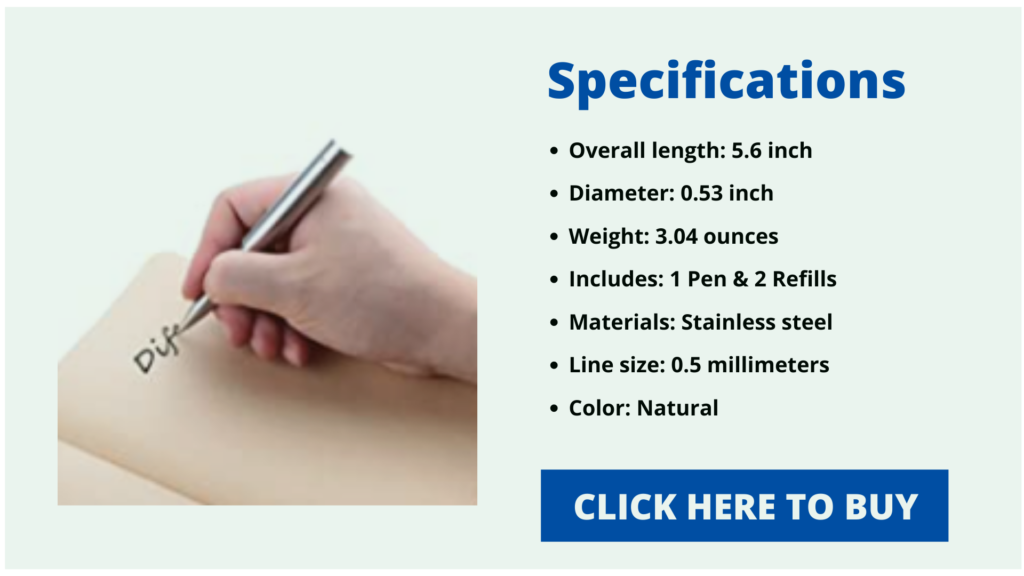 This finely CNC machined full stainless steel tactical metal pen works better than a normal pen. Although heavier than other pens, it looks good in your pocket and so you can use it as an everyday carry regular pen.
The pen is portable, durable, and unbreakable. It is designed with users' comfort and excellent anti-skid ability for holding. The pen uses a commonly used standard refills and you can get anywhere super easy to exchange refills.
The pen also comes with some extra features. For example, you can use it as an emergency glass breaker or survival tool during a fire. You can also use it for self-defense to some extent.
7. Special Supplies 3 Pack Weighted Pens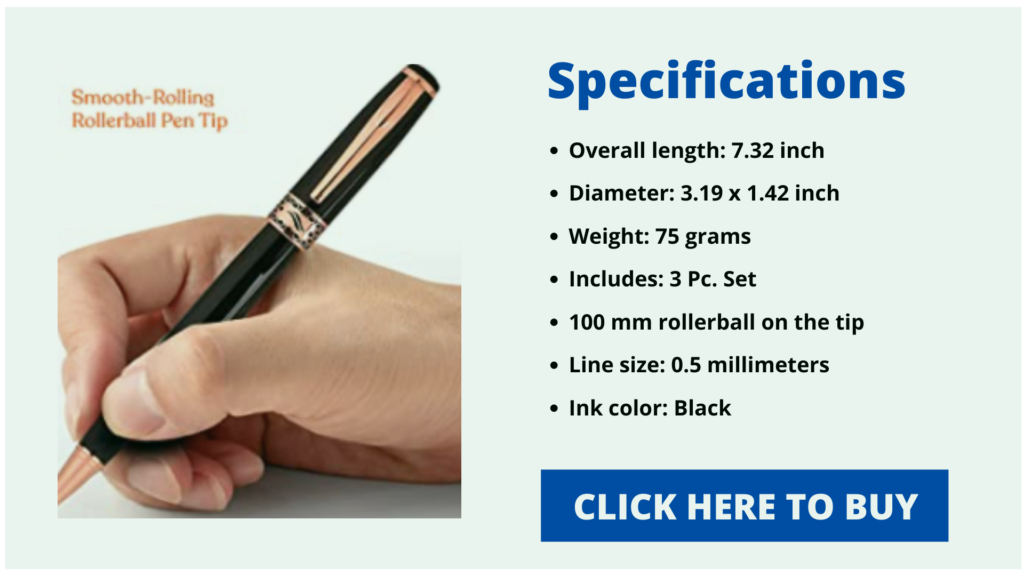 This well-balanced weighted pen set includes 3 pens. Each pen weighs about 75 grams, which is ten times heavier than traditional pens. It comes with a smarter and more supportive writing design style.
Each pen of the set comes with high-quality blank ink that can be used for writing on personal and professional papers or other documents. It features a premium 100 mm rollerball on the tip that glides over the paper more smoothly, allowing you to write the letters clean and easily. The cartridge of the pen is leak-resistance and easy to refill. The pen comes in rose gold, gold, and silver colors.
If you would like to see more about weighted pens, please click here.
---