Older persons often face postural instability and difficulty in walking that could lead to falls and serious injuries. To avoid this, they are strongly advised to use walkers. Using the right walker help them to walk independently without the fear of falls.
There are plenty of walkers available on the market and most often it becomes a difficult decision to choose the right one.
Here's a list of 5 best walkers for the elderly that will help you to choose the one that suits the best for your loved one.
1. U-step II Walking Stabilizer
This is by far the best walker designed for the elderly. This high-quality walker is sturdy, yet light-weighted that is best for indoor and outdoor use. It enables your natural walking pattern and maintains a good posture.
Its unique U shape frame surrounds you and provides you maximum protection so that you can move around with more confidence. Another great feature is its 29 inches turning cycle, which is 40-50% smaller than most walkers. Such a tight turning cycle allows you to walk through narrow areas in your house.
Due to its innovative reverse braking system and seven wheels, you can walk around on any surface, without the worry of damaging the floor.
The overall frame of the walker is very stable that can support a weight of up to 375 pounds. Plus, it is of high quality, so you don't have to worry about any crack, curl or scratch.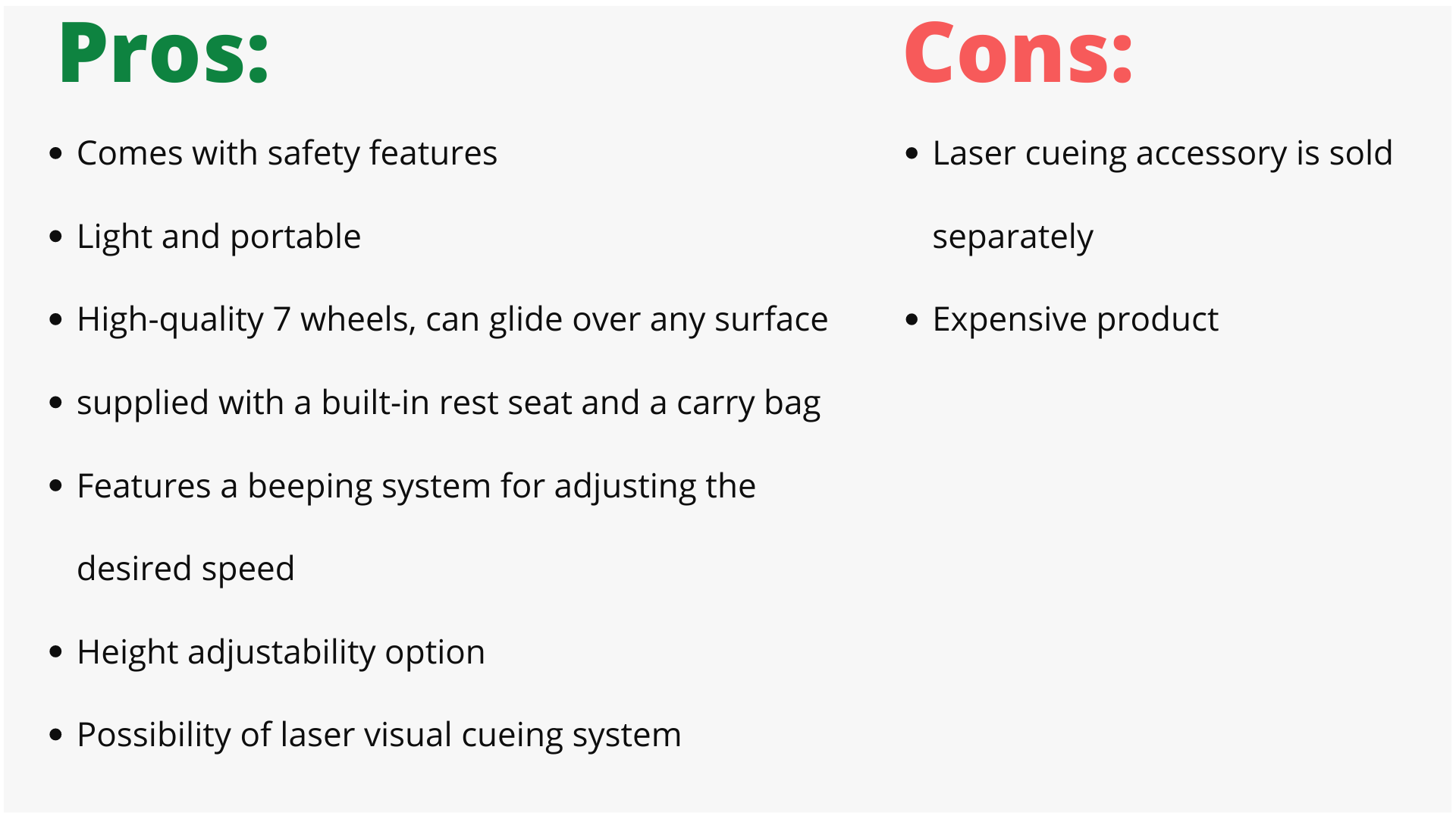 ---
2. Up Walker Large Posture Walker Mobility Aid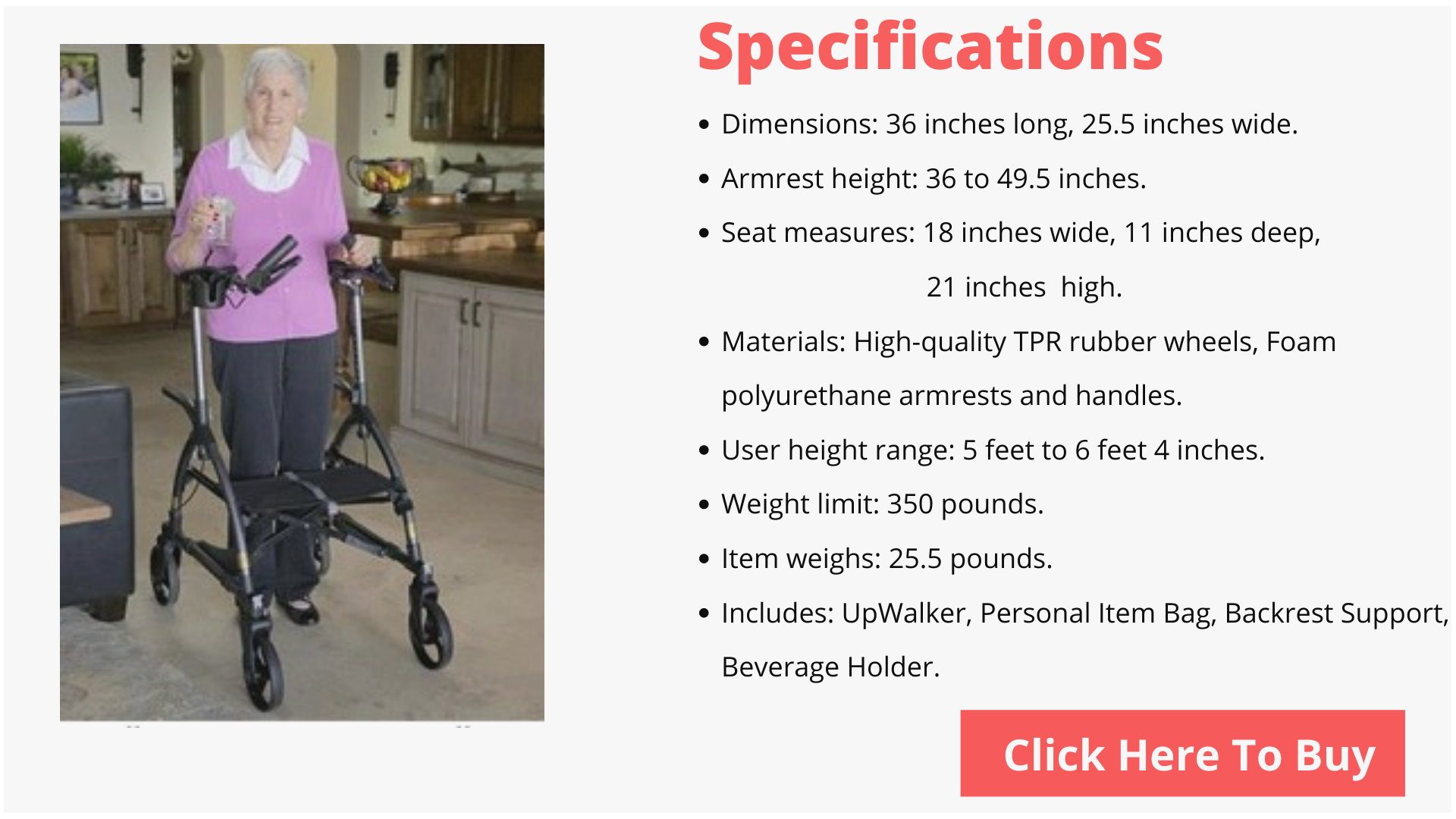 This stands up walking aid is designed in a way to provides increased stability and safety for elder users who have difficulty walking.
The feature that makes it stand apart from other traditional walkers is that it comes with an arm support design. This allows the user to walk upright with better posture. The padded armrests are height adjustable and extend or shorten, to provide comfortable support. The hand grips easily pivot for optimal wrist position.
The walker is best for use at home or in a living facility. It features a stylish, lightweight frame that provides maximum stability and support. It surrounds the user and moves with him in any direction. Its wide wheelbase are designed to prevent falls, increase walking independence for users with neurological conditions.
The ergonomic handbrakes allow the brakes to be easily locked and provide better control. The comfortable fabric seat with backrest provides a helpful seat when needed. The high-quality wheels allow the chair to roll easily on any standard floor.
The overall frame is strong enough to support a weight of up to 375 pounds.  It folds easily for transport and storage.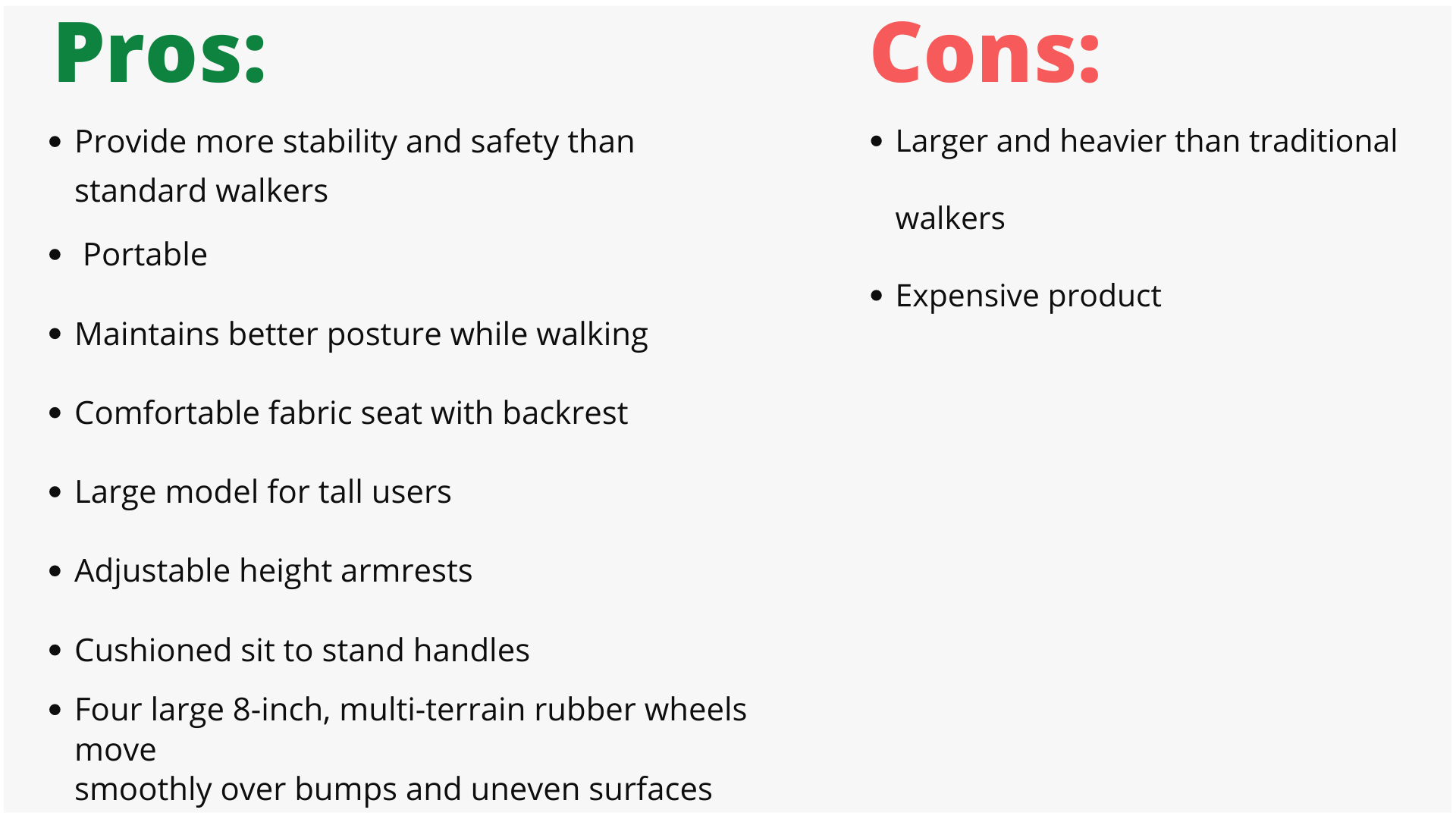 ---
3. Free2Go Rollator Walker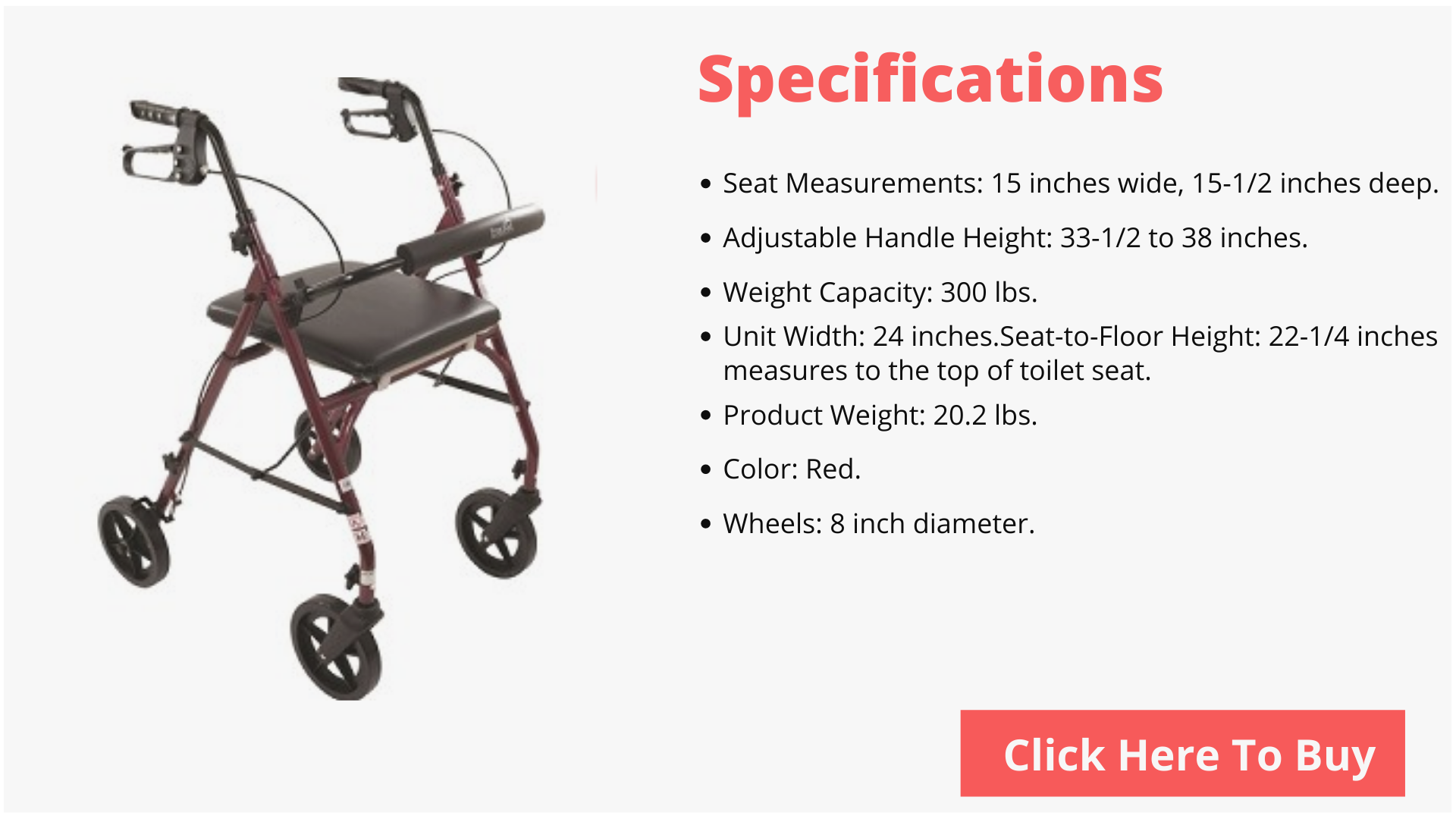 This standard looking rollator walker comes with some extra features that are usually not found in other traditional walkers.
This adapted rollator walker comes with raised toilet seat and toilet safety frame. It provides people with limited mobility a safe way to use a toilet in any restroom, the features that make stand apart from other walkers.
The Free2Go walker has 8-inch flat wheels provide added stability and support and allow the walker to navigate both indoor and outdoor terrain. The overall frame of the walker is made of high-quality steel that supports weight up to 350 pounds. It features a comfortable padded seat and backrest allows you to sit when you become tired.
The walker is very portable. It can be folded flat for easy transport, you can take it with you wherever you go. Plus, it is easy to clean.
So overall, The Free2Go Rollator Walker provides users with benefits of 3 different mobility devices in 1 item – walking aid, raised toilet seat, and toilet safety frame.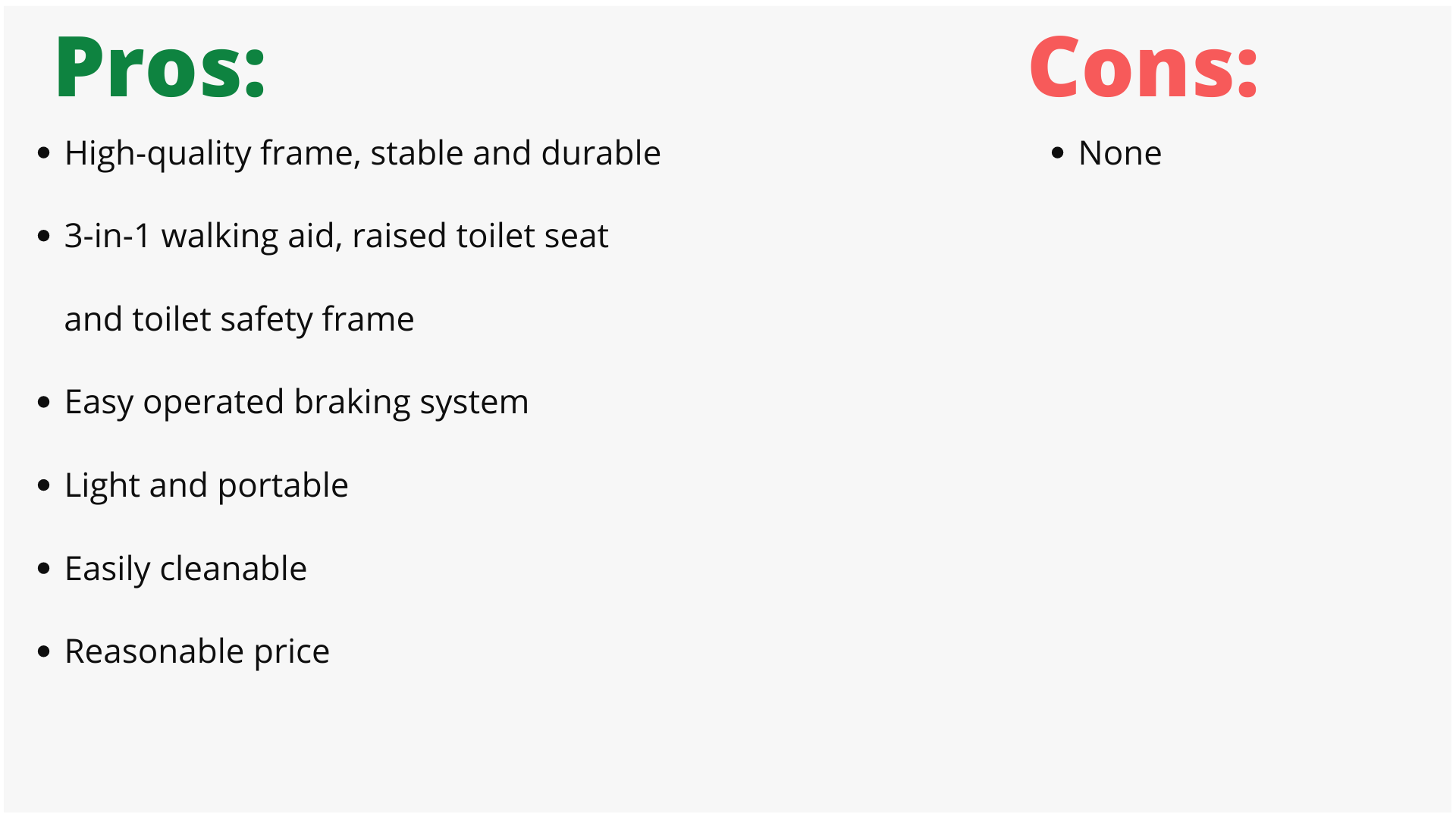 ---
 4. Signature Life Elite Travel Walker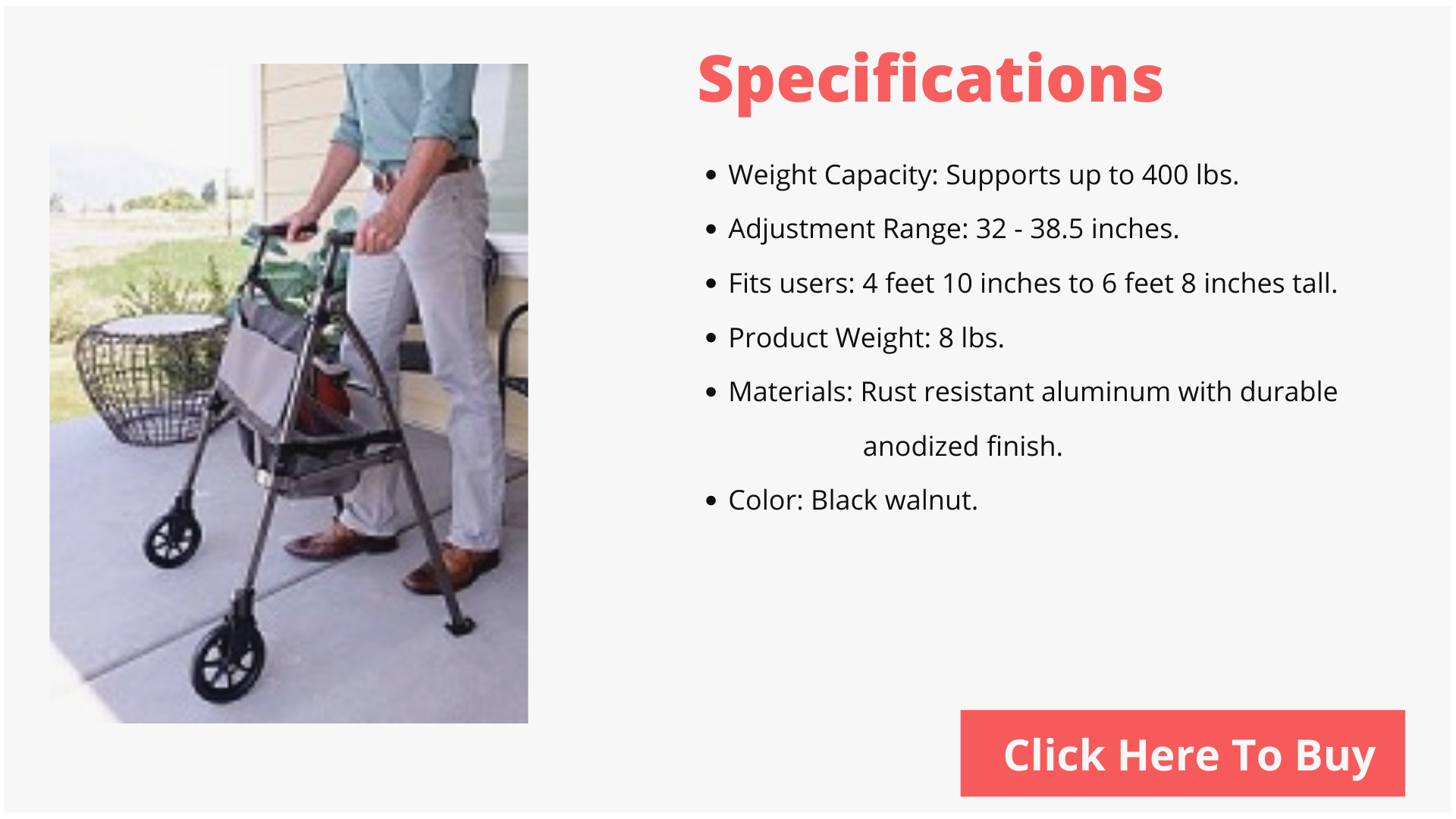 This is the preferable lightweight transport walker for old people or those suffering from mobility problems.
So what makes this walker so special; it is because of its lightweight, portability, ease of use, high-quality frame, and price.
The walker comes with large locking swivel wheels and rear easy-glide feet that allow the user to maneuver through a variety of terrains with ease.
The walker has a high-quality frame and is strong enough to support a weight of up to 400 pounds. At the same time, the frame is lightweight and can be folded very easily. You can store in overhead plane compartments or in the front seat of your car. A premium organizer and storage pouch provides easy-to-reach compartments.
The walker also has a front pouch and organizer basket that allows you to carry with you your belongings, water, or food items wherever you go.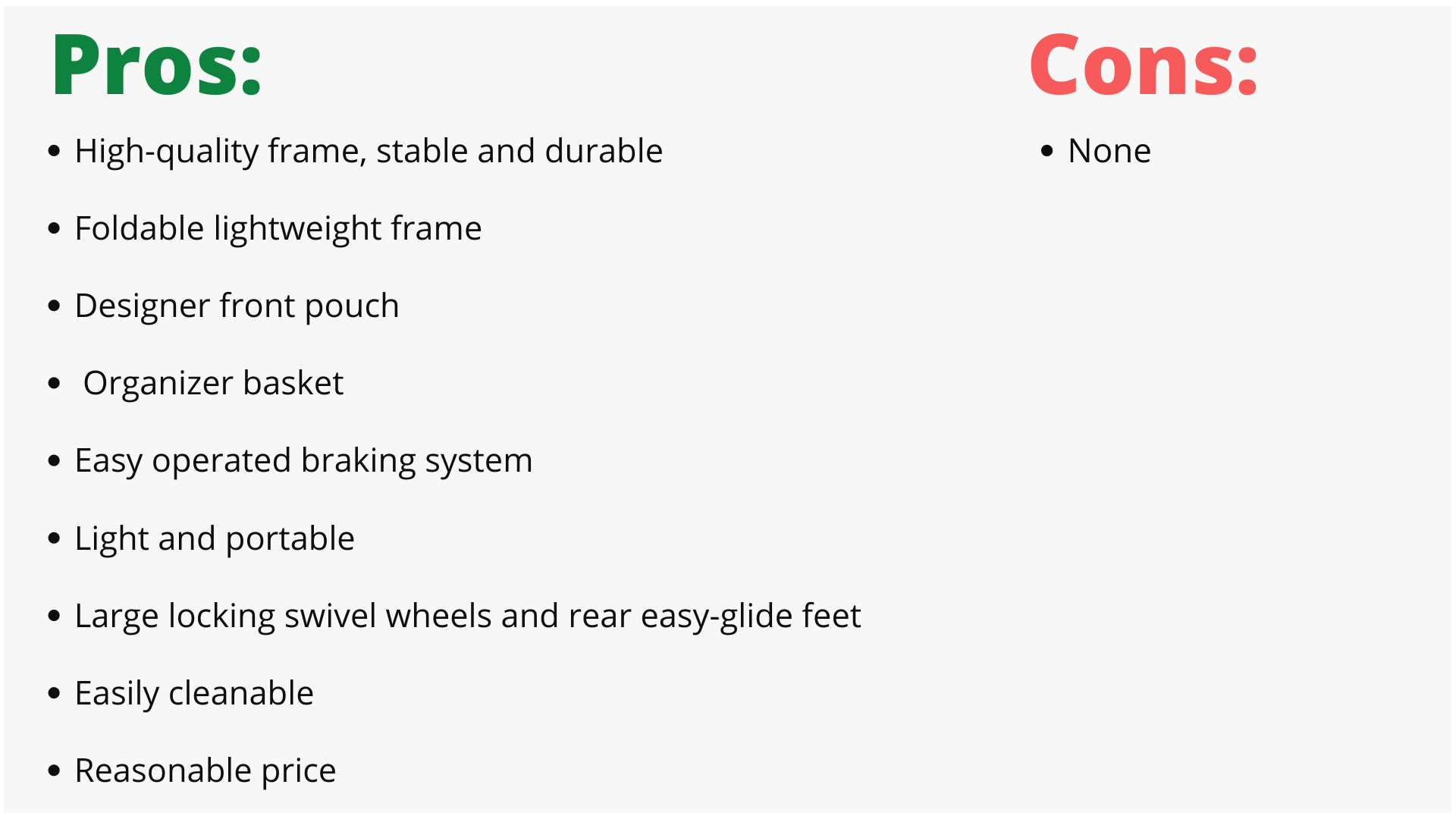 ---
 5. Easy Fold and Go Walker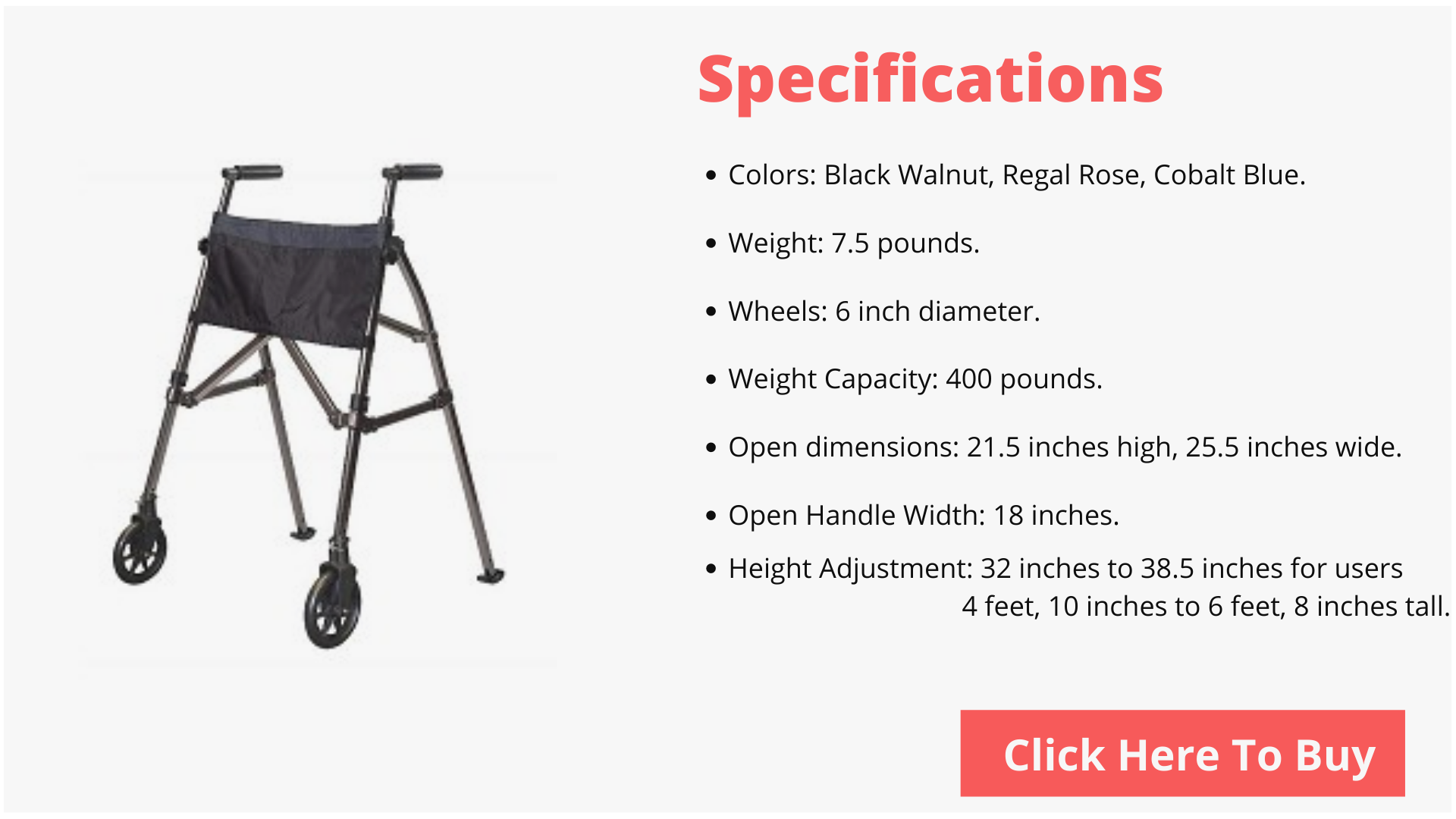 If you're looking for a standard lightweight walker that is ideal for traveling and has an affordable price, think about this Easy Fold and Go walker.
This newly designed mobility aid that opens and folds up easily for stress-free portability. This easy to use rolling walker, with its sturdy design, allows users to walk with confidence, outdoors and indoors!
This walker is so portable that with the lift of a finger, the Easy Fold and Go Walker easily folds allowing it to be stored in a car, shopping cart, the overhead compartment of an airplane, or discreetly by the user's side when not in use.
When it comes to the overall framing, the walker looks very stable, secure, and easily cleanable. It's crafted in a way that supports a weight of up to 400lb.
The walker has a height adjustment feature that allows the walker height to be easily adjusted to accommodate users from 4 feet 10 inches, to 6 feet 8 inches tall. The 6 inches swivel wheels and rear easy-glide feet allow the user to easily maneuver the walker.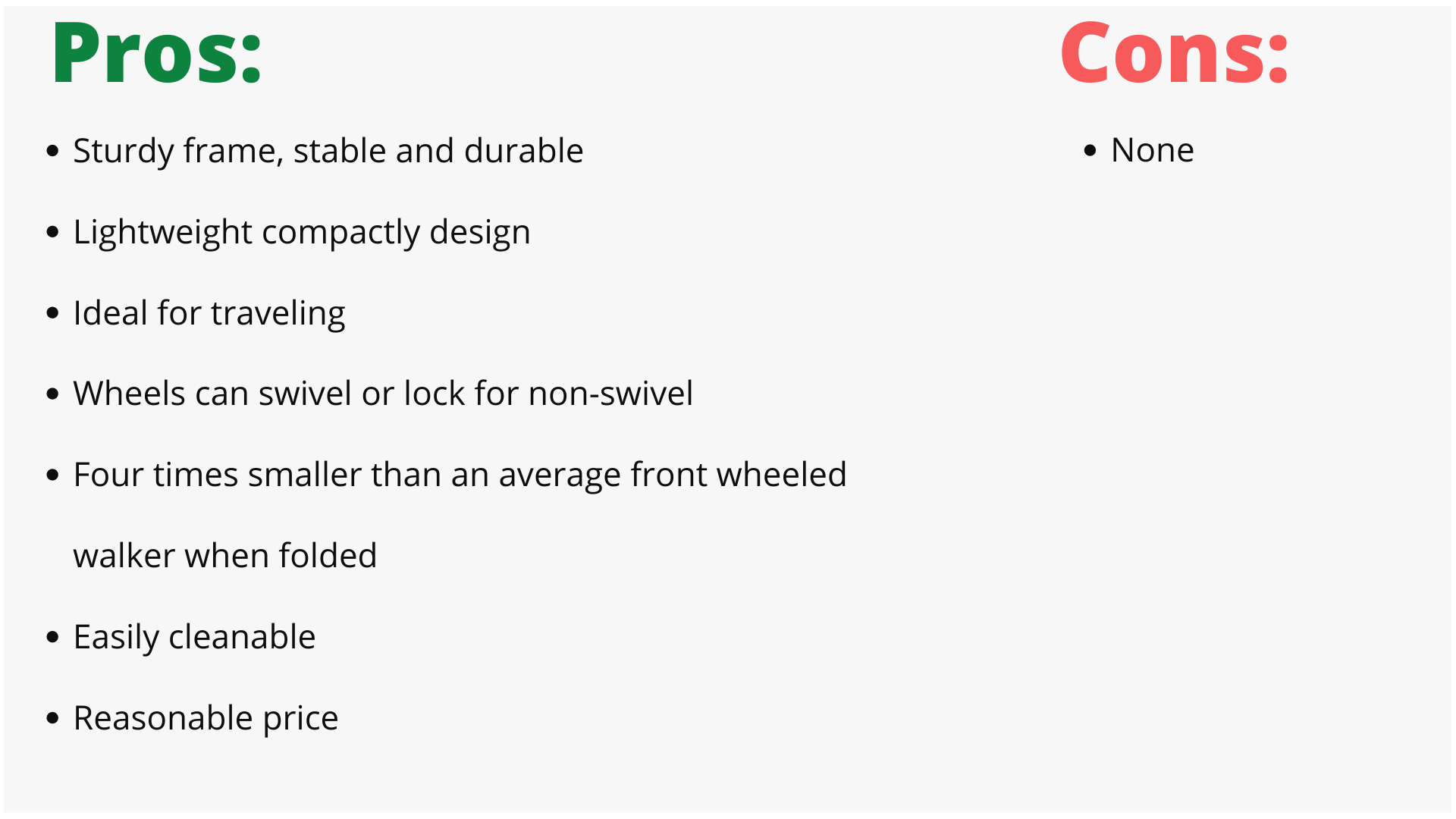 ---
Affiliate Disclosure: This page contains some affiliate links, and while it may not cost you anything extra, if you make a purchase through this link, I'll earn a small commission.