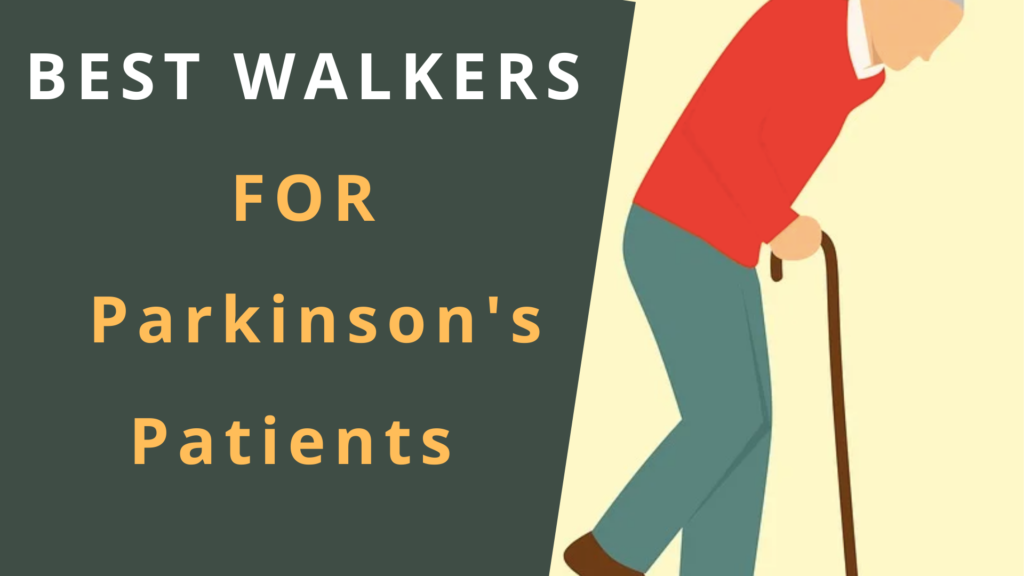 Postural instability and trouble walking are common in people with Parkinson's disease. The chances of falling and getting hurt increase as the disease reaches its advanced stage. This is why the patients, especially the old ones, often need the assistance of others for walking. To avoid falling and get serious injuries, Parkinson's patients are advised to use walkers when going out or walking inside the house.
There are plenty of new walkers available on the market. But for most people, it becomes a difficult decision to choose the right one. Here, we have compiled a list of the 12 best rollator walkers from Amazon. These walkers come with some good features that will allow Parkinson's patients to walk independently and with more confidence.
So have a look at the list and choose the walker that you think is the best for your loved ones suffering from Parkinson's disease.
''Affiliate Disclosure: This page contains affiliate links, and while it may not cost you anything  extra, if you make a purchase through these links, We'll earn a small commission''.  

1. U-Step 2 Nuero Standard Walker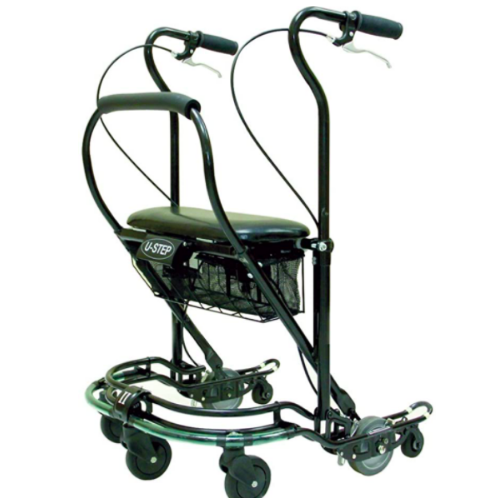 Features
Most modern type walker.
Features a U-shape base construction, hand brakes, and 7 strong wheels with 4-inch spring loaded front wheels.
Equipped with a unique innovative braking system
and comfortable back seat and backrest, a basket with tray.
29" turning-circle which is 40% smaller than most rolling walkers.
Weight support up to 300 Ibs.
---
2. Rinkmo Rollator Walker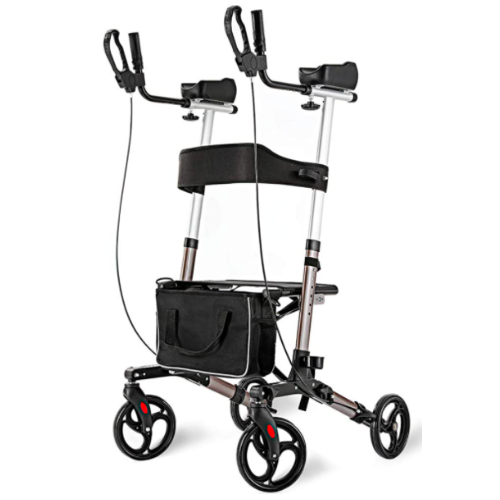 Features
Features an adjustable padded armrest.
Gives to relieve painful stress on shoulders and back.
Dual braking system and a comfortable backrest.
Comes with large 8-inch front and rear wheels.
Installed with 360° swivel anti-skid wheels.
Overll dimensions: 32.5"(L) x 21"(W) x 46"(H).
Crafted with seamless sturdy aluminum frame.
Load capacity of 300 lbs.
---
3. Drive Medical 10257BL-1 Walker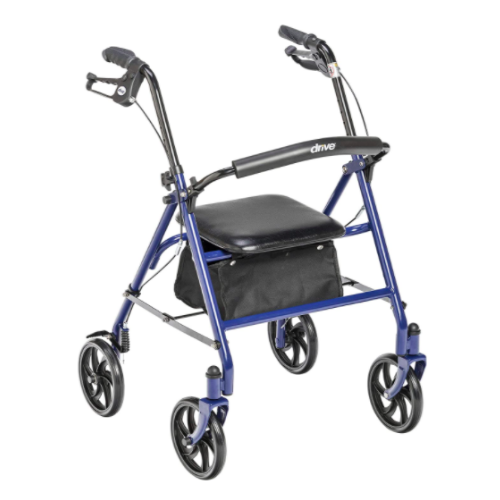 Features
Provides reliable support with maximum comfort.
Features deluxe loop locks for safety, non-marking wheels, and a convenient pouch.
Comes with 7.5-inch non-marring wheel casters. 
Very handy: easily store and transport walker.
Total weight: 18.6 pounds.
Carrying weight capacity: 300 pounds.
---
4. Vive Mobility 3 Wheel Rollator Walker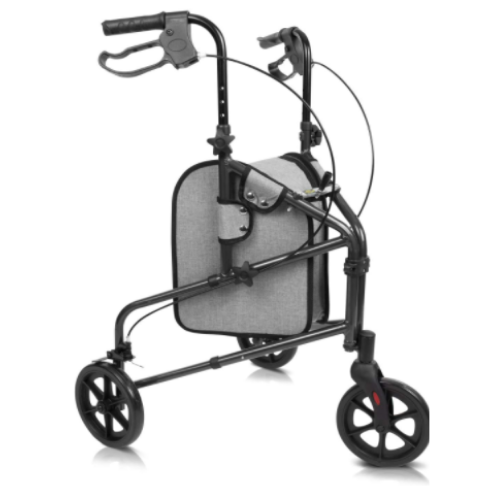 Features
Compact and stable design.
Three-wheel rollator features a front swivel wheel.
Features adjustable handlebars and dual brakes.
Provides convenient storage, the tri-rollator neatly folds in half.
Made with durable aluminum.
Comes with a stylish grey rollator bag.
Supports a weight of up to 250 pounds.
---
5. RINKMO Rollator Walker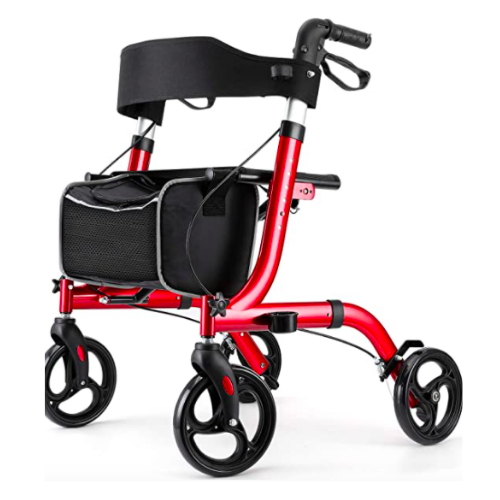 Features
Crafted with premium aluminum, sturdy and stable.
Comes with 4 wheels, 18"wide sea nylon seat, Cane holder, and a storage bag.
Ergonomic handgrip with two brake system.
Overall dimensions: 24.2″W x 27.5"D x 37.4"H. 
Supports weighing up to 300 lbs.
Walker weights: 15.6 lbs.
---
6. Drive Medical Nitro DLX Euro Style Walker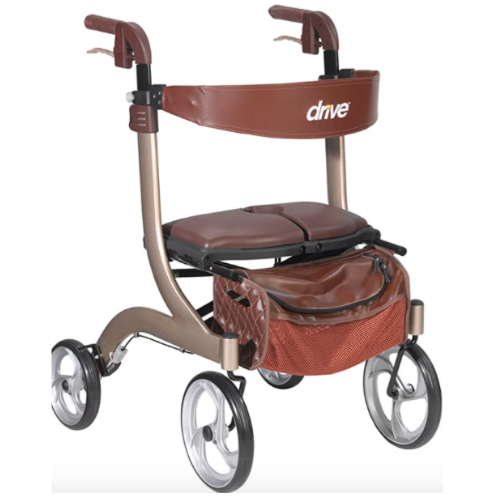 Features
Lightweight, attractive, Euro-style design.
Comes with 10 inch front casters, zippered storage bag (removable), and comfortable firm seat.
Handle height easily adjusts.
Handy, easily folds for storage.
Support a weight of up to: 300 lbs.
Dimensions: 28 inch(l) x 24 inch(w) x 33.5 inch(h).
---
7. KMINA PRO – Rollator Walker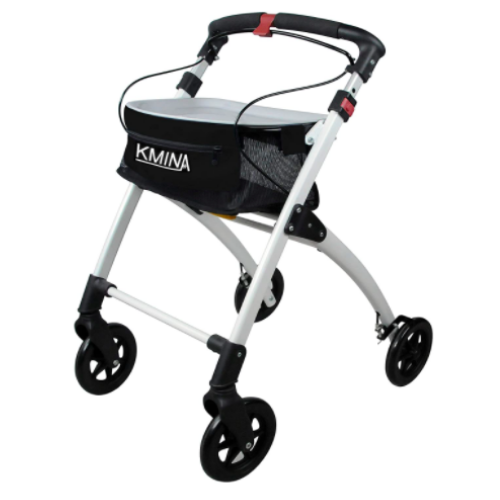 Features
Lightweight, sturdy, and stylish design.
Perfect for indoor and outdoor use.
Features sensitive braking system, solid wheels, and a fabric basket with a removable tray.
Folds easily for storage.
Weight capacity: 220lb.
Rollator weight: 12 Ib.
---
8. byACRE Carbon Ultralight Rollator Walker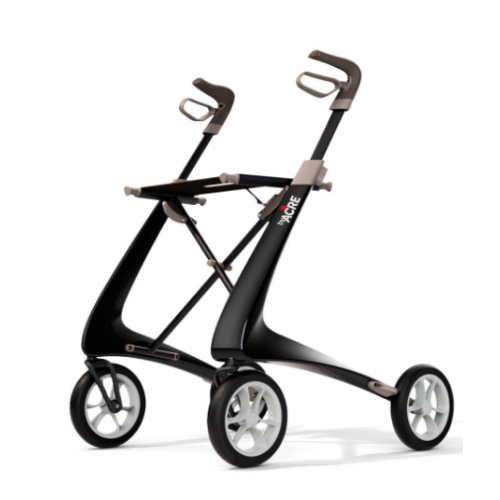 Features
Very light frame, the lightest walker available.
Very simple yet good looking and unique design.
The frames is crafted with carbon fiber.
Comes with ergonomic reversed handles, push button height adjustment, and hidden brake cable.
Supports up to 285 lbs weight.
Folds flat for easy transport.
---
9. ELENKER Upright Rollator Walker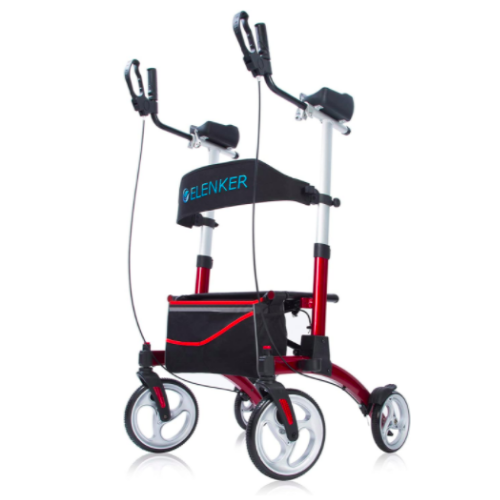 Features
Upright rollator with soft padded armrests.
Features 10" textured front wheels, ergonomic hand brakes, and comfortable seat with backrest.
Also comes with push forward to lock rear wheels, and a detachable polyester storage bag.
Foldable and convenient.
Supports weight of 300 Ibs.
---
10. Health Line Massage Rallator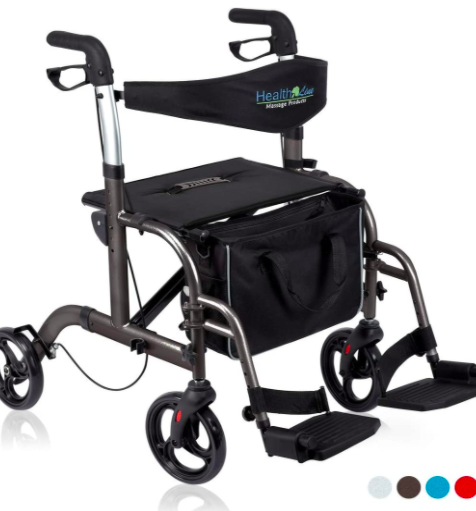 Features
2 in 1 mobility aid:serves as rollator and wheelchair.
Features 8 inch textured durable PVC wheels, extra large paded backrest, 18.1 inch x 12.2 inch soft seat, and detachable shopping bag.
Comes with detachable and adjustable footrest.
Compact, foldable, and dual braking system.
Weight capacity: 300 Ibs.
Dimensions : 24.87 x 18.87 x 10 inches.
---
11. Medline Premium Empower Rollator Walker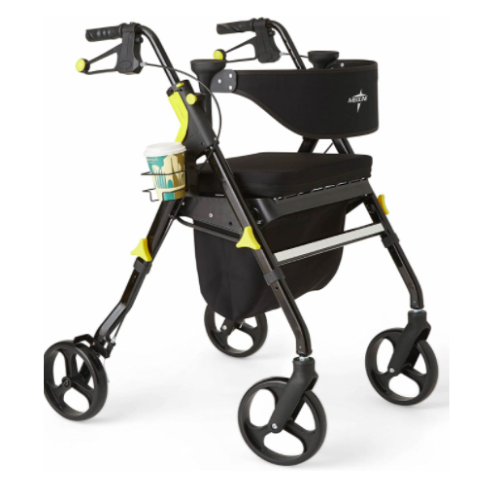 Features
Comfortable and adjustable rolling walker.
Features adjustable and versatile backrest.
Equipped with seat latch and removable seat bag.
Comes with large 8-inch wheels/casters, loop style brakes, and memory fame chair like seat.
Also has reflective safety tape on front bar.
Support weight up to 300 Ibs.
Rollator weight: 17 Ibs.
---
12. Stander Let's Go Indoor Rollator Walker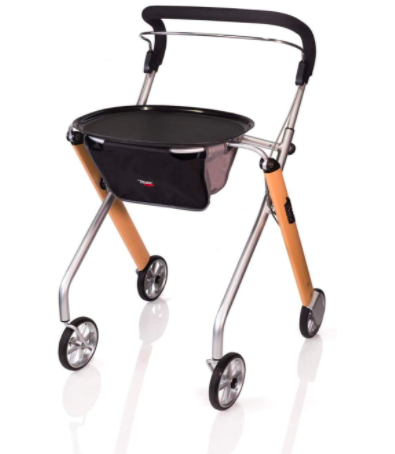 Features
The most simple rollator walker.
Comes with strong, sturdy and stylish design.
Light and handy, easily foldable.
Equipped with fabric basket and tray.
22.8 inches wide and 23.6 inches deep.
6-inch wheels provide stable and secure walking.
Comes with foam padded brake handle.
Height adjustability feature.
---
Please follow and like us: