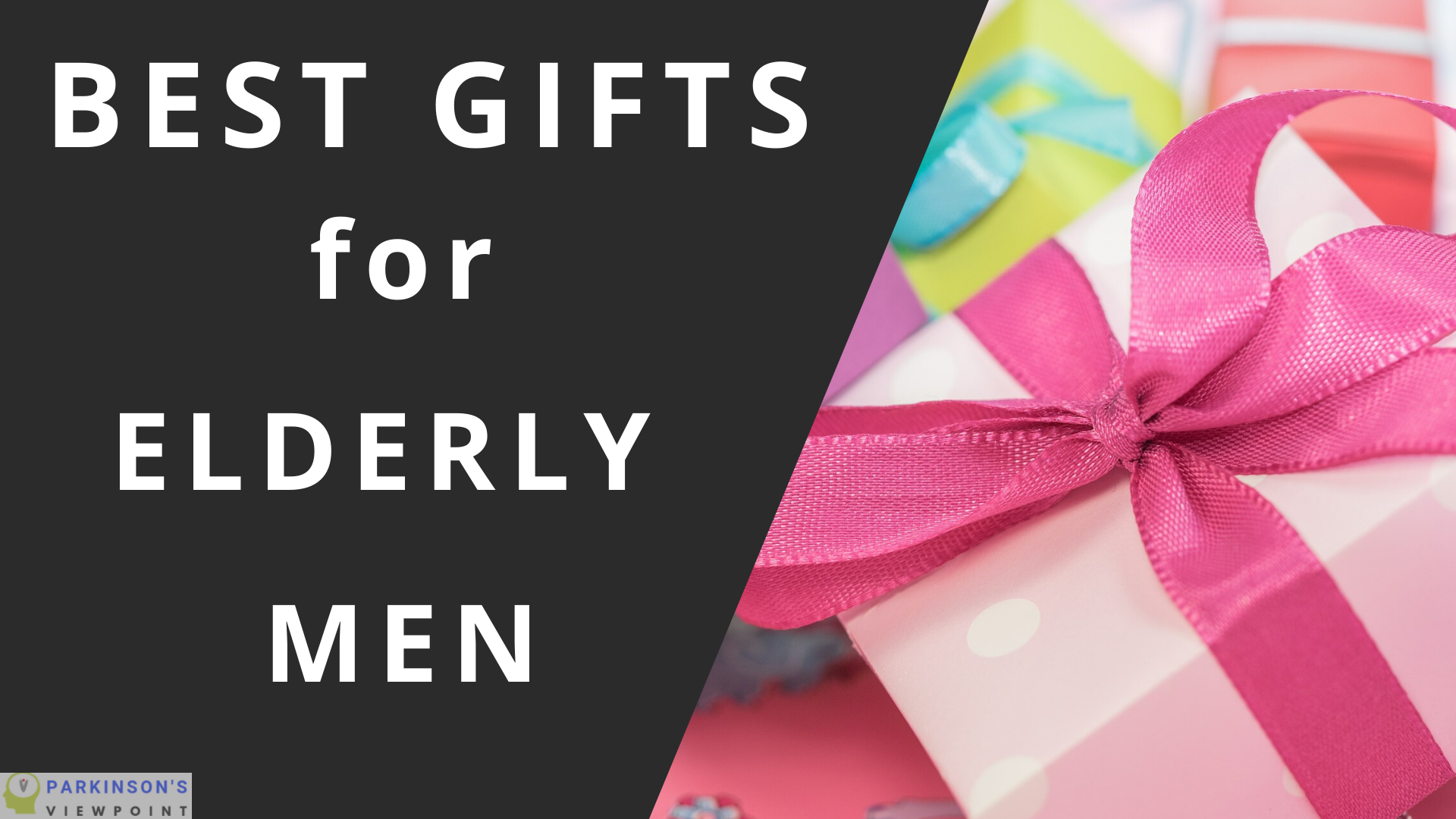 When it comes to buy a gift for elderly men, it is always better to buy something that makes their life more easy, comfortable, and enjoyable. If you find it difficult to buy a Christmas or birthday gift for your elderly loved one, here we have prepared a list of 10 best gift ideas for you so that you can choose the one that you think could be the best gift for your elderly loved one.
1. Magnetic Closure Men's Shirt
For most elderly men, dressing can be problematic sometimes. Most often, it takes extra time and effort to put on and take off a regular shirt. So why not give an adaptive shirt. Here we recommend a Magnetic Closure Shirt, which is especially designed for elderly men.
This shirt features hidden magnets behind each decorative button to offer the best in convenient easy access dressing ever for your elderly loved one. The shirt comes with a faux-button placket and cuffs conceal magnetic closures that make dressing incredibly easy. The back has an inverted pleat for seated-comfort and room to move. The shirttail is long enough to stay tucked in and also looks great worn loose.
The shirt is made from breathable and wrinkle-resistant 65% cotton – 35% polyester material and so is wrinkle-resistant and it always looks neat.
For more high-quality shirts, check here our review on best shirts for elderly men.
---
2. HandSteady Drinking Cup
A coffee cup also serves as a great gift for elderly men, and here we recommend a handsteady cup. This innovative cup comes with some great features that make it stand apart from other cups and so could be a great gift, especially for those suffering from tremor or limited hand dexterity.
It has a large, easy-grip handle that is rotatable (rotate 360 degrees). The rotatable feature allows the cup to be at self-level whilst in use, no matter what angle the cup is held at. The handle helps to avoid drinking efforts which usually faced by the user while drinking with a normal cup, like twisting the wrist, raising the elbow, or leaning the head back a spar.
The cup comes with a slip-lid, which prevents the liquid from spilling and keeps drinks hotter for a longer time. Not only that, but it also has a drinking hole that controls the flow of liquid to the user.
The cup is dishwasher safe, microwave proof, break-proof, light-weighted, and handy.
---
3. Slip-Resistance Lightweight Walking Shoes

If you want to give shoes to your elderly parents on this birthday, think about these slip-resistance lightweight walking shoes from Silvert's.
These shoes are very comfortable, flexible, and wearing them can provide maximum flexibility and arch support to your elderly loved one.
The shoe features adjustable easy touch closure. Each comes with an anti-slip sole that helps walking with more confidence and prevent falls. The sole is removable and washable. The shoes are light and easy to put on and they are best for both indoor and outdoor use.
If you want to look for more high-quality shoes, check our review on the best footwear for elderly men.
---
4. Wide Adjustable Slippers
Let's say that your elderly loved one has a good pair of outdoor shoes but missing indoor footwear, then why not buy him good quality slippers as a gift. The wide adjustable slippers could be the perfect choice of gift.
These house slippers are super soft, lightweight, easy to care, and breathable.  Each slipper features a slip-resistant sole that helps prevent potential slips and falls.
These adjustable slippers come with a hook and loop fastener and offer a great fit. The easy touch closures make footwear adjustable and easy to put on.
The soles and even the whole slippers are machine or hand-washable. They are best for home use and are available in multiple sizes and colors.
---
5. Sophia and William Weighted Blanket
A blanket could also be a great gift for your loved one. Here, we suggest buying Sophia & William Cotton weighted blanket from AlphaMart's.
This weighted blanket provides your loved one with a great sleep by offering the gentle feeling of being hugged during the night. Made from 100% cotton, this blanket is durable, breathable, and comfortable to use. It comes with glass beads are distributed evenly in each compartment.
The blanket is handy, easy to care, and easily washable. However, make sure to wash it at a low gentle setting inside the washing machine and air dry or better dry clean. It comes with one year warranty and you can contact AlphaMart's for any problem.
---
6. The Pencil Grip the Heavyweight Pen
If you don't want to spend much but still wish to buy something that makes your loved one cheer up, think about buying this Pencil Grip the Heavyweight Pen.
This pen is developed for those with hand health issues like essential tremor, arthritis, and a general lack of strength. The pen is designed in a way that supports tension from large muscles in the arm and eases the stress on the fingers and other smaller muscles in hand, thus it protects your hand from the effects of tremor or other related problems.
A feature that makes it stand apart from other pens is that it has a unique soft ergonomic grip, which is called the Pencil Grip. The Pencil Grip allows to position fingers in the proper positioning for gripping. This helps the hand to avoid using extra force downward and keep it relaxed as it writes.
The pen has a total weight of 133 grams which is equally distributed throughout the pen so that it is easily balanced and controlled. It includes graphite refills with black ink.
---
7. Quoka Vertical Small Mobility Bag
This small mobility bag could be a great gift for your loved one using a walker, wheelchair or scooter more frequently. This high-quality bag is very compact and serves as the best personal storage bag.
The bag features a unique attachment system that allows the bag to docks and locks into place. The bag zippers have large rings for users with limited finger dexterity. Its slim design allows users to maneuver through narrow spaces without fear of hitting anything or knocking the bag off their chair.
The bag is made from heavy duty waterproof material and so is very durable and practical. Bag provides mobility aid users a durable, waterproof, versatile storage bag for keeping personal items secure.
If you would like to know more about the bag, please click here.
---
8. Able Tripod Walking Cane with Base

If your elderly loved one has difficulty walking and needs walking support, buying a cane could be a great gift idea. Here, we suggest Able Tripod Walking Cane from Health Products for You.
This high quality walking cane features an ergonomic design for use in either hand without adjustment. It adjusts in 1″ increments from 30″ to 39″. It works on all terrain including grass gravel and sand where typical canes may sink into the ground.
Its aesthetic design makes you feel less infirm while the flexible rubber base provides unparalleled traction. The overall frame of the walker is very stable that can support weighing up to 375 pounds. The frame is pretty strong and so you don't have to worry about any crack or scratch.
If you would like to know about other high-quality walking canes, please click here.
---
9. U-Step II Walking Stabilizer
Let say your elderly loved one faces postural instability and difficulty walking and on this birthday, you want to buy something that gives him the freedom of walking more independently, think about U-step II Walking Stabilizer.
This is by far the best walker designed for the elderly. This high-quality walker is sturdy, yet light-weighted that is best for indoor and outdoor use. It enables your natural walking pattern and maintains a good posture.
Its U-shaped frame design surrounds you and moves with you in any direction, thus providing protection at every angle. This unique design reduces the chance of falling or personal injury and allows you to walk more confidently.
A great feature is its 29 inches turning cycle, which is 40-50% smaller than most walkers. Such a tight turning cycle allows you to walk through narrow areas in your house.
Due to its innovative reverse braking system and seven wheels, you can walk around on any surface, without the worry of damaging the floor.
The overall frame of the walker is very stable and can support a weight of up to 375 pounds. Plus, it is of high quality, so you don't have to worry about any crack, curl, or scratch.
If you want to know about other high-quality walker, check our review on 5 best the best walker for the elderly.
---
10. Power Lift Recliner Chair Upholstered Leather
Most elderly love to have a chair that provides a very comfortable sitting feel and enhances safety. So why not buy a recliner chair and give it as a birthday or Christmas gift?
Here we recommend you Power Lift Recliner Chair Upholstered Leather. This electric recliner has got all the great features that you would want in a high-quality recliner at a reasonable price. Ergonomically designed, great look, and compact; this recliner offers an excellent sitting experience for your loved one who is suffering from Parkinson's disease or any other motor disability.
The chair features super soft leather upholstery with thickly padded headrest, extra-wide armrest, and extended leg rest. Plus, it has a side pocket on the right side for storing remote control or other small things. The seat and backrest are very soft and comfortable; give you the ultimate relaxing feeling.
The overall frame is strong enough to support a weight of up to 375 pounds. The chair is convenient and handy for moving. It suits any room in your house.
If you would like know about other high-quaity recliners, check our review on the 5 best recliner chairs for the elderly.
---
Affiliate Disclosure: This page contains affiliate links, and while it may not cost you anything extra, if you make a purchase through these links, We'll earn a small commission.